While many orthodontists get new patients referred to them by dentists, there is no doubt that many consumers are using the internet to find an orthodontist. According to Google's keyword planner, the term "orthodontists" is searched 1,900 times each month in the United States and 2,900 times per month globally.
With the average cost of braces being $5,000 for kids and $4,800 for adults, it's easy to see how just one new patient could cover several months worth of online marketing.
Thus, orthodontist SEO is the name given to the digital search marketing strategy that helps you rank better in Google than other orthodontists in your market.
Orthodontist SEO Strategy
There are 17,000 members of the American Association of Orthodontists, so, if you want to generate more leads from the internet, you're going to need a sound SEO strategy to help you outrank your competitors.
When I Google search for "orthodontists" from my home office in Portland, Oregon, this is what I see on the top half of page.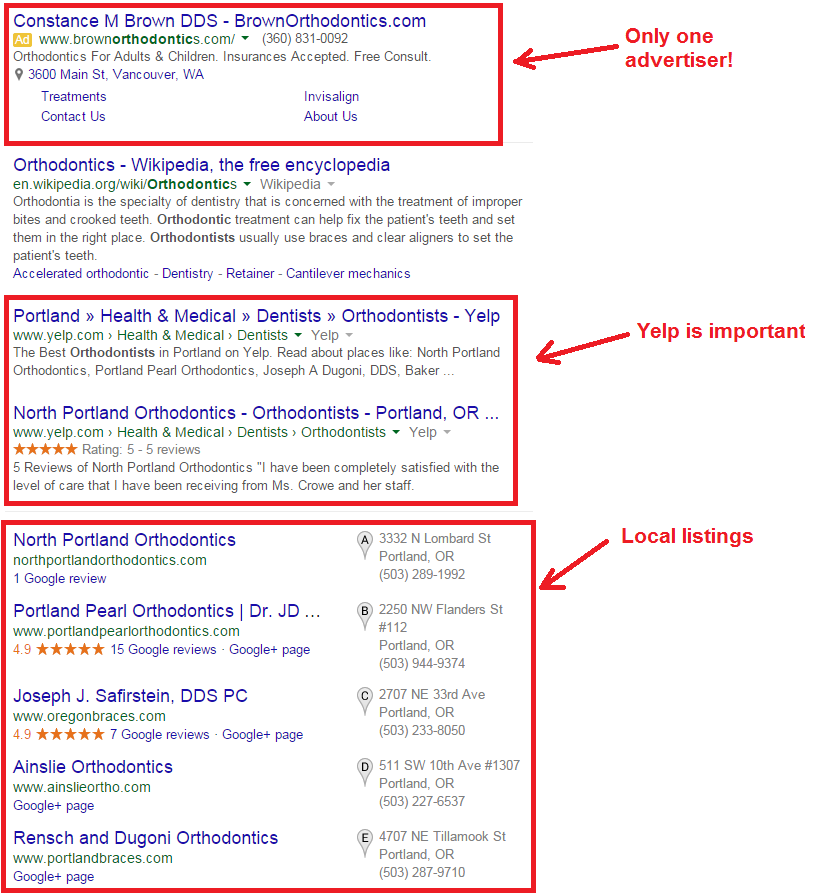 Here are the opportunities as I see them:
1) Pay-Per-Click Campaign. There's currently only one orthodontist running PPC ads in Google to target Portland. This will probably be different from one city to the next, but since the competition is so low, I'd setup a pay-per-click campaign to drive traffic directly to your website. The average cost per click is determined by competition and currently that's around $10 per click. Not too bad, considering a new patient is worth around $5,000.
2) Claim Business Listings. After wikipedia, Yelp fills spots 2 and 3 of the organic search results. Start by listing and completely filling out your business page in Yelp and then do the same for hundreds of other directories by scrolling through multiple pages of search results.
Creating business listings in internet directories is tedious work, but it's necessary to help validate your business in Google and to strengthen your website.
3) Get Reviews. In addition to the proximity of your business to the searcher (which you have little control over), reviews are one factor you can influence and which really helps you stand out from other orthodontists in your market.
As you can see in the image above, the 2nd and 3rd ranked local Portland orthodontists have taken the time to get reviews and in my opinion, this makes them appear more reputable than the others with no reviews. Certainly, the only reason I can see that North Portland Orthodontics outranks them is because that orthodontist is physically closer to my office than the others.
Hire me and my team to handle your orthodontist SEO & marketing, and we'll handle all of this work for you, so you can focus on schmoozing dentists and straightening teeth! Call 503-890-6663 to get started.
4) Claim & Optimize Your Google Business Page. It goes without saying that you should add pictures, select proper categories, confirm correct business name, address, and phone number, and be active on your Google business page.
All things being equal, if you're the orthodontist with the completely filled out profile and more recent activity, you'll likely be the one appearing high in search results. You can read our complete guide to optimizing your Google business page.
5) Website & SEO. A quality web design that's user friendly is also an important part of the marketing equation. The image below shows the second half of Google organic search results and you can see there are 3 orthodontists listed in amongst the directories.
If your website were strong enough, chances are it would outrank the local listings, which means you'd appear closer to the top of the page. In order to get a stronger website, you're going to need local SEO and a lot of link building.
You won't see results overnight, but in the long run, your investment should pay off in the form of higher rankings, more traffic, and more leads for your practice.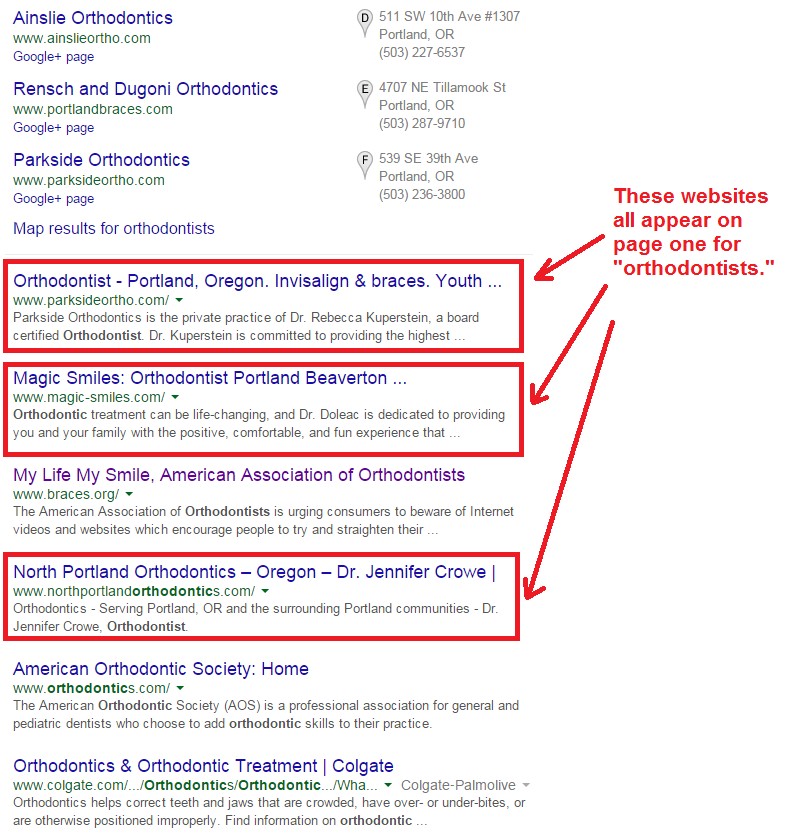 6) Blog Regularly. The more you blog, the more traffic you'll get to your site. Period. I've seen it so many times on my own sites and client sites: When we add content on a regular basis, traffic slowly grows. When we don't add content, traffic is flat and sometimes decreases.
There are a lot of options when it comes to straingtening teeth, so I'd start with blog posts that compare the various techniques and products such as:
Braces vs. Clear Aligners
Invisalign vs. Clear Correct (and others)
Other interesting blog topics could come from:
Questions you are commonly asked by patients
Case studies of your work – show before and after pictures and write about the challenges this particular case presented, how long it took, etc. You could include a patient testimonial within your case study
Whether you write yourself or hire us to research and write for you, having a plan to add content each month will be extremely helpful in your marketing efforts. Plus, you'll have something interesting to share on your social media sites!
Orthodontist SEO Summary
The tips described above will help put you head and shoulders above other orthodontists in your city and give you the best chance to get found online.
Call me at 503-890-6663 to learn more about your opportunities or to request a proposal.
You might also enjoy: Dentist SEO Marketing