SEO and online marketing are great ways for dentists to get found in Google by new patients. When your dental website appears on page 1 of search results in your local market, you will generate more inbound leads, thus providing you with an excellent return on your marketing investment.
In fact, SEO and online marketing are so critical for dentists that the American Dental Association co-sponsored a publication on the subject: The ADA Practical Guide To Internet Marketing. You can purchase their guide or follow the free tips below to market your practice online.
Dentist SEO & Marketing Strategy
Dentists who want to get more clients using internet marketing should follow these 4 strategies in order to generate more inbound leads:
1) Get Listed in Internet Directories. If you're wondering which internet directories are the most important ones, it's easy to find out. Simply go to Google and type "dentists." When I do this from my computer, I see search results on page 1 that include (you'll likely see different results in your markets):
The list above and below is just the beginning – there are many others when you search deeper.

You'll want to submit your practice to each of these top ranking dental directories because many people will use these directories to research and locate a dentist near them. Plus, most directories like these will link back to your website, which is a powerful way to boost your website in search results.
If you hire us to handle your dentist SEO marketing, we'll submit your business to all of these directories and many more! Call 503-890-6663 to get started.
Make sure to completely fill out your profile on these and other internet business directories including photos of you, your staff, description of services, and office hours. Taking the time to complete these details gives you a richer profile than your competitors and will help you generate more leads.
2) Claim/Optimize Google Business Page. When you Googled "dentists" in the example above, you probably noticed a group of local listings. These are the Google business pages. You'll want to claim and optimize your page and then be active on it by sharing your content and relevant dental health tips & humor from around the web. Google will tell you that activity is helpful in ranking your practice in local listings.
3) Get Reviews. Many consumers use reviews to determine which dentist they are going to choose for their family. Therefore, reviews are a key part of the online marketing equation. Look at all the local listings below. All of the dentists have at least 1 review and the dentists with more reviews tend to rank higher in Google.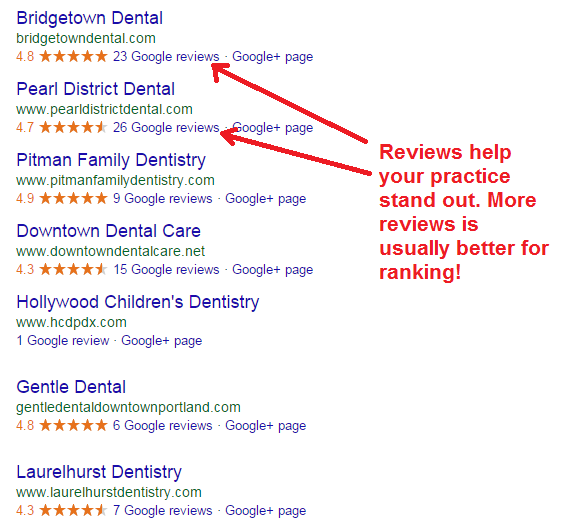 4) Blog Often. Blogging is a great way for you to answer commonly asked questions, provide case studies of your work, and give advice to consumers. It's a fact that the more you blog, the more traffic and leads you'll generate.
Since writing on a regular basis is one of the hardest things for any business owner to do, we provide this service as part of our marketing packages. We create topic ideas, do research, write, edit and publish all of the content to your blog, so all you have to do is proof it.
Whether you blog yourself or have us do it for you, blogging should be part of your dental marketing strategy.
Dentist SEO Summary
If you want to get new customers contacting you, you're going to have to market your business online. Since most dentists these days have a website, you're going to need to go the extra mile to stand out in Google.
Follow the tips we've provided above or if you'd like to talk more specifically about your dental office's SEO and marketing, call me at 503-890-6663.