Getting more reviews of your business online is not rocket science, but it is a mindset. Think of accumulating more reviews as setting a new culture in your workplace: You need to get your whole team on board.
Train your staff to be pro-active about asking for reviews or put someone in charge and give them a quota to hit – just like a sales goal.
You can easily use one of the two simple review systems to make this process easier.
But first…
Why are Reviews Important?
Many people will decide whether or not to do business with you based on what they read about you online. A former girlfriend of mine would give a restaurant she was considering the axe if she didn't like the reviews she read. I can't tell you how many times we'd be looking for a place to eat and just when I thought she'd found it, she'd say "No, we're not going there."
Aside from consumer decision-making, SEO experts believe the quantity of reviews your business gets are an important ranking factor for your Google Places Business page.
They believe getting more reviews on your Google+ page helps move you up in search results. I share their sentiment – not only can a lot of reviews help you rank better – they can also make it seem like you're operating a really popular business.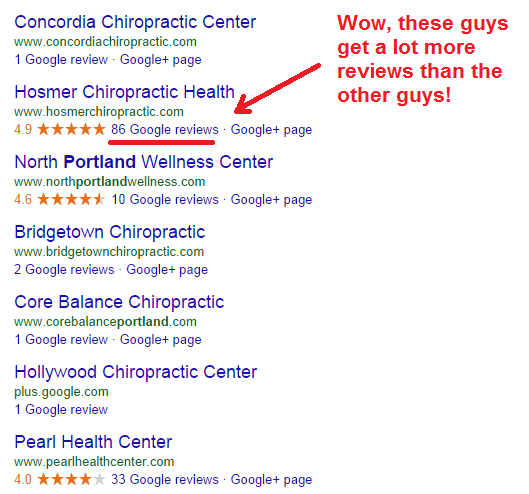 Having more reviews helps you stand out from the crowd!
How To Get More Online Reviews
Now that you know reviews are important, how do you get more of them?
It's pretty easy, actually. Here are two simple systems we recommend.
#1: The "Review Us" System
We've installed this step-by-step review system on several client websites now.
Not only does it simplify the process of getting reviews on the sites you want them, it also helps to screen negative reviews from ever appearing.
All you do is create a funnel on your website that makes it easy for customers to leave reviews exactly where you want them.
In addition, this system helps screen negative reviews.
Want to see it in action?
The video above shows you how our "Review Us" system works. For a small fee, we can install this system on your site. Call 503-890-6663 for pricing.
Here's the "Review Us" in pictures.
Step #1: Your Customers Click "Review Us" Link On Your Website 

Step #2: They Are Taken To A New Page Where They Can Choose The Type of Service They Received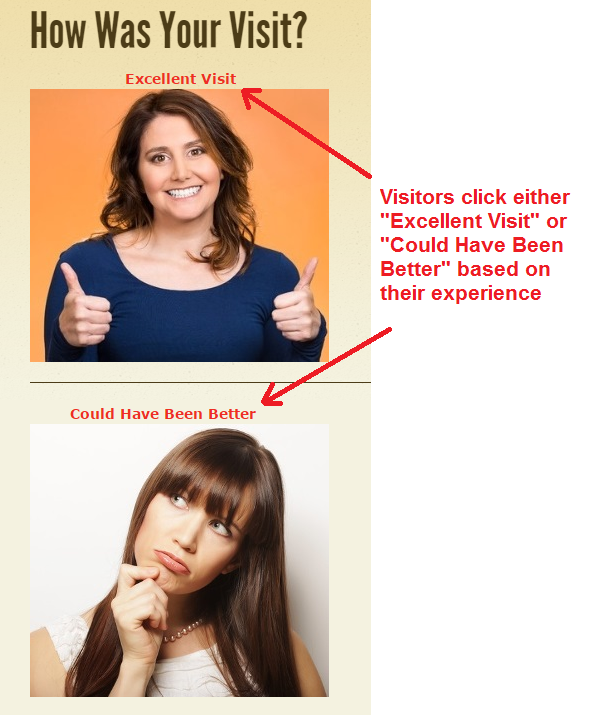 Step #3a (Excellent Experience): Customers Are Taken To Page Where They Can Choose Where To Leave A Review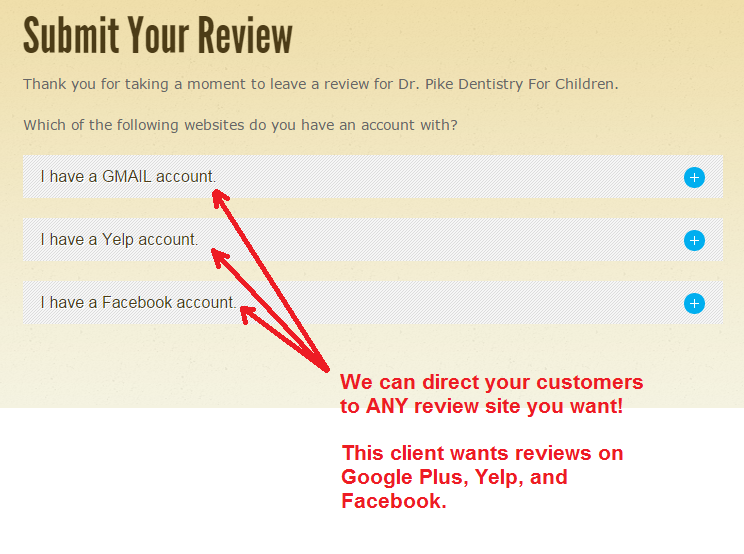 Step #3b (Bad Experience): Customers Are Taken To Page Where They Can Give You Feedback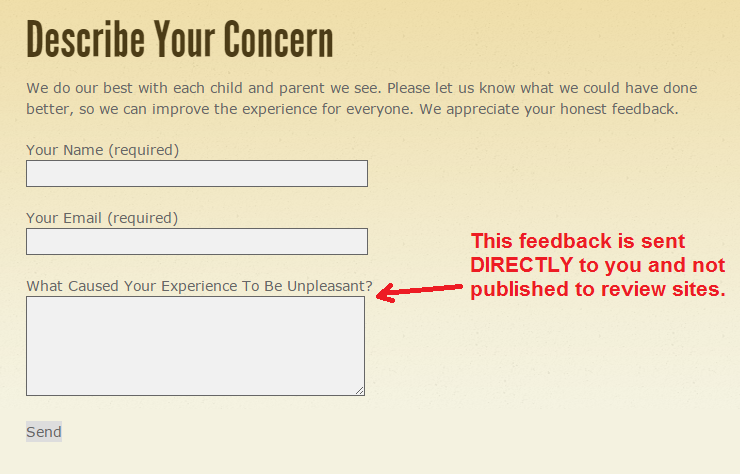 The big advantage of our "Review Us" system described above is it screens a lot of the negative reviews that would otherwise appear on your Google Business, Yelp or other internet directory.
And while it's not 100% guaranteed to eliminate all of your sub-par reviews, at least it gives people an outlet where they can be heard and have their problem solved by you directly without putting it online where everyone can see it.
The other big advantage is you can choose the directories where you want people to leave reviews for you.
This is important because depending upon local search results, you might want to direct people to other online directories to leave their review.
Let me show you an example.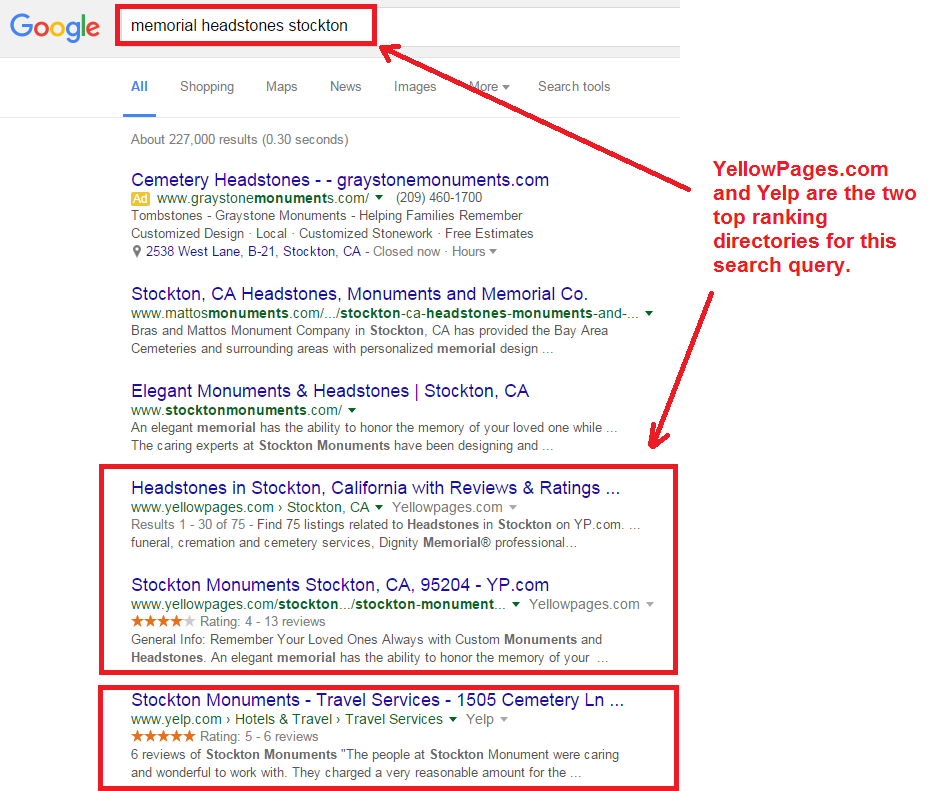 In the image above, customers who search Google for "memorial headstones stockton" do not see Google Business pages.
Instead, the top ranking internet business directories are YellowPages.com and Yelp.com.
So, these are where you'd want to get customers to post reviews – if you were in the business of selling memorial headstones.
To find out which directories are most important for your reviews, simply Google "your service/your product" + "your city."
If you were a tax accountant in Boise, Idaho, you'd Google "tax accountant Boise."

If you perform this search for yourself, you'll see that Google Business pages appear at the top, so that's the first place you'd want to get reviews.
But after that, both Angie's List and YellowPages appear on page 1. So, if I were a tax accountant in the Boise area, I'd want to get reviews on those two sites, too.
Every industry will be different, so make sure you do a Google search for your product or service and add your city to determine which directories are most important for your customer reviews.
Bonus Tip: Use Images On Your Website
Here's a variation on the "Review Us" system described above.
It's basically the same thing, just more visually appealing. The screenshot below was taken from the footer of a client website. It's also very effective for steering your website visitors to the places where you want them to leave positive reviews about your business.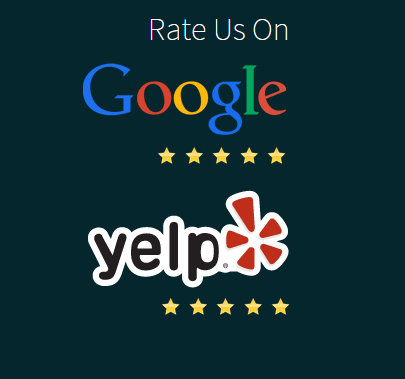 This is a terrific way to passively increase your reviews over time, plus, you can give people the exact link they need to review you by linking directly to the site where you want them to review you!
Review System #2: The "POP" System
You probably know that POP is an acronym for Point of Purchase!
And this is the perfect time to ask for a review!
When I took my dog to the vet last week, the post card below was stuffed into a goodie bag they handed me.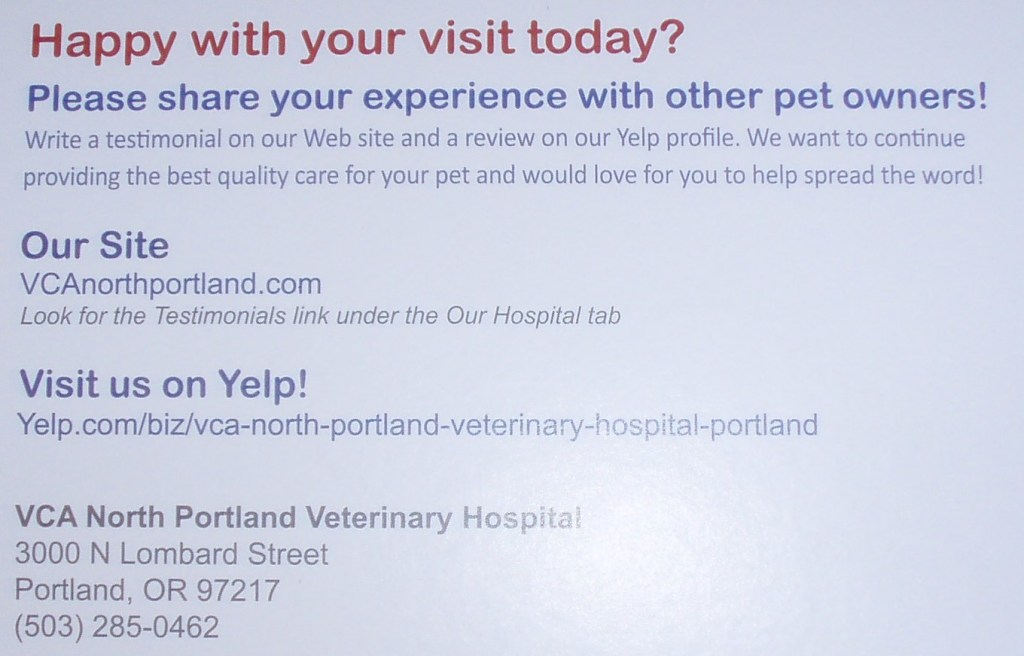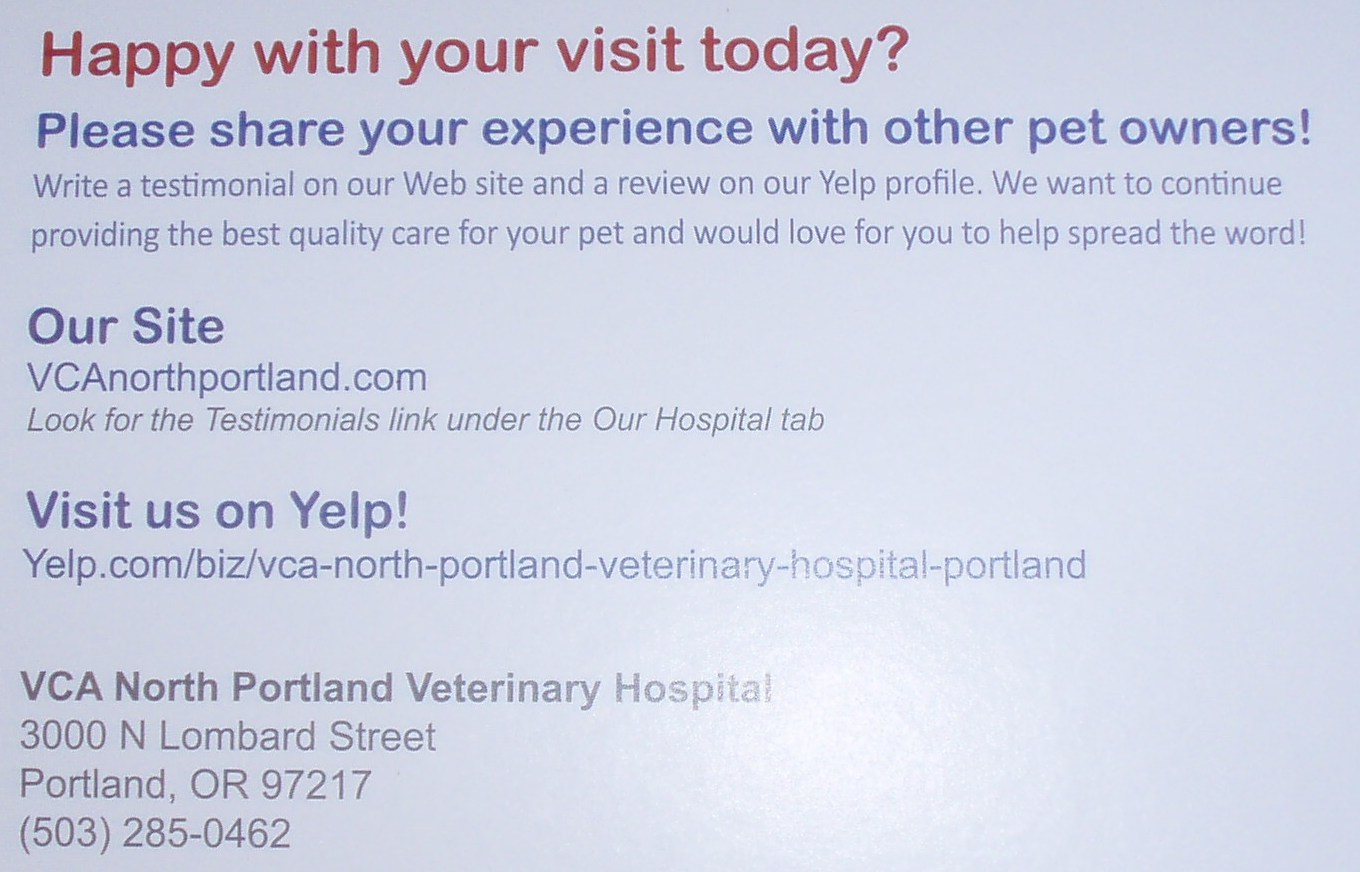 While they didn't mention anything about it (I would have), I did read it when I got home.
You can imagine how the post card above could become even easier for customers if it just said, "Go to our website and click 'REVIEW US.'"
A simple post card is a great way to give people a written reminder to kindly leave you a review.
Do's And Don'ts Of Online Reviews
Give directions. Tell people specifically where to go to leave their review. Give them the complete URL (notice the link for Yelp! in the post card) and any other instructions they might need.
Give options. Not everybody is on Yelp. Make sure to make your Google+ page one of the options, as it's probably the most important. I'd recommend 2-3 places, based on the top ranking directories for your niche.
Don't collect reviews to publish on your website. Testimonials are great, but they're not going to help you rank better. Your reviews are far more powerful when they're on internet business directories. Google will pull your reviews from these sites and combine them with the native reviews left on your Google business page. Adding testimonials to your website is fine – simply copy and paste the ones you like to your website. (It's okay, it's not cheating).
Don't post fake reviews. Most ethical business owners would never consider this, but some looking for a shortcut will try it. In the end, you'll always get caught. Yelp is like a hound dog at sniffing out people trying to game their review system and Google is not far behind. Just don't do it.
Ask for reviews at point of purchase. I already mentioned this above, but it goes without saying. After your customer has walked out the door, it's too late to prod them for a review and tell them how and where to leave it, unless…..
Use email marketing. One of my clients uses a simple email template to ask for a review the day after a customer has visited their office. This takes a little organizing, but I like I mentioned above. Getting reviews is a mindset. Put a system in place with your staff and you'll be successful.
Hand them something. As demonstrated by my veterinarian, putting your specific instructions on a post card or on your company letterhead is the written reminder many need to get the job done.
Address bad reviews. Wherever possible (except on scam websites like RipoffReport), be sure to calmly and professionally handle any negative reviews promptly. Remember, your comments are public; potential customers will see them and judge you based on how you've handled the negative feedback.
Set the culture. As mentioned in the beginning of this post, educate your staff (show them this blog post), so they understand how important reviews are to your business and how to execute getting more of them.
Don't get reviews in your office! This one is really important. I've had clients who thought it would be a good idea to setup a laptop in their office and have people leave the review right as they pay their bill. Great idea, but the problem is that all those reviews come in from the same IP address and Google can see that. You risk getting penalized, even though your intentions were good.
Conclusion
Accumulating lots of great online reviews of your business helps you rank better in Google and helps people decide to do business with you once they've found you.
Helping you put a system in place to get more reviews is just one aspect of our internet marketing services. Feel free to contact us if you need help or have a question.
No matter what system you use, you're going to have to work it!
Unless you're in the restaurant business, reviews don't just happen; you're going to need your employees to ask for reviews if you want to start piling them up.
If you're following along with our Guide To Ranking Your Business In Google, you can follow to Lesson 6: How To Rank In Cities You Serve.