Vince is a wedding and special event photographer in New York City. His website is http://itsphototime.net/. According to his site, he services NYC, Manhattan, Bronx, Brooklyn, Queens & Westchester County, New York.
He called me because he wanted to know more about SEO for a wedding photographer and specifically, he wants to generate more inbound leads and phone calls from people who find his website in Google.
So, in this post, I've agreed to give Vince a helping hand and if you're a wedding photographer, you could use these strategies to improve your online marketing, as well.
Please note, that since your website is the backbone for everything you do online, you'll want to have that as your foundation. I have not done a thorough review of Vince's site for this exercise. This posts focuses on SEO and marketing strategy.
Wedding Photographer SEO Strategy
First, and foremost, we want to do everything we can to get Vince found for his main keyword, which is "wedding photographer."
There's a lot of traffic for this keyword according to Google, which you can see in the screenshot below.

The practical way to get started any online marketing campaign is to Google one of your main keywords and see what there is to work with. This is EXTREMELY important because this is what a consumer will see when they are searching for you.
Step 1) Google Your Keyword To Find Opportunities. So, when I Google, "wedding photographer NYC," here's what I see in the top half of the page.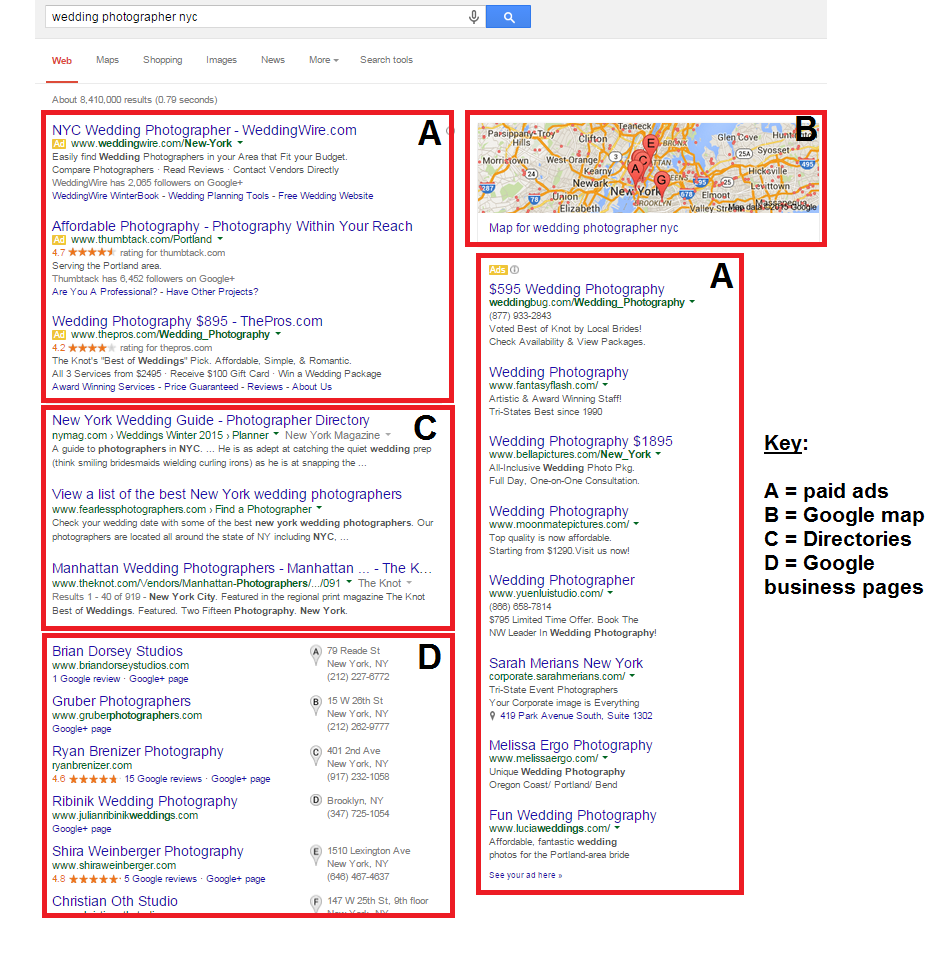 And here's what I've learned:
A) There's a lot of competition, just look at all the people advertising.
B) Google displays a clickable map. Make sure you're on it by claiming your Google business page.
C) Notice how the top 3 organic search results are all directories. This is Vince's first big opportunity because some people will use these niche directories to find their photographer.
Take a look through New York Magazine's Photographer Directory and you'll find hundreds of options. Vince isn't one of them. Get listed.
You're probably thinking, "Well, with hundreds of photographers in nymag.com, why would I bother?" Glad you asked!
The answer is because every photographer listed in this directory has a link back to their website. Links make your site stronger and each listing you get in internet business directories is a "citation," which helps strengthen Google's awareness of your business on the web.
Bottom line: You'll rank better.
But the fun doesn't stop there. You can get listed in all of these directories, too, which rank on page one of Google:
Vince isn't listed in any of them.
D) These are the local Google business page search results. This is where you want to be and the way to get there is through a lot of hard work, which is outlined in our Guide To Marketing Your Local Business Online.
By comparison, let's take a look to see if the #1 ranked wedding photographer, Brian Dorsey, is listed in the top 5 directories.
Guess what, he is listed in 4 of the 5. The exact links are listed below.
http://nymag.com/weddings/listings/photographers/index2.html
https://www.theknot.com/marketplace/brian-dorsey-studios-new-york-ny-433672
http://www.bridebox.com/blog/top-20-wedding-photographers-new-york/
http://www.bestofweddingphotography.com/brian-dorsey-studios/
So, you want to know why you're not ranking, Vince? You can start here. I'd start by creating a list of the most important photography directories and try to get listed in them. Even if you have to pay, it might be worth it.
Of course, listing your business in these directories is no guarantee, but it's an important start and it's going to take time.
Step 2) Reviews On Your Google Business Page. Look back at the local listings in box D of the image above. Even though Brian Dorsey is ranked #1, Ryan Brenizer stands out more at #3 because he has 15 reviews and a high rating. I bet Ryan gets as many clicks as Brian does, even though he's not ranked as high.
The moral of the story: More reviews help you stand out, establish credibility, and rank better.
You gotta work it. Ask for reviews when you complete a job. Be pro-active about it and make it easy for people to post a review about you. Eventually, people will begin to review you without you soliciting them, but in the beginning, you're going to have to let people know how important it is to your business.
Step 3) Email Marketing. I don't care how big your list is, start marketing to it. At a minimum, someone like Vince could offer cross-selling opportunities, ask for referrals, and ask for reviews.
Here's an example of an email I'd send if I were Vince.
Hi first name,
I loved working with you on your wedding and want to remind you I'm available to capture your special moments for family and high school reunions, bar mitvahs, and graduations. I offer a 15% discount to my repeat customers!
I love my work and want to be one of the top photographers in the city. If you know of anyone you'd like to refer to me, I'd appreciate the business.
By the way, reviews are so important to marketing my business in Google. If you'd take a moment and share your experience on my Google Page [hyperlinked to actual page], you'd really be helping me out. Thanks for your business.
I hope to work with you and your family again soon!
Vince [website, phone, facebook page, etc]
4) Build Your Email List. Since leads are going to be so important to Vince, I would suggest creating a strategy around building his list.
One way to do that would be to create an e-book and allow people to download it in exchange for their name and email. The e-book could be something like, "5 Tips For Hiring a Wedding Photographer."
Any topic will do. Try to pick something your customers will want and give it to them.
5) Basic Website SEO. There are several aspects of on-page SEO and Vince is missing two of the most important ones.
First, the title tag should include your main keyword and it should ideally be first.

I'd re-write this tag for the home page to say, Wedding Photographer – NYC, Manhattan, Bronx, Brooklyn, Queens. 
Also, the home page does not include an H1 tag. I'd add one to say, "Wedding Photography New York City."
I'd also increase the word count offering more description and consider using a different font, so it's easier to read.
6) Website Content. while I can see that Vince adds images on a regular basis which showcase his work, images do not help you rank in Google – words do! Therefore, blogging about your wedding photography case studies, funny things that have happened to you while working and many other ideas will help generate interest and traffic.
One thing I did notice that Vince does well is he has a specific page to target the keyword, City Hall Weddings. I was wondering why he had this page on his website, but then I noticed at the bottom of Google search results, it's suggested as a related search.

Sure enough, Google's Keyword Planner reports this term gets searched 30 times per month! With some tweaks to his content and on-page SEO, Vince might start to rank well for this keyword.
Wedding Photographer SEO Summary
This is just the beginning of an internet marketing strategy for a wedding photographer like Vince. It's a competitive industry and I would not expect results overnight.
SEO, content development, link building, reviews, and email marketing are all going to play a part in your success.
There's enough advice in this post to get you started, but if you'd prefer to hire a professional to handle your wedding photographer SEO and online marketing strategy for you, give me a call at 503-890-6663.