Getting "dofollow" links back to your website helps increase your site's PageRank which helps it rank better in search results. When you rank better in search results, you get more traffic, generate more leads, and increase sales.
Let's jump right in and with a couple real life examples that demonstrate what I mean.
Example #1: MiLB.com
The Bowie Baysox are the Baltimore Orioles Double-A minor league affiliate. They are one of about 150 minor league teams who are members of the National Association of Professional Baseball, known as the "NA".
In the early 2000's, each team had their own website. Some sites were good, some were bad, some were awful. The good sites had decent PageRank – like 3 or 4 – but many teams had a 1 or 2. That's pretty low for a professional sports franchise.
Then a few years later the NA did a really smart thing – they consolidated all affiliated baseball team websites onto a single domain: milb.com. The impact for the teams has been tremendous because it brought together the power of every single team's links into one place. As of the writing of this post, milb.com carries a PageRank of 6.
Strong Domains Rank Better
Earlier this year, we put up a new test page for a mildly competitive term "company picnic ideas." We followed the basics of on-page optimization and waited a week to see where the page landed.
Voila! It debuted at #6 in Google and topped out at #3. We didn't do any promotion of the page through social media or email blasts, nor did we build any links to the page. In fact, according to Open Site Explorer, there are no links to the page at all, except for the one I just added above. We didn't even add any internal links.
Although there is no way of proving this theory, if the Baysox still had a standalone website with a lower PageRank, I doubt they would have ranked that high. PageRank isn't the only indicator of how well you're going to rank in Google, but it's probably one of the more important ones.
Example #2: IdeaMensch.com
If you've taken a look through my site or done any research, you probably know I also run a Reputation Management firm. Many of our clients are individuals who, when they Google their name, see a negative website on page 1 of the search results. This can be troubling if the individual is looking for a job or trying to do a business deal, since employers, HR firms, and potential business partners are using Google to do background research on you.
You might also enjoy: Link Building: Use Your Leverage
Since our objective with reputation management is to push down negative search results, we need a lot of positive content on strong websites in order to achieve that. I decided to test a new strategy using myself as the guinea pig.
IdeaMensch is an established website where entreneurs can tell their stories. With well over 1,400 interviews and lots of links, it carries a PageRank of 5. So, I posted my own interview there to see where it would land when I Googled my name.
Voila! Since the IdeaMensch site is so strong, my interview shows up on page 1 of search results for "Mike Munter". As of the writing of this post, it's in the 5th position, outranking several other pieces of content that have been around for years. It's going to be a valuable tool in the arsenal for our reputation management clients.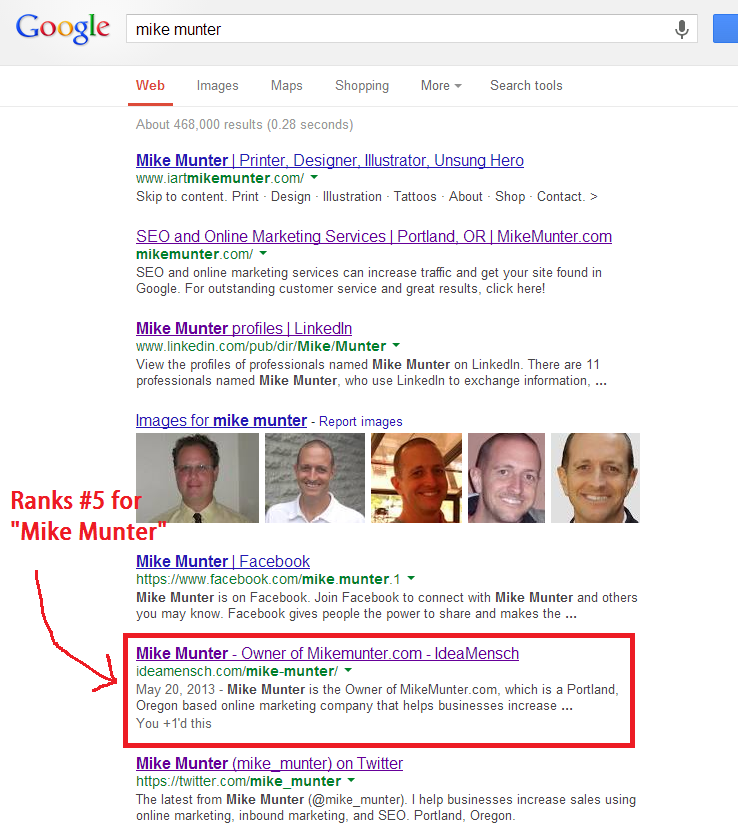 Further Proof
I liked the IdeaMensch model so much, I decided to launch my own interview site called Inspirery as a side project to see if I could build something similar. I added my interview to see how well it would perform in search results. With Inspirery being a brand new site, it has no PageRank yet, and as expected, my interview on Inspirery is on page 17 of Google search results.
Hmmm.
PR5 site = Page 1 of Google
PR=n/a site = Page 17 of Google
How Do Links Help You Get More Sales?
By now, you're probably already seeing how important links are as a way to boost your sites PageRank, which in turn helps to boost your rankings. So, let's back up and look at a theoretical example to demonstrate how you might use this information to increase sales.
Let's say you're an attorney and one of the services you offer is "LLC formation." You decide to create a page on your website to target this keyword in hopes of attracting business people who are searching in Google for "LLC formation services."
So, you create a fantastic page with lots of great content and a week later you decide to do a Google search for "LLC formation services" to see where your site ranks.
You can't find it on page one, so you check page 2. It's not there either, so you keep looking and eventually you find it on page 10 of Google search results. That's no good, considering how much time you put into creating the page.
You get frustrated and call someone like me to help you improve your rankings. I do a little research and see that your website is only 3 years old and has a home page PageRank of 2. Your "LLC formation services" page is a PR n/a. Further, I can see that the top four websites that are ranking on page 1 are much older sites and have PageRanks of 6 or better.
As of this writing, those sites are –
#1 http://www.legalzoom.com/limited-liability-company/limited-liability-company-overview.html –PR 6 page with home page PR 7
#2 http://www.mycorporation.com/ – PR 6 home page
#3 https://www.incorporate.com/ – PR 5 home page
#4 http://www.bizfilings.com/ – PR 6
It's not until I get to the 5th position that I see a local Portland law firm result and although http://www.duvalbusinesslaw.com/CM/BusinessStart-upsPurchasesandSales/Corporation-LLC-Formation.asp is only a PR 2 page, the root domain http://www.duvalbusinesslaw.com/ is a PR 4.
Now What?
Well, assuming your pages is fully optimized and we've made it the best it can be, the only thing left to improve performance is to strengthen your link profile. Through sustained link building efforts, you'll be doing something your competitors are not doing – taking an active stance toward improving your site's authority. You won't see results overnight, but if you're willing to commit to link building (much like you'd commit to any other marketing of your business) your website will gain authority and slowly begin to outrank the competition.
The long range benefits of this is that your PageRank will increase and new content you post online will outrank your competitors.
Looking back at our example above, if you're law firm website had a higher PageRank, I think there's a pretty good chance you'd outrank the Duval site. (Besides their page is not well optimized at all!)
Conclusion
If you're trying to rank well for a keyword, you have to write great content and optimize it. Putting good content on a strong website will almost certainly outrank good content on a weak website every time.
You can overcome this issue by committing to a long term link building strategy that will steadily improve your site's PageRank. That's why link building is so important.