If you want to find out how many people are searching for your main keywords in your city, you can find out by using Google's free Keyword Planner tool.
Here's a step-by-step method to show you how to find volume for any keyword in any market.
Find Keyword Volume: Step-By-Step
1) Go to https://adwords.google.com/KeywordPlanner and sign in using your adwords account. If you don't already have an adwords account, you'll need to create one.
2) Select the 2nd box to "Get search volume for a list of keywords…."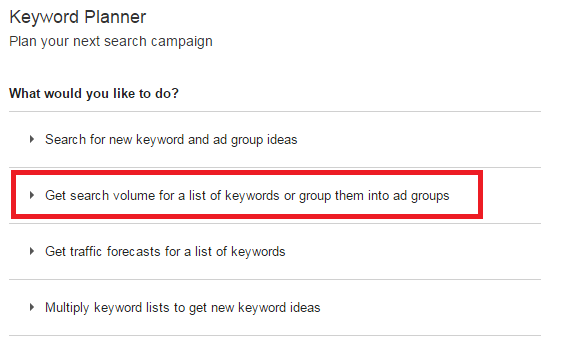 3) Enter your keywords, such as "plumbers," "divorce lawyer," or "chiropractor."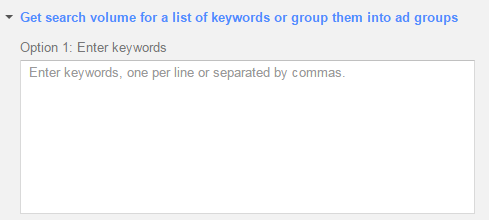 4) Enter your city. Under "Targeting" click the top option which defaults to "All locations." This will open the box you see in the image below. Start typing your city in the box as indicated. You'll be prompted and you can select your city from the dropdown.

5) Click "Get search volume" to see the monthly search volume for your keyword in your city. In my example below, I'm looking up the number of searches for "plumber" in my hometown of Reisterstown, Maryland.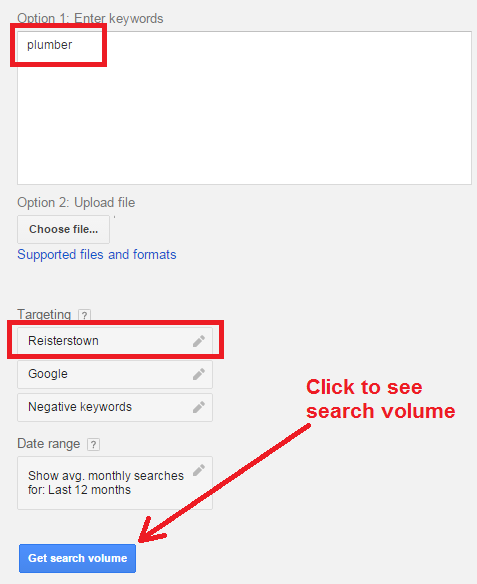 6) Get your keyword volume and more. In the image below, you can see that plumber is rated as a highly competitive term. Usually, you'll see a "suggested bid" which indicates what you might expect to pay if you were bidding on the term "plumber" in an adwords campaign.
The average monthly searches is 10. Remember, this is just an indicator and not meant to be absolute. The only way to find out how many people are actually typing your keyword in your market is to run a PPC campaign and look at the number of impressions that keyword is producing.

Need help marketing your business in Google? Check out our Guide To Ranking Your Business In Google or call me at 503-890-6663.