Plumber SEO is an online marketing strategy tailored to plumbers and plumbing companies to help them rank better in Google and get more website traffic.
Done effectively, a plumbing SEO campaign will help you:
Generate more leads and phone calls
Help you get found more often in Google
Increase traffic to your website
At their October 2014 convention, the Plumbing, Heating, and Cooling Contractors Association had 3 different speakers give presentations on marketing your business in Google.
In this post, I'll share what I would do if I were marketing your plumbing business on the internet. I hope you find it helpful and if you would like me and my team to handle it for you, just call me at 503-890-6663.
Plumber SEO & Online Marketing Strategy
1) Optimize Your Website. Optimizing your website is referred to as "on-page SEO." It's called this because all the changes you're making are located on the website's pages, as opposed to "off-page SEO" which are tactics that occur off your website.
I offer a basic guide to on-page SEO which describes 6 of the key points for optimizing each page on your website.
As you prepare to optimize your plumbing website, you'll probably want to optimize your home page around a keyword that contains "plumber" and "your city." This will help you get found when people in your city search Google for a plumber.
If you have specific pages that target a specialized service you offer, such as "water heater installation & repair," make sure that keyword phrase is included in that page's title, header tags and within the text. Refer to the on-page SEO guide for step-by step instructions.
2) Submit Your Business To Internet Directories. There are thousands of internet business directories and some of the most recognizable names are Yelp.com, Yellowpages.com, and Angie's List. Additionally, there are niche directories such as Homeadvisor.com that cater to tradesman. It's important that your business be listed in as many as the top internet directories for two reasons: (1) These directories provide a link to your website, making your site stronger, and (2) People will search these directories looking for a plumber.
When I search for plumbers where I live, some of the top directories I see are:
Yelp.com
Angie's List
BestPlumbers.com
Networx.com

I always recommend completing each listing to its fullest. Upload images, description, office hours, emergency numbers, and more, depending on what the directory allows. Make sure all your listings are accurate as Google tends to rank businesses higher who have a consistent name, address, and phone number across all their directory listings.
3) Claim & Optimize Your Google Business Page. Listings of local plumbers dominate the page 1 search results and if you want to appear here, your best chance is by fully optimizing your Google business page. Make sure your business name, address, and phone number is consistent with what's on your website.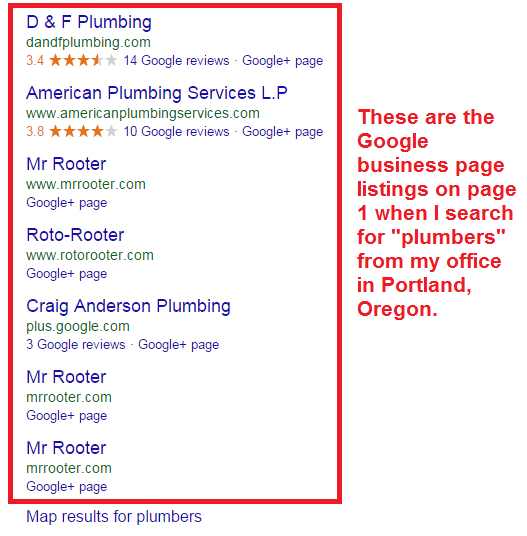 4) Get Reviews. Notice how the top 2 ranked plumbing companies in Portland (see image above) are the ones that have the most reviews? There's no question that that quantity of reviews you get is an important ranking factor, so make sure you put a system in place to get people to post a review directly to your Google business page.
Personally, I think point of purchase is the best time to do this. Give the customer your business card with instructions for leaving a review. Put instructions on your invoices and if you email a receipt, mention it again there. More reviews help you rank better and stand out amongst your competitors.
5) Add Content To Your Website. Adding content on a consistent basis is what helped us triple website traffic with one of my clients. Simply put, blogging on a regular basis is probably one of the best, most cost-effective ways of marketing your business online.
Content is king with Google! Everytime you post fresh content, you reach a potential audience of over 33,000 people per month in the United States who are searching for "plumbers."

(Of course, the traffic is much less for individual cities, but you get my point. Find out how many people are searching for "plumbers" in your city.)
Check out this blog post for some helpful tips on creating good content on your website.
6) Email Marketing. I don't recommend email marketing for every industry, but plumbers is one where email marketing is EXTREMELY important and I'll tell you why.
I don't know about you, but I've hired plumbers for various reasons – water heater repair, busted pipe, sewer problems, and more. Each time I need a plumber, I go to Google and do a search because I can't remember who I called the last time.
It would be a lot easier to remember who I used if I received an email reminder once every month or two. That's the most important thing about email marketing – it keeps you top of mind with your customers. Not only will you consistently generate repeat business, but you'll also generate referrals, and perhaps new revenue by offering preventative maintenance services.
Besides that, most plumbers aren't using email marketing to keep in touch with past customers, so this is a great way to separate your business from the competition.
If it were me, I'd start collecting emails from my customers and every month or two, I'd sent a short note with a helpful tip, just to keep in touch. This is a great way to increase the lifetime value of your customers. After all, it's easier to keep a customer, than it is to find a new one.
Plumber SEO & Marketing Summary
All of the recommendations above are tried and true principals for marketing your plumbing company online. It's all ethical, white-hat techniques and while success can never be guaranteed, we find that implementing these strategies is a great way to generate more leads from Google.
It's a lot of work, but you can do it yourself. If you have any questions or don't have the time to do it yourself, give me a call at 503-890-6663 and we'll handle it for you.