Law firm SEO applies to a wide range of legal marketing services aimed at helping both lawyers and law firms attract new clients via the internet. Search engine optimization strategy can be tailored to focus on specific practice areas such as employment law, family law, intellectual property, corporate law, real estate law and many others.
No matter what type of law you or your firm practices, online marketing is an attractive way to generate new clients.
NOTE: You can view one of our law firm SEO case studies here.
Law Firm SEO Marketing Strategies
1) List Your Firm In Online Legal Directories. It's so important for you to build your online resume and prove yourself if you're going to acquire new clients from people searching Google for an attorney. It's not enough to take a laissez-faire approach to these directories – take the time to claim your profile, upload an image and describe your practice areas in detail.

To find a list of some of the most important legal directories in your city, simply go to Google and type "lawyers." To get an even better list, type your specific area of practice like "divorce lawyers." Then scan the first 3-5 pages of Google's search results and locate the legal directories.
Legal directories like lawyers.com, Avvo, Justia are just a few of the reputable niche directories you can get listed in. Some directories are paid, others are free, and several of them will carry a lot of weight in helping you rank well for your targeted keywords in your city.
Doing a complete listing on as many sites as possible is important for two reasons:
People trust ratings they see like the screenshot from Avvo above. Take time to upload your image and get reviews, so you stand out amongst your fellow lawyers.
Most legal directories offer a chance for you to list your website which not only helps you get referral traffic, but that link is an important ranking factor for your website's SEO.
Claiming and optimizing your profile in online directories is a lot of work. If you'd rather practice law and let us market your business, call us at 503-890-6663 and we'll write a strategic law firm SEO plan that fits your needs.
2) Complete Your Google Business Page Listing. Chances are, if you've been practicing law for any number of years, Google has automatically generated a default Business Listing for you. I recommend claiming it, uploading pictures and making sure you are listed in the right category. All of these Google business page optimization tips will help you get found online.
*NOTE: Individual lawyers can claim their own Google business page which is helpful in case you change law firms. Much like a Facebook or LinkedIn profile, your Google business page stays with you. And the nice thing is that the more active you are on your page, the more content you share, and the more reviews you get, the more likely you are to appear in local Google search results.
3) Get Reviews. I searched Google for "family law attorneys" and saw these results. Look how the ones with reviews stand out from the others. Wouldn't you be inclined to consider hiring an attorney who has more reviews?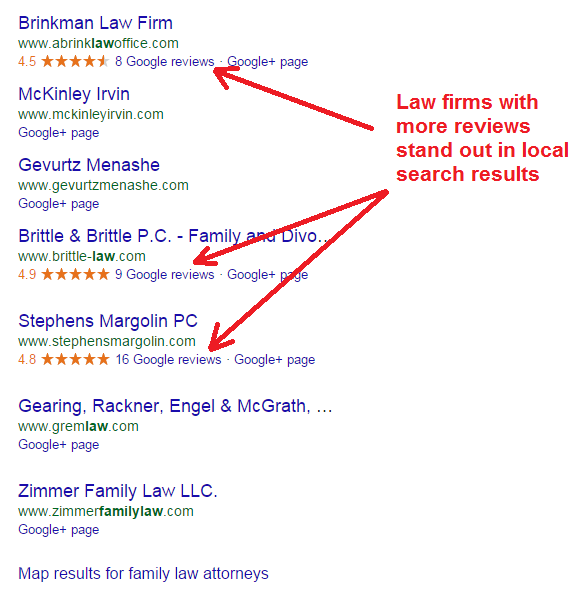 If you expect to generate new leads from your law firm SEO marketing campaign, you better get busy soliciting reviews. It's easy to put a system in place and your investment will be well worth it.
As you can see from results above, it doesn't do you any good to be the 3rd ranked attorney if no one is clicking through to you because you have no reviews.
4) Create Useful Content On A Regular Basis. The more you educate and inform potential clients on the nuances related to your area of legal practice, the more traffic and inbound leads you're going to generate from Google. Frequently asked questions, case studies, and good advice will go a long way toward helping your website AND your Google business page show up more often in search results.
Many lawyers prefer to do their own writing, but if you're too busy to write, we can help you. Together we can brainstorm topics and our legal writers will research and write the articles for you. Of course, you can proof everything, but we will manage everything else right up to publishing the content on your website.
Law Firm SEO Summary
Every law firm has a website. If you want to take advantage of the opportunity to generate new leads from Google, you're going to need to aggressively market your site using the strategies listed above.
It's a lot of work, but my team and I can help you. Give me a call at 503-890-6663 and we'll take a look at your objectives and write you proposal for online marketing that will help you differentiate yourself from the competition.