Kate Brooke is a real estate and small business lawyer in Portland, Oregon. She manages a small, but growing, firm with a website at http://brookelawoffice.com/. She is well-known by realtors and business people as one of Portland's most knowledgeable attorneys in her areas of practice.
The Problem
When we began our work with Kate, she faced a couple of issues which were limiting her potential to generate new business from the web. These were:
Slightly outdated website did not represent her firm as well as it could
Regular email newsletters were being sent to subscribers, but that content was not being put to use on the website, where it could attract more visitors from Google
The website was a bit thin on content describing the services she provides, thus she was missing opportunities to capture new business by not publishing her knowledge for he world to find
The Solution
First, we completely re-designed Kate's law firm website using a responsive theme that better highlights her brand and what her legal practice is all about. Then we turned our focus to improving Kate's internet marketing presence by doing the following:
---
1. Content Development and Management
Putting your email/newsletter content onto your website is a simple way of capitalizing on content you have already taken time to write. By placing all of your news letter content onto your website as part of your blog, you capitalize on an opportunity to reach new clients.
Kate does (and continues to do) an excellent job of writing quality content each month, which she sends to everyone on her email list.
Now, I'm not going to make the claim that we are "knocking it out of the park" with Kate's traffic; there is still a lot of room for improvement. As of the writing of this post, only 2 of Kate's 20 legal services have been built out into their own descriptive pages, but we're working on it.

As you can see from the Google Analytics traffic screenshot above, save for an August swoon when many people go on vacation, her traffic is headed in the right direction. I suspect that as we continue to add great content and attract natural links, the traffic will continue to grow.
And the exciting thing is this: As Kate's traffic increases, either one of two things is happening –
More people are searching for what she does – good for business!
She is grabbing traffic her competitors used to get – even better for business!
2. Local SEO
We optimize all of the content on Kate's site, which helps search engines to understand what each page is about. Because she operates a local business, we add her location to as many pages as possible – especially her home page and services pages – as this helps her to rank better in Google local search.
3. Link Building
Every month, we build more links for Brooke Law Office, by submitting her website to internet business and niche industry directories. Accumulating lots of citations like this on a regular basis is helpful for improving PageRank. As her site grows stronger through sustained link building, it should improve in search rankings, too.
The Results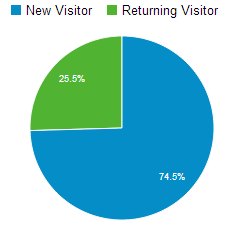 Now, however, we also post that content to her website. This has helped her increase traffic and gain new clients from people searching in Google for the topics she is knowledgeable about.
As you can see, 75% of all traffic is now coming from new visitors to her site.
Lawyer Testimonial
If you are a lawyer looking for an improved web presence, we can help you. We design outstanding law firm web sites to help your improve traffic and increase leads. Call us at 503-890-6663 to schedule an appointment.