Fertility Solutions operates two clinics in Queensland, Australia – one on the beautiful Sunshine Coast and the other in Bundaberg. The client website – fssc.com.au – promotes both clinics and is an important way for new patients to find a clinic to work with.
Old Website Problems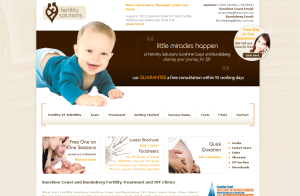 Fertility Solutions former website had several issues including:
Outdated design and look
No design control – management was not easily able to make changes to the site or get it to look the way the wanted
Clumsy URLs
High bounce rate – probably due to cluttered, unclear navigation
Not mobile-ready
As a result, site management was a hassle and costly, rankings suffered, and conversions were not optimized.
The Solution
We completely re-designed the new site to the client's liking and added new functionality at their request including email marketing lead capture, a private employee area for company document and policy information, and a billing module.
After recommending that WordPress be selected as the content management system, we began by customizing a theme site based on Fertility Solutions's PMS color schemes. With the framework in place, we moved all of the content from their old site to the new one.
The Results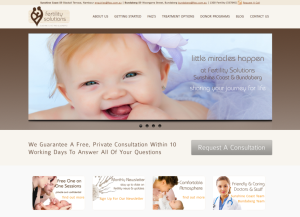 We built, moved content, and launched the new Fertility Solutions website within 21 days. Immediately, we saw bounce rate drop below 1%, a huge improvement over the old site and within a few months, we began to see nice gains in traffic, as the site is now more SEO-friendly.
Denise at Fertility Solutions is very happy with her new website and we continue to provide her with a robust fertility clinic SEO and internet marketing campaign to continue traffic growth and authority in her niche.

"I would have no hesitation in recommending Mike Munter to anyone who requires a capable and professional SEO and Website team. He lives up to his
business motto of 'We want to see your business grow.'
Have a look at our site www.fssc.com.au and see the type of work that Mike and his team performs; I could not be happier with the end result. Get in touch with Mike – you will not regret this decision."
– Denise Donati, Co-Owner and Nurse Manager, Fertility Solutions