If you operate a towing service and are wondering why your website is not ranking well in Google, it could be because you have missed some basic SEO fundamentals.
In this post, I'll share an example of what I found in 5 minutes while reviewing a random towing site I found online. I'm hoping the owner will benefit from the 6 tips I provide below.
Towing Website SEO Problems
The website is www.pinktowingofsm.com and as I review the site, it looks like they are trying to rank for keywords such as:
towing santa monica
towing los angeles
towing beverly hills
towing burbank, etc
In my 5 minute review, I found the following problems that should be fixed.
1. Title Tag

Put your keyword first for the best chance of ranking. I'd change this to:
Towing Los Angeles, Beverly Hills – 24 Hour Service – Pink Towing
2. Add H1 Tag
To view your H1 tag, right click on your website, view page source, and use F1 to search for H1.

Add your keyword into your H1 tag for the best chance of ranking in Google. I usually like to vary the H1 slightly from the title tag, so I'd recommend one H1 tag, something like:
Los Angeles Towing Service
3. Keyword Spamming

It's good to use your keyword, but overdoing it is spammy. There are about 1,400 words on the pinktowingofsm.com home page and "towing" appears 90 times. (Use F1 and search to check). That's 6%.
While there is no hard and fast rule for keyword usage, Google recommends that if it reads like spam, it probably is.
4. Home Page Content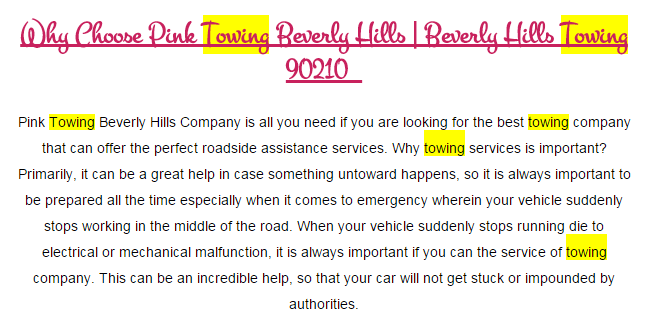 In reading the excerpt above, I'd remove the "Beverly Hills Towing 90210" and re-write the content to include fewer instances of the word "towing."
As I review the entire home page, I see the following problems:
Grammatical errors
Excessive use of keyword
Content does not read well
I can see the owner is trying to target multiple cities, but I would not try to target them all on the home page.
Instead, write useful content, aiming for 500-1,000 words if possible and mention the cities you serve, then link to those internal pages. Target your main city on the home page, in this case "Santa Monica" and then target other cities with your internal pages. Follow this guide to rank for cities you serve.
5. Fix Incorrect Links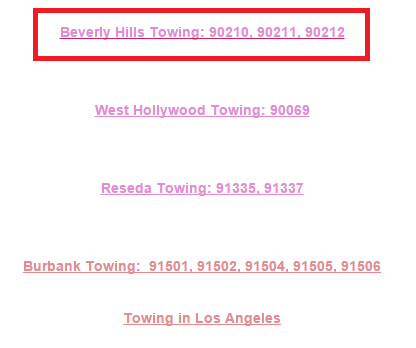 The link I highlighted above points to the Burbank page. Fix it so it points to the Beverly Hills page.
6. Go Mobile
The site is not mobile-ready which means it may not scale well on mobile devices. And after April 21, 2015 it might not appear at all on mobile devices, as Google intends to reward sites that are mobile-friendly.
This won't be a cheap, easy fix, but highly recommended, especially for a towing company. I'd bet most of their traffic comes from mobile devices.
Towing SEO Summary
Making the changes above won't guarantee better search engine rankings. But these are fundamentals that any SEO firm would fix immediately, so you have the basics covered.
Once these changes are made, add content on a regular basis and use link building to boost authority. These simple strategies are not a quick fix, but over time, you should see improvements in your rankings and in the number of inbound calls you receive!