According to an announcement made by Google on February 26, 2015, the answer is, "Yes."
In Google's Webmaster Central blog, the Feb 26th entry is titled, Finding More Mobile-Freindly Search Results and contains information about algorithm changes that will take place beginning April 21, 2015.
The post announces that the 4-21 algorithm change will make, "…two important changes to help users discover more mobile-friendly content."
Specifically, Google promises to include:
More mobile-friendly websites in search results and
More relevant app content in search results
The main quote website owners should be concerned with from Google's blog is this:
Starting April 21 we will be expanding our use of mobile-friendliness as a ranking signal. This change will affect mobile searches in all languages worldwide and will have a significant impact in our search results. Consequently, users will find it easier to get relevant, high quality search results that are optimized for their devices.
Will I Rank Worse If My Website Is Not Mobile-Ready?
The short answer, as I interpret it by the section I underlined above, is "you might not rank as well if your site is not mobile-ready."
Of course this is only one of over 200 ranking signals, but only Google knows how much weight they will put on this particular ranking signal. Seems to me like it might get more and more important as the worldwide trend toward mobile continues to grow.
Why Is Google Making This Change?
The reason for this change is simple. Websites that aren't mobile ready (also known as "responsive") may not render well on mobile devices like smart phones and tablets. In Google's attempt to provide a good user experience, it makes a lot of sense for them to return search results that render properly on your mobile device.
So, while you may not see an immediate dip in traffic to your site when the algorithm goes live April 21, it would be smart to get ready for the transition by updating your site to be mobile.
This is just one more reason why we recommend a custom-coded website vs. a theme website, which may not be coded to be mobile-ready.
Which Websites Will Be Effected Most By This Change?
Clearly, businesses in the Business-to-Consumer (B2C) market will be effected more than businesses in the B2B niche.
The charts below represent Google Analytics data from several websites in each niche.
Notice how 24% of all website traffic in the B2C niche is mobile. One would expect that to be even higher for service-oriented businesses like bars, restaurants, and retail, where consumers are making decisions "on the go."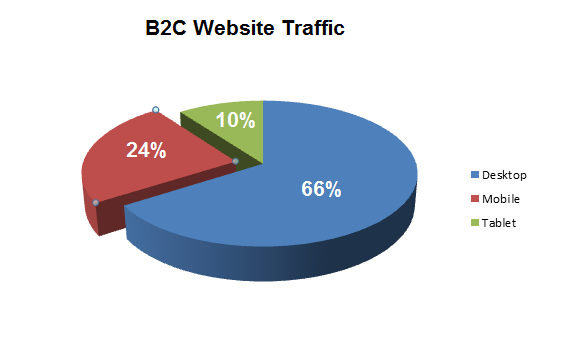 The B2B niche is expectedly much lower, with mobile traffic representing only 8% of all website traffic. As most people work from an office, it only makes sense that desktop would dominate the chart below at 90%.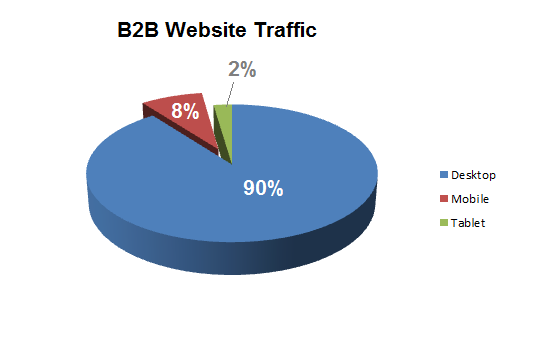 Video Resources
Find out if your website is mobile ready by watching this short video, includes examples.
And this video will show you how to use Google analytics to find out how much traffic your website is getting from mobile devices.
Conclusion
Either way you look at it, mobile is the present and the future, especially for those businesses that serve consumers. All of our new website design projects are coded to be responsive, so your site will scale to any mobile device now or in the future. We offer mobile-friendly web design services that set you up for success on any sized mobile device.
If you're site is not mobile-ready now, it would be wise to consider an upgrade in the near future, as it is clear that Google is taking this seriously and your traffic may suffer.