I received a call today from a locksmith in Stockton, California with a common problem: "I'm not ranking in Google."
Being a locksmith, the #1 keyword he wants to get found for is "locksmith stockton ca." According to Google's keyword planner, this term gets 390 searches per month (broad match) and the suggested bid is $6.31, if he wanted to run a pay-per-click campaign.
I decided to take a look at his website and document the strategy I would use to help him rank better. Many of these tips are described in our Guide To Ranking Your Local Business In Google.
Hopefully, what I find and share can be helpful not only to other locksmiths, but any small business person who does not have a brick and mortar location and who serves people at the customer location.
Locksmith SEO Strategy
1) Title Tag.

His title tag for his website says, "Master Key Lock, Stockton Car Lockout Service."
This isn't bad, but I'd change it to say "Locksmith Stockton Ca – Car Lockout Service" with the main keyword first.
2) H1 Tag.

To see what your H1 tag says, right click on your home page, and click "View Source." Then hit Ctrl-F to open a search box and enter H1 as I've done in the image. As you can see, he has no H1 (header) tag on his home page.
I would add an H1 tag to say, "Locksmith Stockton, Ca" or "Auto Locksmith serving Stockton area." As long as it reads well and contains the main key terms, you're in good shape.
3) Home Page Content.
The site looks nice enough, but to help it rank better, I'd recommend more words (content) and fewer images on the home page. Words are what Googlebot reads and will help you rank better. Images don't help you rank. And words on images are NOT read by Google.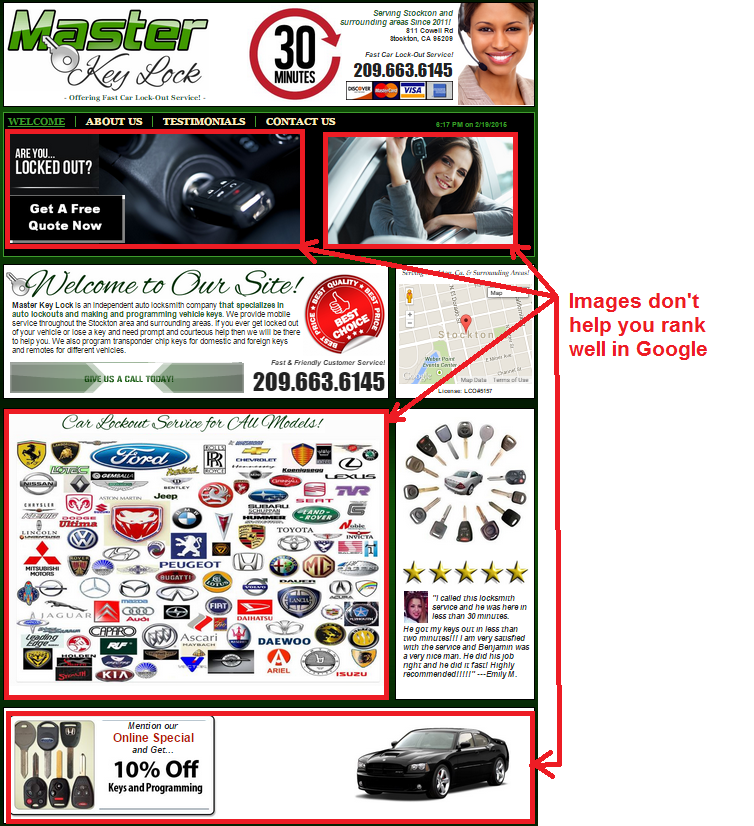 Specifically, I would write a paragraph about each of the following topics (separated with H2 tags):
Are you locked out?
Describe the types of cars/vehicles you service.
Describe your online special.
Talk more about the service you provide and what it will be like to work with you.
Describe your service area and mention the cities you would travel to help people who are locked out of their cars.
I'm not suggesting an unattractive home page full of words – you have to find the balance – but I would definitely add more than what's there now. Be sure to use words and phrases that are relevant to your service, like "locked out of car." This site only has 204 words. Aim for at least 500.
Google Business Page Marketing Strategy
1. Consistent NAP. 
I'm not sure what the legal or dba is for this business, so I'd need to find that out and make sure it is displayed in text on the website home page. SEO experts believe that having your name, address, and phone number displayed consistently from your website, to your Google Business page, to all of your directories (like merchantcircle, yelp.com, yellowpages.com, etc) is and important indicator in building trust with Google.
It only makes sense – if your name is listed differently in different directories, how is Google supposed to confirm it's really you.
When I searched Google for this locksmith's phone number, I found listings for "Master Key Lock" and "B&C Lockout Service." Maybe the business changed names or changed hands, but I'd spend the time to update the most important internet business directories and niche directories, so they're consistent with the legal business name or dba.
2. Claim/Optimize Google Business Page.
This client says he claimed his Google business page, but searching through 76 locksmiths in Stockton, I didn't see it.
It goes without saying that in order to appear in local Google search results, you've got to claim and optimize your Google Business page.
3. Get Reviews.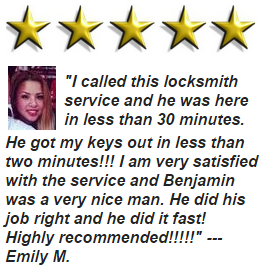 Having a few reviews on your home page is fine (like the one pictured at left), but where you REALLY want reviews is on your Google Business page.
If it were me, every time I helped a new customer get back into their car, I would ask them to review me and make it real easy for them to do it. Either have them do it right on the spot, or hand them a business card with instructions.
Tell your customers how important it is to your business and that you'd really appreciate it. A few reviews on Yelp and other sites is going to be good for business, too!
4. Share Content.
Share your content or other interesting content related to locking your keys in your car on your page. Being active on your Google Business page can only HELP your ranking as it signals to Google that you are in business and actively marketing.
Blog Marketing Strategy
If you want to increase traffic and relevancy of your website, add content on a regular basis. Follow my steps here for creating great blog posts.
I know, you're thinking, "I'm a locksmith, what do I blog about?" How about these topics:
5 Tips For Not Locking Your Keys In Your Car
Funny Locksmith Stories (share your own interesting anecdotes)
Tips For Breaking Into Your Own Car
Compare Different Services Such As AAA and Insurance Companies
Many people underestimate the power of adding content on a regular basis. I'm telling you, blogging is one of the most powerful things you can do to improve traffic, ranking, and lead generation. Just do it!
Analytics & Tracking
We install Google analytics and Google webmaster tools on every client site we work on. Both are free tools and easy to install.
Google analytics provides a weath of information including traffic, unique visitors, pages they are visiting, and much more. Webmaster tools provides you with technical data that might be effecting your site's performance such as 404 and other crawling errors.
For our clients, we also upload their keywords into our rank tracking tool and provide access, so they can see how they're doing. There are lots of these tools on the market and some are free.
Summary
As you can see it's a lot of work, but it's not rocket science. Once you've got the SEO fundamentals down as described above, the rest of it is just common sense marketing.
Of course, you could go through all of this work and not rank any better – OR – you could simply change the title tag on your website and start ranking within a couple weeks. You never know exactly how Google's algorithm is going to treat you.
That's why we follow all best practices and do the things we know will help you over the long run.
If you have questions or would like me to consider a post about your business, please call 503-890-6663.