If you don't run a paid Google Adwords campaign, you can't see keyword volumes – unless you use Keywords Everywhere, a free Google Chrome plugin.
This free plugin will allow you to see live data as reported by Google Keyword Planner.
Keywords Everywhere is the easiest, fastest way to get the average monthly search volume for keywords, plus search suggestions and related searches – also with volume estimates.
And the best part of the plugin for me is the search estimates are shown immediately AS YOU TYPE in the search box.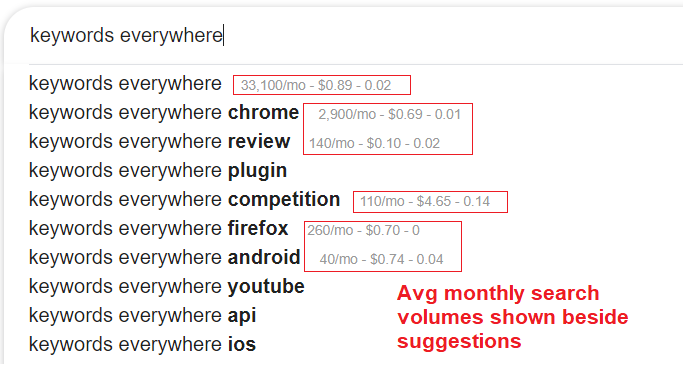 See how the keyword search estimates are pulled into the live search box above?
Any keywords without an estimate are assumed to have zero monthly search volume.
Keywords Everywhere Keyword Research Demo Video
How to Use Keywords Everywhere for Google Autocomplete Quotes
I use Keywords Everywhere for all of my Google Autocomplete repair and Google Related Searches repair quotes.
Here's a step by step for how I do it.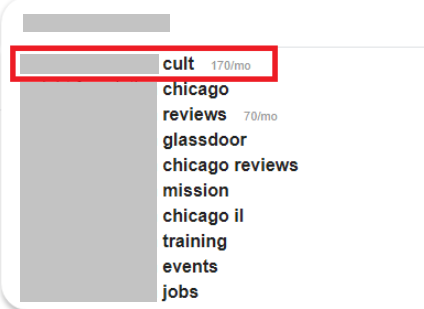 In the sample above, the client wants to push "cult" out from their suggestions. You can see it gets searched 170x per month.
Reviews gets 170x per month and all of the other suggestions are 0.
Since Google Autocomplete suggestions are GENERALLY a popularity contest ranked highest to lowest, I'd build the campaign around searching 12 positive terms 200x per month.
What if the negatives had zero search volume?
If the negative suggestions had 0 avg monthly search volume, I'd build the campaign around 50 searches per month for each of 12 keywords – that is the minimum we do for campaigns.
How to Use Keywords Everywhere for Google "Searches related to" Quotes
It works the same for Google "searches related to."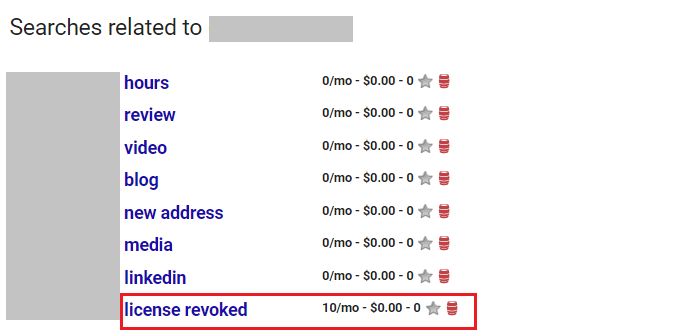 As you can see, "license revoked" receives 10 searches per month, as highlighted by Keywords Everywhere.
This is what I consider to be a low volume campaign, so we would hit it with 50 searches per month for each of 12 positive terms.
Why do you search 12 terms when only 8 show in Related Searches?
I do 12 terms so we have a couple extra in case Google doesn't pick them all up. It's a more conservative approach.
If we only did 8 terms, we'd have to go 8 for 8 to get them all showing up and to push out the negative suggestions.
I like to have a little room for algorithmic error, so I do 12 for both RS campaigns and Autocomplete.
Wrap Up
Now, you've learned three things:
How to do get average monthly keyword search volume fast and easy
How I use Keywords Everywhere for Google Autocomplete quotes
How I use Keywords Everywhere for Google Related Searches quotes
If you need more help understanding the plug-in, contact the author or contact me and I'll try to help you.
If you have a negative suggestion showing in Autocomplete or Related Searches, I specialize in pushing them out. Contact me for a quote.
Thanks!