If you received a domain name expiration notice from Internet Domain Name Services (iDNS), DO NOT SIGN UP with them!
It is a scam to get you to pay far more money than you need to for your domain name.
This is strictly a marketing letter to entice (scare) you into overpaying.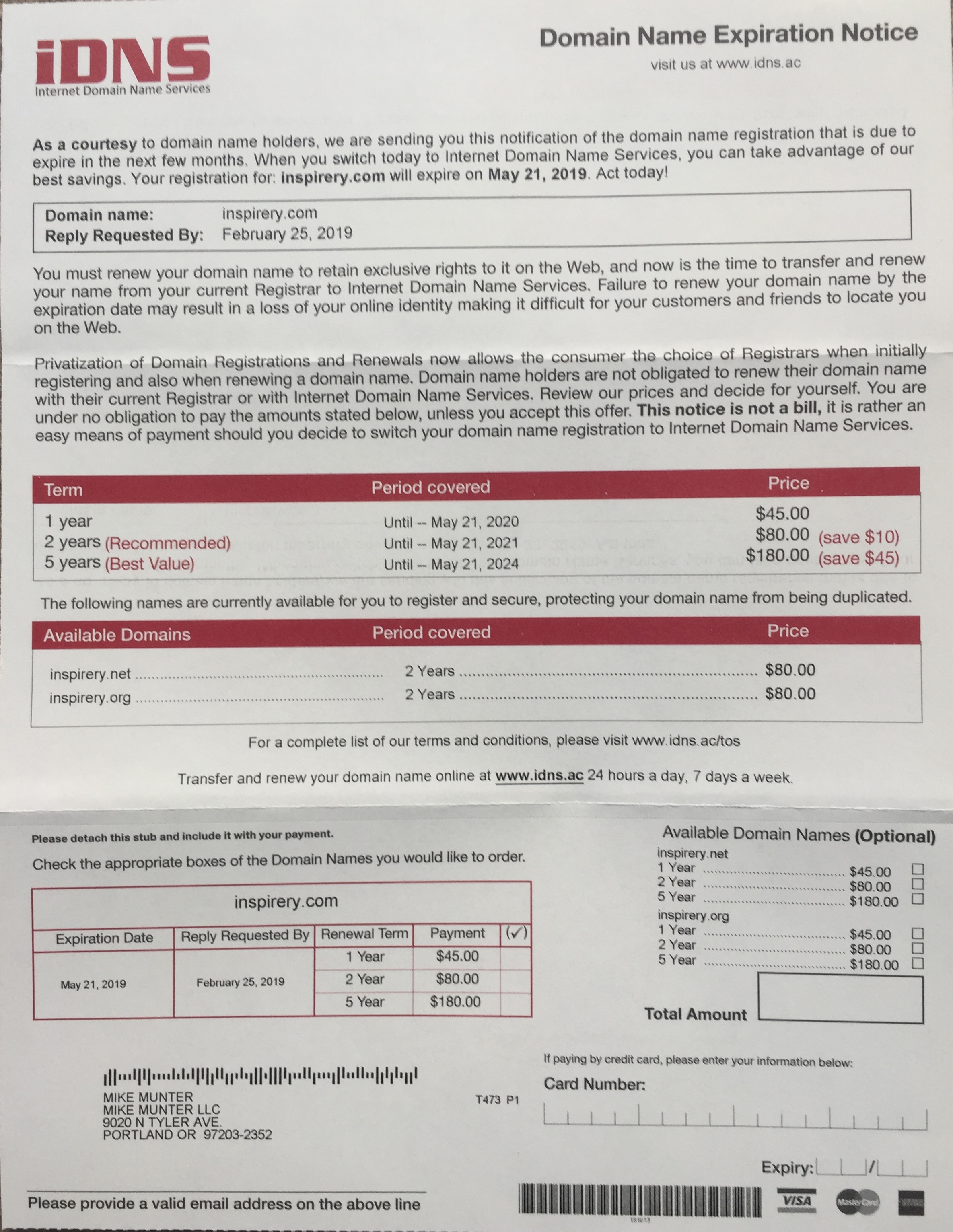 In fact, if you've received this letter, it's because you're probably already paying GoDaddy, BlueHost, HostGator or another well known registrar.
These companies typically charge $10-$15 per year to re-register your domain name.
Compare those prices to what iDNS is charging:
1 year rate $45/year (3x more than you have to pay)
2 year rate $40/year (~3x more than you have to pay)
5 year rate $36/year (still about 3x more than you have to pay)
Examine The iDNS Letter Closely
If you read the letter, you'll see in the third paragraph it says,
"Domain name holders are not obligated to renew their domain name with their current Registrar or with Internet Domain Name Services. Review our prices and decide for yourself."
Why would you pay more to renew your domain name?
You get no more value no matter who you renew your domain name with. Yes, you DO have to renew it, but why would you pay 2, 3, even 4x as much as you're already paying?
Next, you'll see in bold.
"This notice is not a bill…"
Well, it sure looks like a bill and I bet a lot of people just go along with it, thinking it is a bill.
It's not!
I can't stress enough – this red and white letter is a deliberate attempt to fool consumers who don't know the difference.
Stick with your existing host (assuming you're paying $10-$15 a year – that's what you'll pay with the companies I listed above. I've worked with all of them and they all have excellent phone support and can answer your questions.)
iDNS Letter Summary
I hope you don't fall for this letter.
It's a marketing scam and you don't have to pay them. Renew with your current host – in fact, do like I do and set your domain names to auto-renew – that way you'll never lose them.
Of course, you'll continue to get iDNS marketing scam letters in the mail when your domains come up for renewal.
Do what I do – straight to the recycling bin!