All of the information on this chart is current as of June 2013.  Skip to the list. Each of the sites listed below promotes itself as being a free site, so you won't see sites like PRWeb that only accept paid submissions of your news.  Many of the sites that appear on the list also have paid options to include a contextual anchor text link – those are also not included.  Our mission is to keep it 100% free – and thus avoid any potential penalty from Google. Things are constantly changing on the web.  As Google cracks down on…. sites change the way the do business.  In May 2013, for example, we were able to submit HTML links within our releases on newsreleaser.com; now we're not.  So, help us stay current! We manually created accounts and submitted (or tried to submit) at least one press release to every site listed here.  Please, if you find that any information here is inaccurate, send me an email so we can update our list.  Our intention is to provide you with a one-stop shop that you can refer back to again and again. As well, if you have a site you would like us to review, send me an email and we promise to get to it as soon as we can.  If we like the site, we might even give you props (in the form of a link, of course 🙂 Thanks for helping make this the web's best resource for free press release site information. Headers –  explain my columns, explain my style for writing press releases, explain how to maximize SEO value, offer service to handle submissions for you, strategy – dupe releases or unique releases Free site drawbacks are that they might limit distribution to 1 per day or 5 per month, but that's fine.  We want, free, easy, effective – limited distribution we can work with.
If you're going to have your team do submissions, I recommend publishing your first release on prlog.org….
prlog.org (PR6)
PRLog is one of my favorite sites and I'm thankful to my friend, Google Places expert Randy Kirk for telling me about it.  You have to sign up with a name@domain.com (no gmail or other free email accounts).
You can upload an image, company logo or photo of your client and add a caption.  Your link is URL-only; no keyword anchor is allowed.  PRLog does not publish immediately, usually takes a couple days.  They have published every release I've submitted and have always sent a follow-up email notifying me that my release is live.
You can submit "Press Rooms" for each of your clients, with their Twitter and Facebook accounts.
http://www.prlog.org/12160747-new-sunshine-coast-ivf-clinic-open-in-buderim.html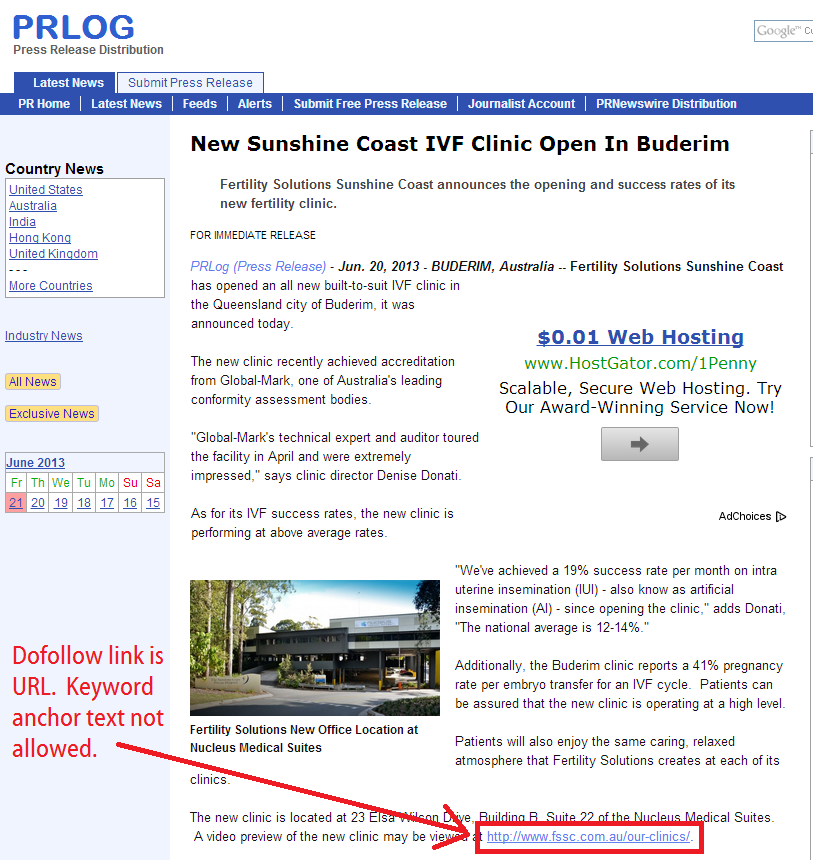 freeprnow.com (PR3)
FreePRNow does not allow HTML in the press release body, but it does allow a dofollow link to your company website in the Author Details box.  It also publishes immediately.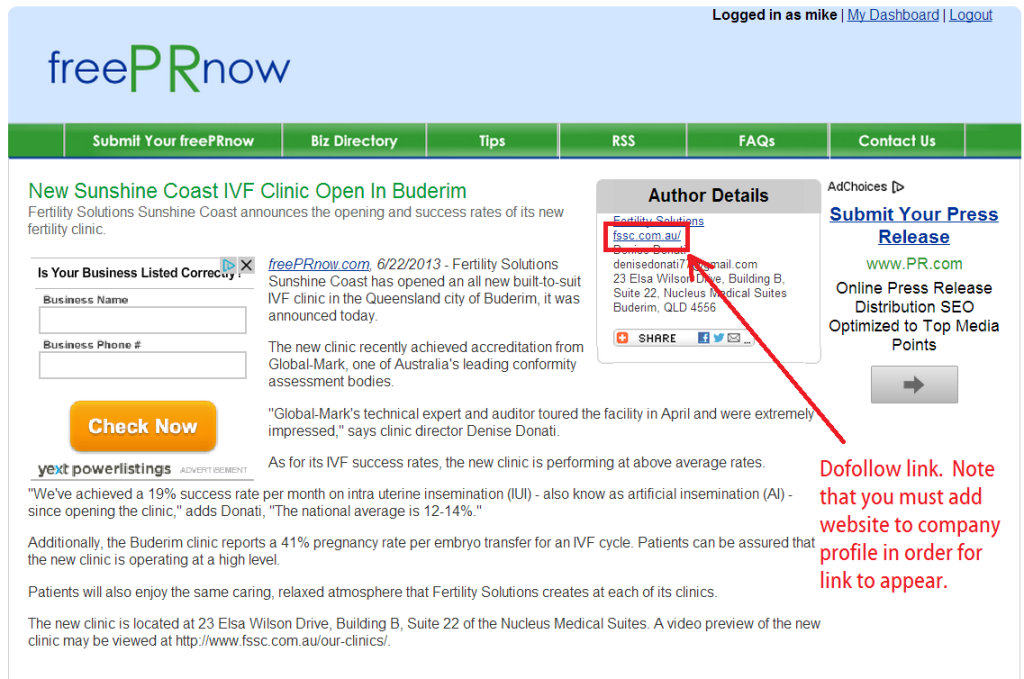 onlineprnews.com (PR4)
OnlinePRNews offers a dofollow link in the Contact Information.  Only one release submission is allowed per day, but publishing occurs right after submission.  CHECK THIS
pr-usa.net (PR 5)
PR-USA allows you to insert a dofollow keyword-rich anchor text back to your website.  Approval is almost immediate – I had to wait a few minutes and refresh my screen.
http://pr-usa.net/index.php?option=com_content&task=view&id=1581502&Itemid=38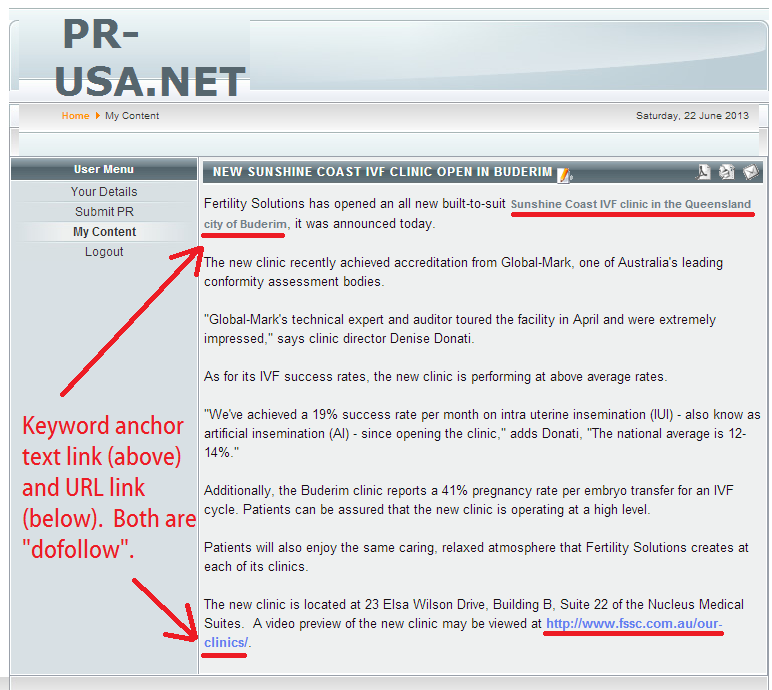 One glitch I found with PR-USA is that they published one of my press releases on a different website at: http://gudelnews.com/index.php?option=com_content&task=view&id=1566610.  Of course, I have no control over this, but it's okay, my dofollow link is in tact, even though the Gudelnews.com home page is a PR3.
i-newswire.com (PR6)
I-Newswire only allows 1 company profile for free account, so if you are submitting on behalf of clients, you will need to create a new login/password for each client.  This is important because your dofollow link appears for the company name in the contact information box.  Links or URLs within the press release body are stripped out.
Approval takes a few days.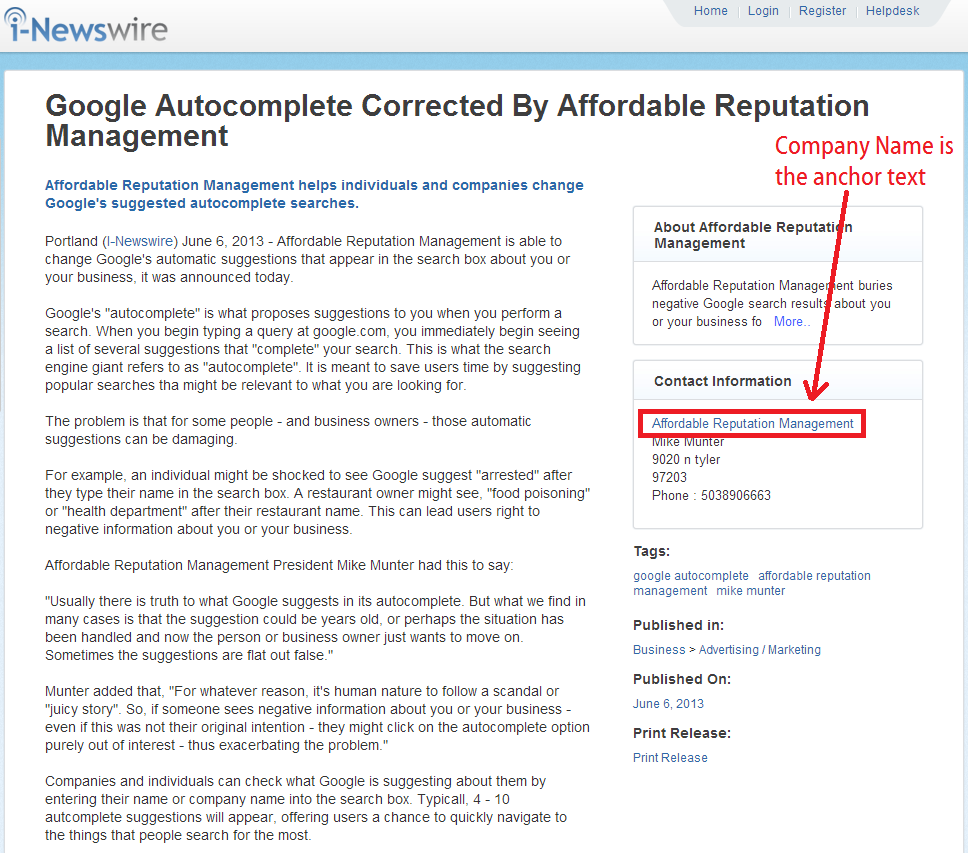 http://www.i-newswire.com/google-autocomplete-corrected-by/225230
briefingwire.com (PR4)
Briefingwire.com lets you setup multiple Business Profiles which is great for client submissions.  In fact, the company profile page provides a dofollow link, even before you submit your release.
Your press release goes live as soon as you publish.  Your link will appear in the Author Details, so make sure you enter the correct URL when you setup each Business Profile.  Also, make sure you select the correct Author from the drop-down menu, the correct category, and check off the website – at a minimum -under "Contact Info Display Options."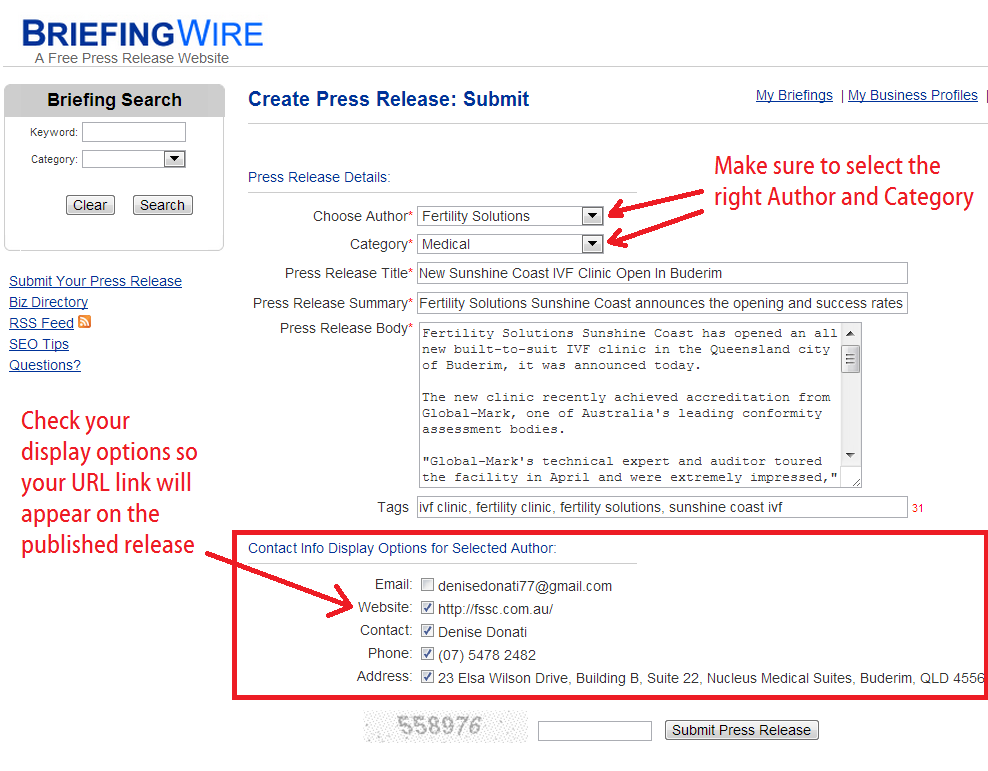 Enter your captcha and within several seconds, your release will be published.
http://www.briefingwire.com/pr/new-sunshine-coast-ivf-clinic-open-in-buderim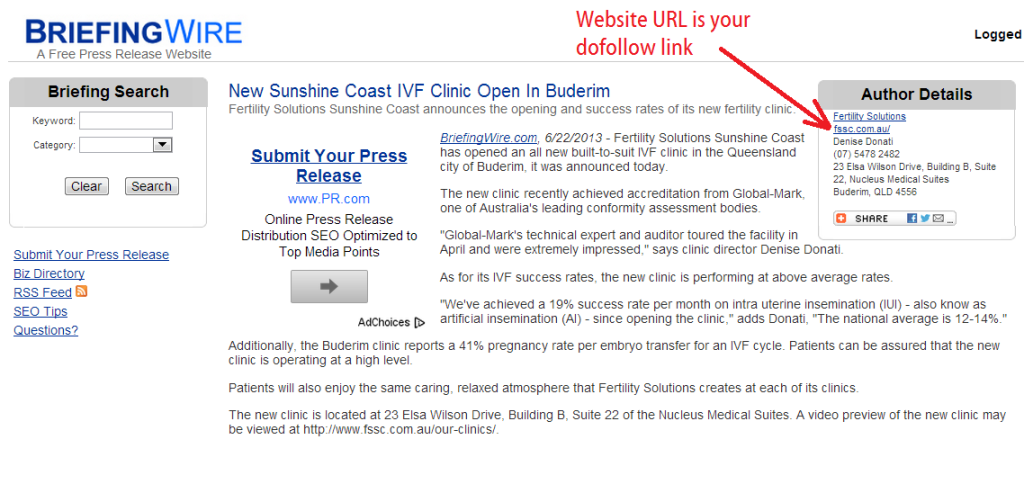 onlineprnews.com (PR4)
OnlinePRNews will publish your press release within 24 hours and you are allowed one free press release submission per day.  Your published link is the business URL, so make sure to enter it in the Media Contact Information when you complete the submission form.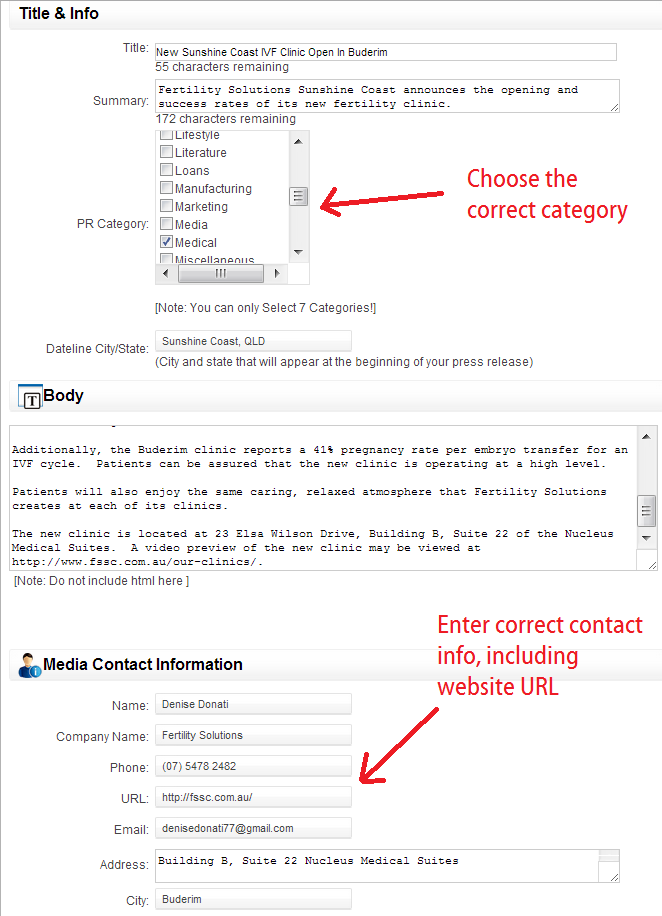 After you submit your release and it's reviewed, it will be live on the onlineprnews website, with a link pointing to your (or your client) site.