We provide SEO for chiropractors who are interested in ranking better and generating more inbound leads from Google. Everything we do follows Google's quality guidelines for online marketing and is considered to be "white-hat." We don't do anything tricky or manipulative that will get your site penalized.
According to the Bureau of Labor Statistics, the chiropractic industry is growing at a rapid pace, 15% job growth expected in the next 7 years. Marketing your practice is going to get even more competitive.
To ensure a steady flow of new patients, it would be smart business to direct your marketing dollars into online strategies that help you get found in Google and other search engines. Below, we've outlined some of the strategies we'd use to help you achieve those objectives.
Chiropractor SEO Marketing Strategies
Chiropractors and chiropractic clinics wanting to improve visibility in Google ought to use the following marketing strategies to generate new business from the internet:
1) Optimize Your Google Business Page. Your Google business page is assigned to you by Google as a way to identify you on Google maps. If you haven't already claimed your page, do it now! You'll want to make sure you've got pictures of yourself and your clinic, a description, proper category selection, and by all means – lots of reviews!
Below is an example of a chiropractor who has done a nice job with all of those things.

A = Smiling photo of the doctor
B = Verified business (the check mark indicates that)
C = Complete business name, address, phone# matches his website, and website URL
D = Proper category selection and up to date office hours
Notice how attractive the page looks with the banner featuring the rhinocerus's, too! All of these updates plus the activity on his page help him rank well in Google.
2) Get Reviews. Once someone finds your website in Google, reviews are the social proof you need to get them to call you to make an appointment. In the case of our Zenaptic Chiropractic example, he's got 84 reviews and a perfect 5.0 rating. That's terrific!
If you were looking for a chiropractor in Vancouver, Washington and you saw the search results below, who would you choose? Certainly, this office appears to be doing good business and has a lot of happy patients.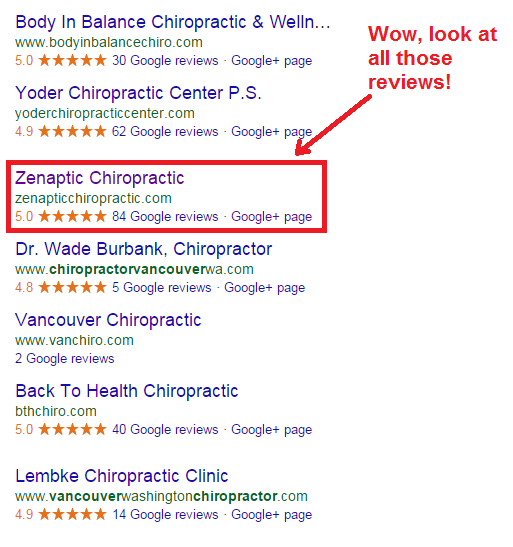 We help all our clients put a review system in place to help them constantly improve the number of reviews they have on the web. It's not rocket science, but it does take effort. As you can see above, the results are worth it. While Zenaptic is not the #1 ranked chiropractor, they do rank well, and all of those reviews helps them stand out amongst their competitors.
3) Add Content To Your Website. Blogging regularly is one of the best ways to generate new leads in Google. Every time you add new content to your website, you give people new ways to find you. I can tell you with 100% certainty that my clients who blog at least 2x per month see their traffic steadily increase, whereas clients who don't blog see traffic that's flat or in decline.
There are lots of things you can write about. You might refer to our post on How To Write a Quality Blog Post for tips and ideas, but here are a few topics a chiropractic patient might be interested in reading about:
Chiropractor care pros and cons
Can chiropractic be used on babies or children?
How is chiropractic different from acupuncture? (Compare benefits.)
You can probably come up with many more topics simply by taking note of the questions your patients ask you. My rule of thumb is if you can write 300-1,000 words explaining the answer, it'll probably be an outstanding blog post.
As part of your chiropractor SEO monthly marketing campaign, we'll create excellent content and post it to your website, so you can focus on your business. Call 503-890-6663 to get started.
4) List Your Business In Internet Directories. No matter what city you live in, when you Google "chiropractor" or "chiropractors near me," you're going to see internet business directories like Yelp, Healthgrades, Angie's List, BBB, and others.
While directories like Yelp and Angie's List are portals for any business, sites like Healthgrades is what we call a "niche" directory because it caters specifically to health professionals. You'll want to get listed in as many of both types of internet directories as you can.
In order of importance, I always start with the most relevant directories that appear in search results because those are ones that consumers might search to do further research. For example, as Healthgrades becomes a more trust site, a consumer might prefer to check out your history, reviews, and reputation on a site like that, as opposed to trusting the results she sees in Google. The more quality listings you have in internet directories, the better.
Directory listing submissions is tedious work, so that's why we handle it for you as part of your overall internet marketing package.
Chiropractor SEO Summary
When considering a marketing strategy to help further develop your chiropractic business, SEO and online marketing has an excellent ROI. With the average lifetime value of a client being $7,500, you can begin to see how important every new patient is to your clinic.
The single term "chiropractor" is searched over 300,000 times per month in the United States and demand is on the rise for chiropractic services. As the popularity of the internet as a "search for services" tool, your online presence is only going to become more important.
If you don't have the time to do an effective job of online marketing on your own, hire us to get the job done for you. Call 503-890-6663 to discuss your situation.