The Better Business Bureau (BBB) was founded in 1912 and is a non-profit organization focused on advancing marketplace trust. For over 100 years, consumers have turned to the BBB to find reliable information on a business's credibility, ethics, and practices. Hands down, it's one of the best places to list your business. You must have been in business for at least 12 months to list your business at BBB.org.
The BBB offers two types of business listings:
Accredited Listing.  Accreditation comes with a monthly cost and includes a comprehensive review of your business. A great perk of becoming accredited is that you get to embed the nice little BBB shield on your site – a mark of trust that establishes instant credibility with new visitors to your website. You also get a link back to your website.
Free Listing. A free listing takes time, but allows you to list your business, description, and gain a valuable citation (your website listing is not linked back to your site). By claiming and optimizing your business listing, you can achieve a coveted A+ rating.
This guide will teach you step-by-step how to acquire and optimize your free listing.
Submitting Your Business To BBB.Org
1. Find Your Local Chapter 
Begin by visiting bbb.org and search for your local chapter by entering your zip code. If you operate your business from your home, enter your home zip code and hit "Enter." You'll know you have arrived at your local chapter because you'll see the area designation as a sub-domain of bbb.org in your browser.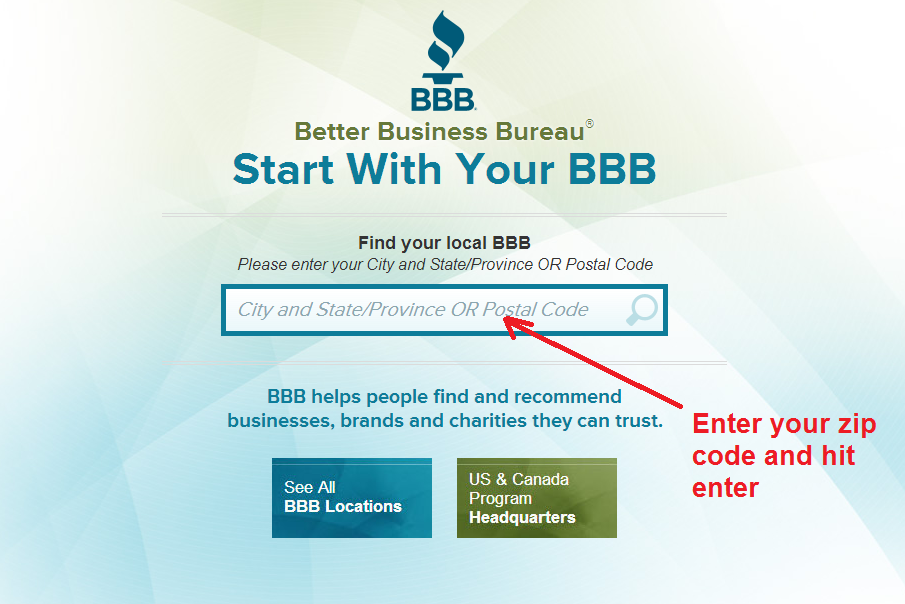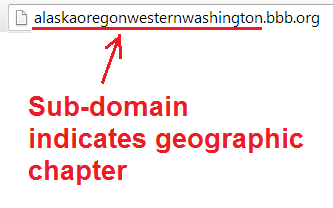 2. Check Out A Business or Charity
Click "Check out a business or charity" and you'll be taken to a screen where you can search to see if your business is already listed.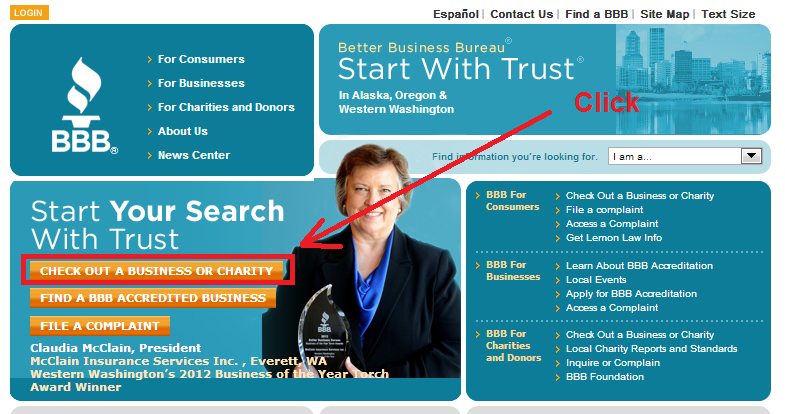 3. Search For Your Business
Enter the name of the business -or your personal name if you're a sole proprietor – and the city/state and click the green "Search" button.

4. Request BBB Develop A Business Review
Assuming this is your first time and your business is not listed, click on "Request BBB develop a business review."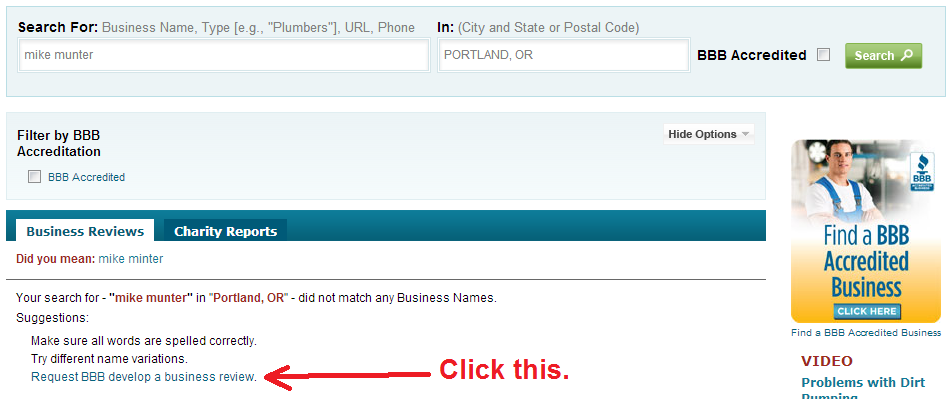 5. Enter Your Business Information
You'll be taken to this screen where you can enter all of your business information. Fill out all of the information accurately and hit "Submit your request." Your information will be reviewed by a BBB representative for accuracy.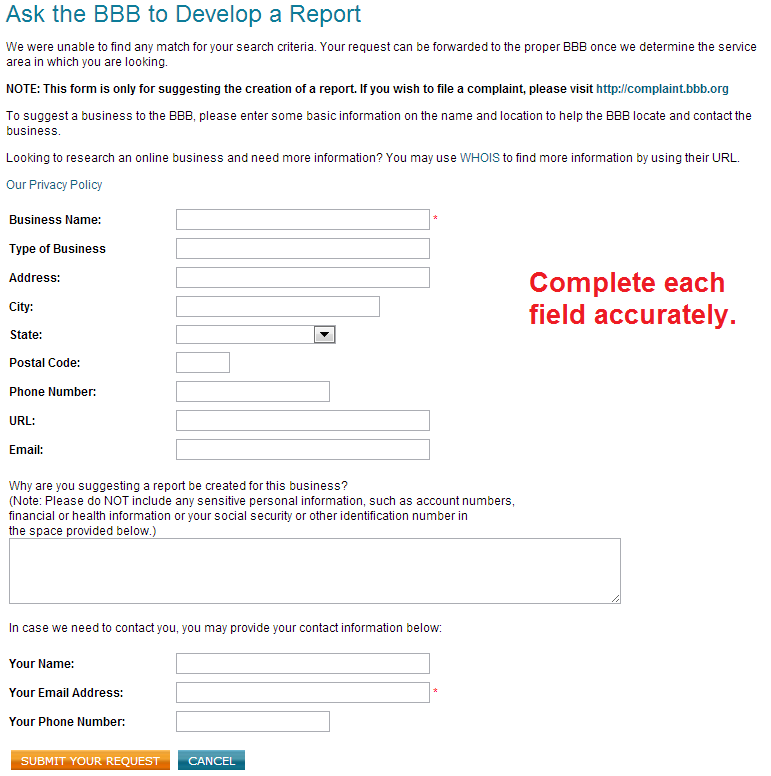 Edit & Claim Your Business
6. Wait A Week And Check For Listing
After about a week, go back to the bbb.org website and enter your zip code to find your local chapter as in Step 1. If it's not there yet, you can contact the BBB to check the status.
If you do find your business, follow the additional steps below to claim and optimize it. A fully completed listing is one way to ensure a high rating.
 7. Login
This time, click the orange "Login" button at the upper left hand corner of the screen.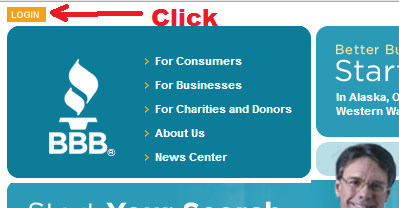 8. Login To BBB Accounts
Now, click "Login to BBB Accounts" if you're doing a free listing and click "Accredited Business Listing" if you're doing a paid listing. Remember, this tutorial walks you through the steps to do a free listing.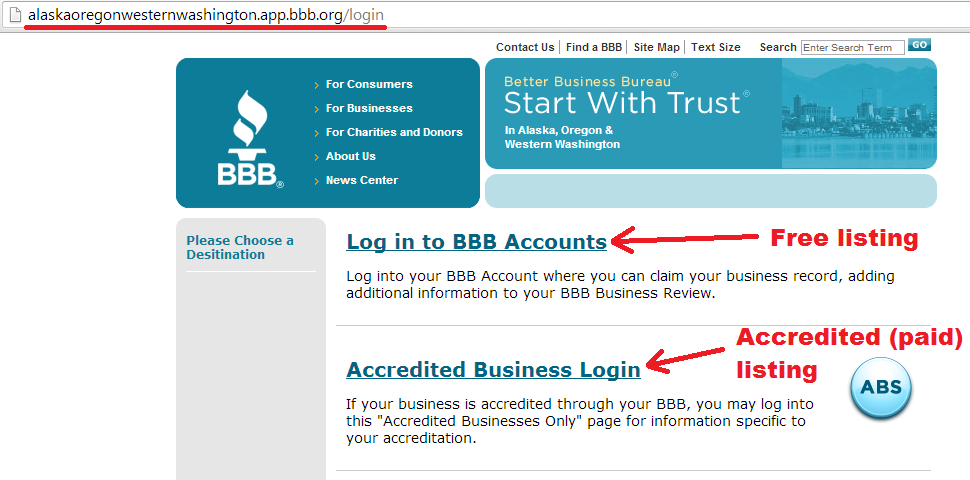 9. Sign In
To claim your business, you need to create an account. You do that by:
Entering your email address,
Choosing "No, I am new,"
Clicking the green "Register" button.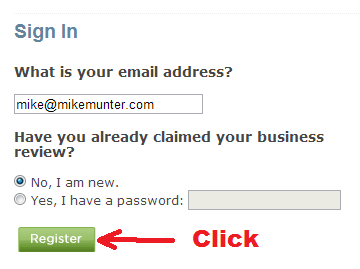 10. Registration
After you click 'Register', you'll be taken to the screen below where you can create your account.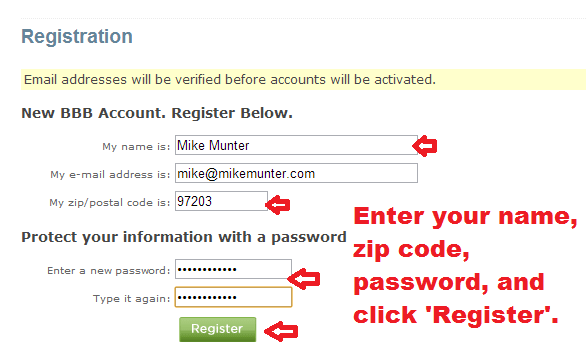 11. Success Screen
After clicking Register again, you"ll see the Success screen below and an email will be sent to the email address you specified earlier.

12. Confirm Your Email
Check your email inbox for the BBB confirmation and look for the "Click Here" link inside your email.

13. Sign In
Confirming that link will bring you back to this screen where you can login for the first time with your new password. (Ignore the error message). This time, choose, "Yes, I have a password," and enter it.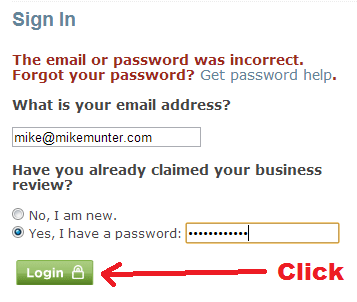 14. Business Not Linked
After you login, you come to this screen which indicates a business is not linked to your account. Click on "For Businesses" to open the drop-down menu and select "Check out a business."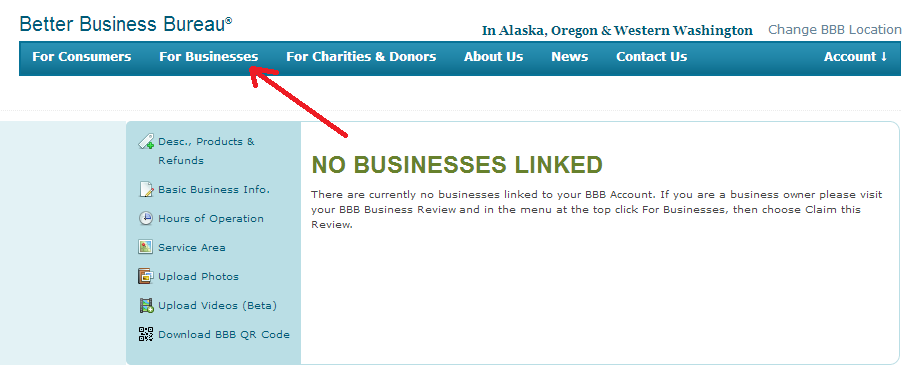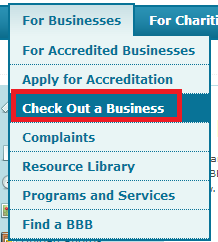 15. Find Your Business 
You'll be brought to a new screen where you can enter your business name and zip code. After you click the green "Search" button, your free business listing will appear at the bottom of the screen.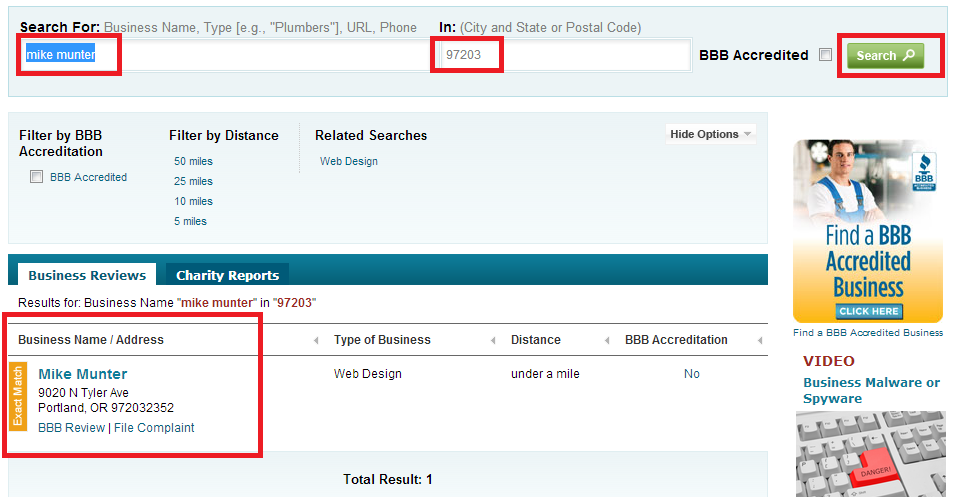 16. Request A BBB Review
Below your business listing, click where it says "BBB Review."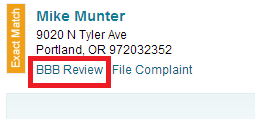 17. Is This Your Business?
You now come to your BBB Business Review, where you'll want to click the link "Is this your business?"

18. Verify Identity To Edit Business Record 
Verify your business, using any of the 3 methods presented and click "Verify."
I chose the phone verification process and was immediately called. Email verification is equally as fast. If you select postcard verification, you'll have to wait to receive it in the mail.

19. Enter Your Pin
When you receive your pin, enter it. (Sorry no screen shot for security reasons).
20. Fully Complete Your Listing
After you enter your pin, you are returned to the business page and you can see that your business is now linked.
Fully complete all options including the description of your business, basic business info, hours, and service area, in order to achieve a complete listing and highest possible rating.
Remember to be consistent with all of your listing information, especially your business name, address, and phone number as many local SEO specialists believe consistency of NAP in citations is one of the most important factors in achieving a high ranking of your Google Places page.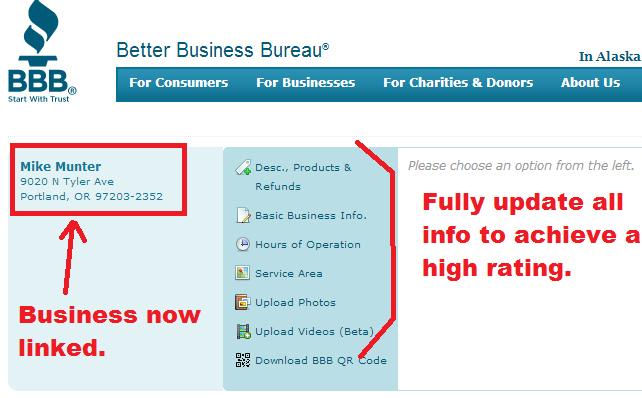 Conclusion
Claiming and optimizing your free business listing with BBB.org takes time and several steps to complete, but it's one of the most worthwhile citations you can get.
I'm glad they make us jump through so many hoops – the identity verification and review process is a big reason why the BBB has built up the trust it has earned with consumers – and Google. It's high PageRank of 8 out of 10 is an indication of BBB's authority.
I've outlined the steps you need to take to get your free business listing with BBB. If you need help, you can contact your local chapter and if you want my team to handle all of your directory submissions for you and help you rank better in your local market, please give me a call at 503-890-6663.