FixGoogleSuggest is an example of an internet marketing website whose sole purpose is to generate inbound phone calls and leads by people that you could never target in any other way. The clients attracted to the site have a specific online reputation management problem they need fixed. This site promotes the service that fixes it.
New Internet Marketing Website Design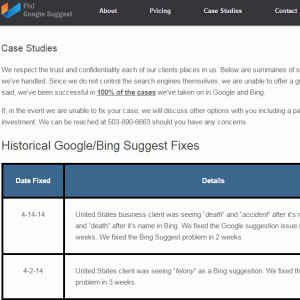 FixGoogleSuggest.com was a brand nw website and our mission when setting it up was to achieve the following goals:
Show clearly what we do
Simple, direct messaging that creates new leads
Fast design & setup
Highly targeted domain name
The Solution
For this site and a few other keyword-rich domain sites we setup to promote specific reputation management services, we wanted to get it done quickly and cheaply.
We selected the free Vantage theme in WordPress because we could see that the default design was a close match for what we were looking for in an internet marketing website.
We spent most of our design time getting the home page to look clean, clear, and decisive. Beyond that, very little design work was done to the site.
The Results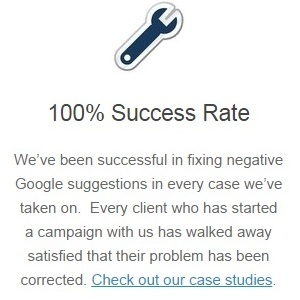 FixGoogleSuggest might sound like a crazy name, but we chose the name because it is keyword-rich and targets the phrase a potential client might type when looking for someone to fix their Google autosuggest problem.
It's a great example of how you can quickly and easily buy a domain name, setup a theme site in WordPress, add some quality content, and start marketing your business through the internet.
This site is thin – we only put up 5 pages of content. It never gets more than 40-50 visitors per month, but those visitors are highly targeted and one client could be worth thousands of dollars in revenue.
To us, this is the beauty of internet marketing – if you're knowledgeable or excited about a service or product, you can market it online with a website and customers will find you. Once the site is designed, your only expense is hosting.
If you'd like us to setup a simple – or complex – internet marketing website, just give us a call at 503-890-6663.