If you're an electrician trying to get found in Google in order to generate more leads, you may want to consider investing in a search engine optimization campaign tailored to your business. Electrician SEO refers to such a targeted internet marketing plan.
As of February 2015, there are at least 6,600 searches per month in the United States for the term "electricians." This is a strong indication that consumers are using Google to find an electrical contractor.
In this post, I'll share the marketing strategies I would put in place to help you market your electrical contracting business online. These strategies are straightforward and adhere to Google's quality guidelines, so you can carry them out yourself. Or, if you're too busy, you can hire our team to help you.
Electrician SEO Marketing Strategy
1) Update Google Business Page. The first thing any business owner should do is claim and optimize their Google business page. Your Google business page is created for you by default and I strongly recommend you claim it and start getting reviews on it. This usually helps you rank better in your local market and definitely helps you stand out from your competitors.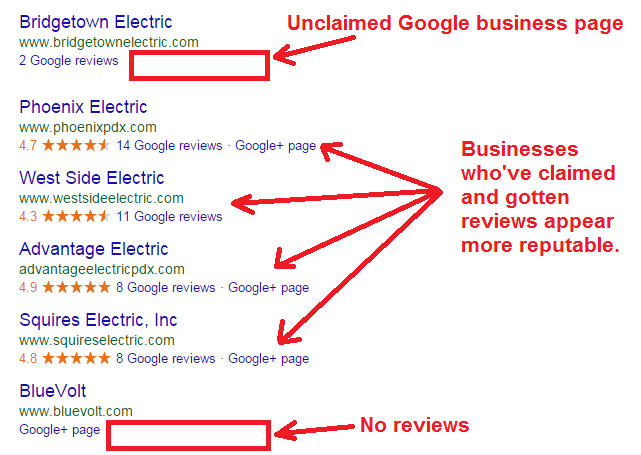 Complete instructions for claiming and optimizing your Google business page can be found here.
2. Get Reviews. As can be seen in the screenshot above, Google's local search results put an emphasis on reviews. Getting reviews is easy – you just have to ask for them. Make a commitment to getting reviews on your Google business page by adding instructions on your website and your business cards.
You might also consider using email marketing to solicit reviews from your customers.
3. SEO For Your Website. One of the most basic signals to Google is the title tag for each page of your website. This title should be a short and descriptive of the content which is on that page.

The abbreviated title appears at the top of webpage in your browser. In most browsers, the full title appears when you hover your mouse over the title section.
The example above is a good, concise title; however, I'd recommend changing it from Mike's Electric – Portland Oregon Electricians to Electricians Portland Oregon – Mike's Electric.
A minor tweak like that could improve your site's ranking because you're making your target keyword "electricians portland oregon" the first thing in the title.
In addition to your home page, I recommend performing on-page SEO to other important pages of your website, particularly ones that describe specific electrical services that you offer.
As part of your electrician SEO monthly marketing campaign, we'll create excellent content that is SEO ready and post it to your website, so you can focus on your business. Call 503-890-6663 to get started.
4. Add Content Regularly. Google loves good content and when you add new blog posts to your site regularly, your traffic is likely to increase. As your traffic grows, your inbound leads will increase and your search rankings usually improve, too.
I like to aim for at least 500 words anytime I write a blog post and while longer content usually ranks better, I wouldn't recommend adding content that isn't quality. This post shows you how to write a quality blog post and this one shows you 7 different ways we help clients create content.
For many small businesses, 2-4 posts per month can make a big difference in generating leads.
5. Internet Business Listings. An internet business listing is an online directory where consumers can research who they want to do business with.
Here's how a typical consumer might find your business:
Customer uses Google to search for "electricians"
Instead of clicking on an electrician's website appearing in local search results, he decides to search a trusted directory like Yelp, Thumbtack, or Angie's List, where he can see how the electrician is rated and reviewed by others.
Therefore, it's important to be listed in all of the major internet business directories.

What I do with a new client is locate all of the top ranking internet business directories by typing their main keyword into Google and making a list of the directories on at least the first 5 pages of search results. Then we make sure you have a claimed and optimized listing that matches the same business name, address, and phone # that is on your website.
Consistency of NAP info is a factor in helping Google determine who you are and where you're located.
Electrician SEO Marketing Summary
I hope you've found this marketing overview helpful. The strategies described above would be an integral part of an SEO campaign for a local electrician.
We've outlined further tips in our Guide To Ranking Your Business In Google. If you'd rather hire a professional to do the work for you, please call me at 503-890-6663.