I'd be remiss if I didn't include my own B2B web design within my portfolio of work. MikeMunter.com is my full service internet marketing and web design firm website. I'm building it into a valuable resource to attract new clients who want to get generate more inbound leads through internet marketing.
Old Website Problems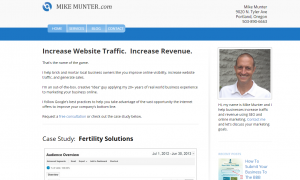 I was never super excited about my former website. My wants included:
A more visually appealing full-width home page
A custom sidebar with "rotating" featured case studies of my work
A new company logo
The Solution
Certainly, I could've re-designed the old home page to achieve the desirable look I was after, but as I began working on it, I found this had implications site-wide; there were things I wanted to change about the interior pages, too.
In this case, it was just easier to start with a new site. So, I found a site I liked as a model and then tailored it to fit my needs.
My objectives included:
Modeling the site after avelient.co
Having a striking, large image of Portland, Oregon as the background for my home page
Clear call to action and summary of core services on the home page
Design a more professional and appealing logo
The Results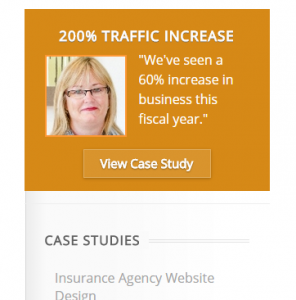 MikeMunter.com was completed in about 4 weeks and is now I site I am proud to promote.
The custom sidebar (see at left) allows me to showcase different client case studies and can be seen live on our internet marketing packages page. Each time you refresh this page, a new case study appears.
My new logo feels stronger and now adorns all of my letterhead and proposals, thus tying together my brand.
If you've become dissatisfied with your business to business website, we can help you get the desirable look you want. You'll be rejuvnated – as I am – and ready to begin actively promoting yourself online. Call 503-890-6663 to get started.