I help businesses and individuals remove unwanted suggestions from Google Related Searches.
These are the 8 search suggestions placed at the bottom of search results under the heading "Searches related to [your keyword]."
Why We're The Best Choice To Fix Google Related Searches
High chance of success – We're successful in almost every single case we've handled.
Special instructions needed – Fixing Google Related Searches requires a special set of search instructions that must be followed and executed; without this, Google's algorithm doesn't know one search phrase is related to another.
Industry expertise – You can look around, but I don't know of anyone else in the United States who can fix this online reputation management problem reliably.
Long term fix – When we push out your negative related searches, usually they remain "fixed" and require little or no maintenance. We're really good at this stuff.
For a confidential quote, contact me via the form on this page (or keep reading to learn more).
What Are Google "Searches Related To"?
If you're reading this page, you probably already know what Google Related Searches are, but since Google is always changing things, I thought it would be good to review it.
When you perform a search in Google you'll get a page of search results.
Down below all of the organic search results and ads is a heading titled "Searches related to…" followed by the word or words you just searched for.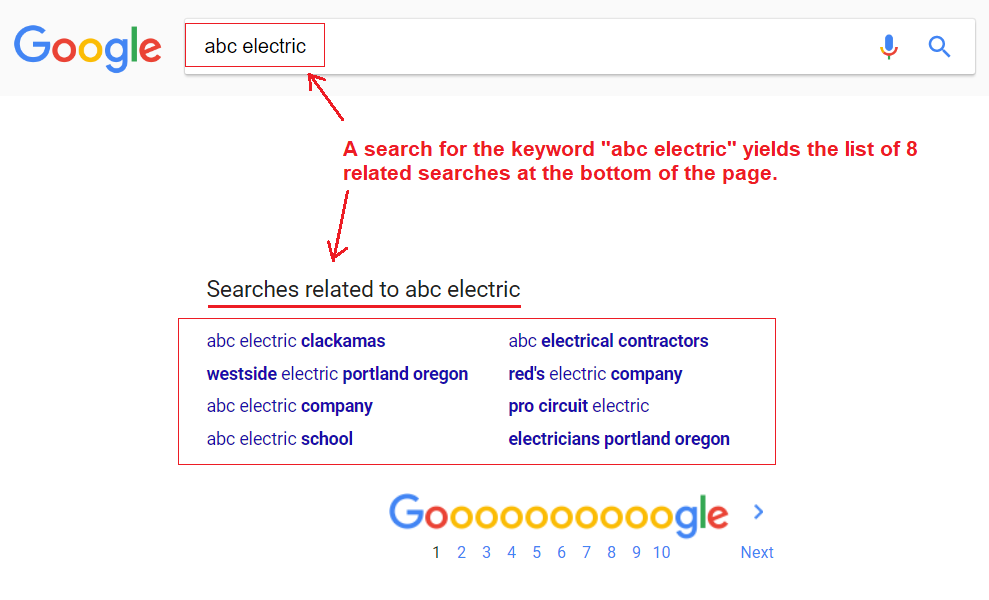 In the example above, I searched for "abc electric" from my office here in Portland, Oregon.
Google is showing me eight searches related to abc electric at the bottom of the page.
These are here to help me in case I didn't find what I was looking for. It's a quick way for me to find other "related searches" that I might find helpful.
Negative Related Searches
The problem with related searches is when negative suggestions show there.
Imagine if when I searched for "abc electric," I saw this set of related searches instead.

The negative suggestions of ripoff, lawsuit, and bad reviews all reflect poorly on the reputation of this business.
The worst part is that these unwanted phrases perpetuate a problem: The more people click on them out of curiousity, the more implanted they get. It gets even tougher to remove them.
Of course, that's where we come in.
We push out the unwanted suggestions and replace them with more positive ones to help restore your online reputation. We work to give you back control over what people see when they Google you and search for your brand (or personal name) online.
What To Expect From A Campaign
Should you wish to start a related searches campaign with me, here's what you can expect:
1 – I'll ask you to give me the search engine, keyword(s) and negative(s) you want to remove (check out the contact form to see an example of exactly what I need).
2 – I refer to the free Google Keyword Tool to get an estimate of monthly search volume for each negative keyword + negative suggestion. Whichever one has the highest volume, that helps me determine what we'll need to do to fix your problem.
3 – I'll send you a quote.
4 – If you decide to move forward, I setup the campaign and begin work.
5 – The work consists of unique search instructions being performed by real people all over the US and maybe a few overseas to make things look real. You won't find the searches on crowd source sites, though, we only use people on our private team to do the searches. This ensures a high degree of authenticity – your searches appear as though they are natural – and this is what helps us push out the bad ones and replace them with the good ones.
6 – Related searches in Google, Bing, and Yahoo typically take a 3-6 months to get cleaned up, but usually, once they are fixed, they are fixed for good. Little or no maintenance is required to keep them looking clean. We'll cross that bridge when we come to it with you, but most of the time, once they're fixed, they remain fixed.
We don't do contracts like most of the corporate online reputation management firms. We are small; I make the rules and I'm easy to work with.
You can cancel with 30 days notice, no questions asked. Most clients are very happy as we fix 90% of Related Searches we take on, just like with our Google Autocomplete repair service.
Guarantee
I wish I could guarantee that our Related Searches repair service works every single time, but I do not control the major search engines like Google, Bing, and Yahoo.
We do; however, see extremely high success rates with all of the campaigns we take on.
It's really simple – if I don't think I can fix your Related Searches problem, I won't take your case. Unlike corporate firms who take your money and don't get results, I operate on a month-to-month basis. There are no long term contracts or heft up front financial commitments.
Get a customized quote by completing our contact form.

Success Rates
We strive for 100% success for every client, but I usually tell clients expect 80-90% success rates, simply because we don't control the search engines.
There is a chance we'll fail. But I believe our success rates are the highest in the business – check around with other online reputation management agencies and see what they say.
This is what we specialize in and I think we're very good at it!
Will Maintenance Be Needed?
Generally, not much maintenance is needed to keep your Google related searches looking good after we get them fixed.
I always tell clients, "Let's cross that bridge when we come to it," but in my experience, related searches in Google can sometimes be a bit slower than Autocomplete to repair.
But unlike Autocomplete, once Related Searches are fixed, they usually remain fixed. Only minimal maintenance would be recommended, if any. I'll advise you fairly, my goal is to keep your online reputation looking good for as little money as possible.

Bing And Yahoo Related Searches
The same strategies we use to correct Searches Related To… in Google also work in Bing and Yahoo.
We've fixed several cases in both Bing and Yahoo for related searches and can help with your company's situation, too.

Costs
Every case is different, but usually I charge a low one-time setup fee plus a monthly cost which covers the necessary search activity for your positive keywords.
Your specific cost will depend on one thing: the amount of search activity I feel is needed to get your problem resolved. I do not have one-size fits all pricing. I won't charge you more than is needed, but I will price your campaign aggressively to get the job done. Contact me for a quote.