Quality link building is hard work. That's why i like to leverage existing relationships and go after the low hanging fruit for my clients.
One way I do this is with Google Alerts. Instead of searching Google for mentions of my client's brand or personal name, I like to reverse engineer it and have Google notify me as new content appears on the web. When you use Google Alerts, you get notifications sent right to your inbox that meet your criteria. So, it saves you the upfront time of having to manually search and sort through Google for link leads to chase down.
Plus, the leads I get from Google Alerts are quality opportunities; they tend to be mentions of my client on news sites (great links!) and blogs (more great links!).
Here's how I setup a link building campaign with Google Alerts for a client.
Step 1 – Setting Up Google Alerts For Link Building
For a small business owner operating a brick and mortar business, I'll setup the following alerts:
Business name (exact match)
Business owner name (exact match)
Main keyword (broad match)
So, let's take a hypothetical example using Joe Smith, a bakery owner, with a shop in New Orleans, La.
Setup alerts for Joe as follows:
Login to your GMAIL account and go to https://www.google.com/settings/products. From there, choose "Alerts".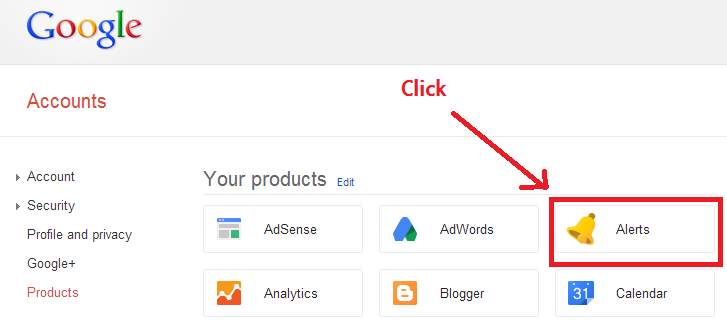 Then you can enter your keyword and set other options you'd like including frequency and quality of the results. I usually stick with the default settings.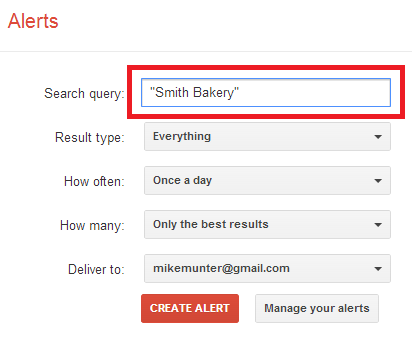 In the example to the left, each time Google indexes a new page on the web that includes my client's business name "Smith Bakery," I'll receive an email.
I setup similar alerts for "Joe Smith," the business owner's name. I put these alerts in quotes, so I only get exact matches for Joe's business and personal name.
For the keyword alert, I'll use bakery "new orleans" so I get alerted for each new web page that contains the words bakery and "new orleans" anywhere on the page.

I setup a keyword alert for two reasons. One, in case the article mentions my client, but contains a misspelling or partial mention of his name or business, this alert might catch it. Two, if the article is more general in nature, it gives me an opportunity to introduce my client to the author in hopes of establishing a new relationship.
Step 2 – Making Contact (With News Sites)
Since many of the alerts that pop up for a business name or client name are news stories, oftentimes, my client will have been interviewed. In this case, I just skip the detective work and ask my client, "Hey, I found this news piece about you, can you send me the email address of the writer, so I can request a link to your site?"
Then I send the writer a note asking for a link (in my kindest, sweetest email voice):
Hi Writer First Name,

I handle online marketing for Joe Smith and Smith Bakery. Thank you so much for the wonderful story you wrote at: [insert hyperlink to story]

Can you help us out by including a link to their website?

This would make it easy for your readers to navigate to Joe's website and it would really be helpful for our SEO efforts on the web. Do you think this is possible?

Here's the HTML code:

[I give them the code and note where to make the change]

The article will look exactly the same when it's done, but with a very helpful link included! Thank you very much for your consideration!

Sincerely,
Mike
A letter like this will usually get a reply, with good news or bad news. Many news sites have a policy against outbound links to a third party. That's fine, just move on.
But guess what, some news sources don't have a policy like this! And scoring a link on a reputable news site gives you a leg up on your competitor who doesn't even know what link building is.
Step 2a – Making Contact (With Blogs and Other Websites)
Seeing my client's name pop up on a random website is a terrific opportunity because I can make contact directly with the site owner. Most any site owner who has mentioned your client in a random blog post will almost always agree to place a link (unless the article is bashing your client, in which case I make my client aware of it, so they can handle the issue themselves).
The letter I send to a website owner is pretty much the same as the one posted above.
Summary
Many of the sites that publish content about your client will include a link by default. For those that don't, setting up Google Alerts is an easy way to track mentions of your client, without having to remember to search Google every few weeks. You'll save time and generate quality link building opportunities with new URLs sent directly to your inbox, on behalf of your client.
If you've made it this far in the article, then I'm sure you understand how important link building is to help increase the authority of a website. But what you may not know (until you've done it) is that link building is tedious, time consuming work. It requires diligence, creativity, and follow-up. With such a low rate of success, that's why I look for easier paths to success. And putting notifications on auto-pilot is a quick ticket to getting in the ballpark.
Good luck and please share any of your successful link building strategies in the comments. I'm always looking for new ways to easily get quality links for my clients!