Updated: February 14, 2014
* Quick Start:
Sort the
list of sites
by "Status" and submit your press release to the
Winners
.
Contents
Introduction
My goal is to provide you with the web's most comprehensive and reliable list of free press release sites that allow you to get a "dofollow" link pointing back to your website.
I created this list because:
I was sick of my team in India submitting press releases to sites that never approved them
I wanted to show my team exactly HOW to submit a release in order to get a proper backlink
I was tired of press release sites that claimed to be free but require you to pay for a link
I wanted a central list of all press release distribution sites I could count on to help my client's SEO and online marketing strategy
In short, I wanted to cut out the fat, be more productive, and get great results.
I hope you'll refer to this list often, help me keep it up to date, and share it with other SEO's, online marketers, and DIY business owners. If you'd like to submit a site for review or suggest a correction, please contact me. I'd love to hear from you!
Master List of Free Online Press Release Sites
You can sort any column alphabetically by clicking the arrow next to the column heading. I'd recommend going straight to Status header and finding the Winners. Those are the ones you'll want to submit to.
Status

:

Winner = Site provides a free dofollow backlink; learn how to properly submit to it.
Loser = Site does not provide a free dofollow link.
Testing = Site is being tested.
| Website | PageRank | Status | Comments | Live Link |
| --- | --- | --- | --- | --- |
| PRLog.org | 6 | Winner | To include your link, use a naked URL (ie. http://yourdomain.com/you-page). See link in example. | View sample |
| PR-USA.net | 5 | Winner | | View sample |
| 1888PressRelease.com | 4 | Loser | I submitted two quality press releases in June 2012. Neither was published. I emailed asking why and did not get a response. This site claims to be free, but it's not. Don't waste your time. | |
| BriefingWire.com | 4 | Winner | | View sample |
| OnlinePRNews.com | 4 | Winner | | View sample |
| PRSync.com | 3 | Loser | Link is nofollow. | View sample |
| PR.com | 6 | Loser | Links cost 29.95 each, as of 6-18-13. | |
| eCommWire.com | 5 | Loser | No way to register as of 6-20-13. | |
| Free-Press-Release.com | 5 | Loser | Link stripped out as of 6-21-13. Retest with HTML. | View sample |
| Live-PR.com | 5 | Loser | German site, submitted release 6-7-13, denied, try resubmit in German. | |
| PR-Canada.net | 5 | Loser | Nowhere to login as of 6-19-13. | |
| PR-Inside.com | 5 | Loser | Sent text message to Austria 6-7-13 per requirement. Didn't work. | |
| BigNews.biz | 4 | Loser | Not accepting new users as of 6-9-13. | |
| ClickPress.com | 4 | Loser | Paid releases only $75 as of 6-24-13. Submitted anyway, but it's just "filed". | |
| PressBox.co.uk | 4 | Loser | Link stripped out, could try HTML. | View sample |
| TravPR.com | 4 | Loser | | |
| MyNews.in | 4 | Loser | Site shows 404 errors for releases as of 6-22-13. | |
| FreePressIndex.com | 3 | Loser | No link. | View sample |
| NewsReleaser.com | 3 | Loser | | |
| FreePressBox.com | 2 | Loser | Retest by adding HTML manually. | View sample |
| MarketingPR.eu | 0 | Loser | Strips out link, retest using HTML. | View sample |
| PRFree.org | 0 | Loser | Website link is nofollow. | View sample |
| LifestyleInfo.eu | 0 | Loser | | |
| DirectionsMag.com | 6 | Loser | Must be related to geo-spatial technology industry only. | |
| 24-7PressRelease.com | 6 | Winner | Release published within 48 hours. Must create acct for each client (or update for each release) as it pulls website/profile info into release. | View sample |
| ProgrammersHeaven.com | 7 | Testing | 6-24-13 Submitted to 'news' as info@, site claims to only accept software and hardware development related news. Tried HTML anchor text. We'll see. | View sample |
| PressReleaser.org | 6 | Loser | Release sent 6-6-13 is not live, sent msg 6-9 and got error that 'something went wrong'. Nothing published to site since 5-22-13. | |
| TheOpenPress.com | 4 | Loser | Requires 300 words. Fluff it if you wanna try this site. | |
| i-NewsWire.com | 6 | Winner | Requires 250 words. Allows 1 release per week. Published within 72 hours. | View sample |
| FreePRNow.com | 3 | Winner | | View sample |
| PRUrgent.com | 3 | Testing | | |
| SeeNation.com | 3 | Testing | | |
| IndiaPRWire.com | 5 | Testing | Submitted 6-21-13, not approved. Re-submitted new release on 2-13-14, only trying again because this is a PR5 site. | |
| OpenPR.com | 4 | Loser | Finished entire release and upon hitting "Preview" everything was lost. Another crappy site. | |
| PressReleasePoint.com | 4 | Winner | | View sample |
| AfricaNewsWire.Net | 2 | Loser | Requires payment as of 2-13-14. | |
| NewsWireToday.com | 5 | Loser | "Registration restricted" error as of 6-20-13. | |
| MyJournalCourier.com | 4 | Loser | No links allowed as of 6-22-13. | |
| PR-GB.com | 4 | Testing | Submitted 6-22 using info@, I hit SAVE and it shows unpublished and no longer can edit it. | |
| TransWorldNews.com | 4 | Loser | Paid only. | |
| Free-Press-Release-Center.info | 3 | Loser | Submitted 6-22-13 and received email from them saying my release is 'awaiting approval' and asking for $2.99 to expedite. | |
| MediaSyndicate.com | 3 | Loser | They require payment and you might be able to pay only a penny. I did not want to submit my Paypal information. Bottom line is it's not free, like they claim. | |
| PressBooth.org | 3 | Loser | Site is down as of 6-22-13. | |
| PressExposure.com | 3 | Loser | Adds nofollow to all links as 6-21-13. | |
| PressMethod.com | 3 | Loser | Site does not load. | |
| Press-Network.com | 3 | Winner | Don't forget to add HTML for your link and your carriage returns. Otherwise there is no way to edit it, like my release in the sample to the right. | View Sample |
| ExactRelease.com | 3 | Winner | I'm 1 for 2 submitting to this site. A release submitted June 2013 was not published. A release submitted Feb 2014 was published. | View Sample |
| healthprspider.com | 2 | Loser | 2-13-14 Site is not active. | |
| LocalNews.biz | 2 | Loser | Site won't load. | |
| PressReleasePublic.com | 2 | Testing | | |
| ScoopAsia.com | 2 | Winner | | View sample |
| Only2Press.com | 1 | Testing | Only in bio, anchor text ok. | |
| PressReleasePad.com | 1 | Testing | requires 100% unique; accuses of being a spammer, makes u re-submit | |
| BooshPLR.com | 1 | Loser | As of February 13, 2014, they are not accepting new registrations. | |
| FreePressRelease.com | 0 | Loser | Can't create an account. Don't waste your time. | |
| wooeb.com | 3 | Testing | Submitted 6-22 as mikemunterseo, w/ pic, video and URL link. | |
| PRWeb.com | 7 | Loser | Paid service. | |
| PRBuzz.com | 4 | Loser | Paid service. | |
| SBWire.com | 5 | Testing | 6-29 Registered. | |
| ResponsivePR | | Winner | | View sample |
How To Use Press Releases For SEO
Getting Links
My primary goal for writing and submitting a press release for a client is to get a link back to their website. Links to your site help increase its authority and can help your website – or a page on your site – rank better in Google for a targeted keyword phrase. Dofollow links back to your site from other sites also help pass PageRank.
Here are a couple ways we'd use a press release to promote your site:
1. New Product/Service Launch. If we've created or updated a page on the client website to emphasize a new product or service, I'll write a release and link directly to that page.
Example: A pizza shop owner has added "vegan pizza" to his menu. We create a unique page on the client's pizza website that talks about the new product, with pictures and maybe a video showing how the specialty vegan pizza is made.
We then write a release and distribute it manually to each of our free press release sites, including a link to the new vegan pizza page. This process usually improves that page's visibility in Google and helps the pizza shop owner outrank his competitors for keyword terms related to "vegan pizza" in his local market.
2. Generic Company News. If the news is not specific to a product or service, we'll generally point links back to the home page of the client's website.
Example: A home security company is launching a new website with improved useability and customized features. Since the news is general and not talking about a specific product or service, we'll usually point the links back to the company's home page.
Getting dofollow links from a variety of different domains helps the client's website gradually get stronger.

Getting the Press Release To Rank In Google
You might be able to rank a press release in Google for a non-competitive term, but in general, I don't expect it. Nor do I expect to receive any referral traffic. If either of these things happens, I consider it a bonus.
If your aim is to get your release to rank, you might want to check out a paid submission service such as PRWeb or PRBuzz. I've never tried either site personally and have read mixed reviews on their effectiveness.
For sites that require manual HTML syntax, here's the code you need –
<a href="http://yourdomain.com/">your keyword phrase</a>
Is Your Press Release Indexed In Google?
Just because your release was published doesn't mean it's automatically going to get indexed by Google. Many releases get indexed within a week or so, but some take much longer.
Check to see if your press release is indexed by going to Google and in the search box, enter info:URL. Replace "URL" with the full url of your release, including http://. Do not put a space between "info:" and "URL"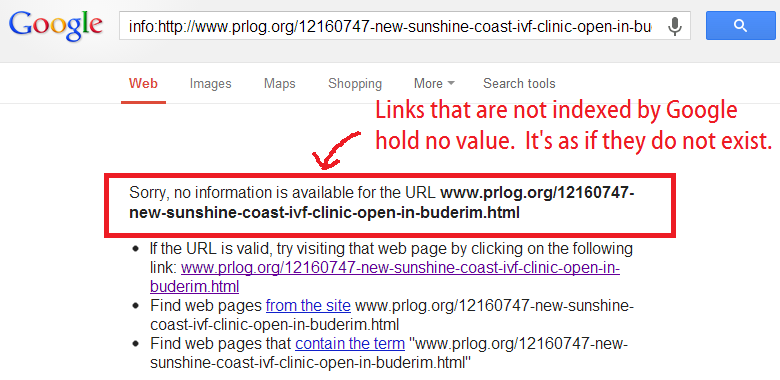 Release Not Indexed
The press release link at right has been approved by PRLog, but Google has not yet added it to it's index. Until Google becomes aware of the new web page and adds it to the index, it is meaningless.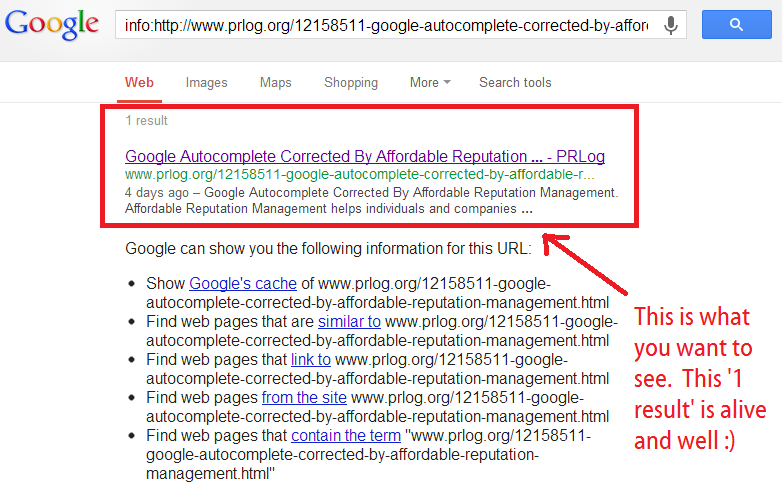 Release Indexed
This press release is indexed by Google as indicated by the live snippet. Since Google has crawled this web page, the dofollow link in the release is slightly boosting the authority of the page it is pointing to, helping it to rank a bit better in Google.

Getting Your Press Release Indexed
Here are the steps I take to help speed along Google's indexing of my release:
Submit the URL to pingler.
Tweet it.
Share it on Facebook.
Create a link to it from another website (yours). This might be the most effective way to get it indexed.
Wait. Most links will eventually get indexed.
As you can see, a lot goes into an SEO value from a press release.

How To Write A Press Release
I tend to model my press releases after the ones written by the professional Public Relations folks I learned from during my 20 years of working in the offline world. In order to get published in newspapers, you needed a compelling title followed by a succinct story written in 3rd person narrative that left the reader wanting more.
In the online world, the bar for publication is much lower – some sites auto-publish your release within minutes of submission. Others have basic guidelines that are easy to meet in order to get published. Since most releases never get read, the goal is get a dofollow backlink to help promote your website.
So, when I write a press release for online distribution, I try to balance these two things. From a quality perspective, I write with the intention that my client could actually send the release to real news agencies in their local market. I balance that with the knowledge that my goal as an online marketer is to get quality links pointing back to my client's website.
Here's the general model I follow:
Title. Concisely describe what the release is about. For SEO, try to use a client keyword phrase in the title, preferably at the beginning and in place of the business name. "Sunshine Coast IVF" is one of our target keywords. I could have optimized this title further by putting our keyword first with a title like, "Sunshine Coast IVF Clinic Announces Opening Of New Clinic In Buderim."
Description. Re-state the title using the client's business name. Tease anything else the release might also include.
Paragraph 1. Tell what the release is about.
Paragraph 2. Make your first point.
Paragraph 3. Quote from client, reiterating your first point.
Paragraph 4. Make your second point.
Paragraph 5. Quote from client, reiterating your second point. Starting to notice a pattern?
Paragraph 6. Summarize the release.
Paragraph 7. Any additional sentences needed to meet some site's 250-300 word minimum requirements.
Last Sentence. I usually put my URL link within the last sentence.
New Sunshine Coast IVF Clinic Open In Buderim
Fertility Solutions Sunshine Coast announces the opening and success rates of its new fertility clinic.
Fertility Solutions Sunshine Coast has opened an all new built-to-suit IVF clinic in the Queensland city of Buderim, it was announced today.
The new clinic recently achieved accreditation from Global-Mark, one of Australia's leading conformity assessment bodies. .
"Global-Mark's technical expert and auditor toured the facility in April and were extremely impressed," says clinic director Denise Donati.
As for its IVF success rates, the new clinic is performing at above average rates.
"We've achieved a 19% success rate per month on intra uterine insemination (IUI) – also know as artificial insemination (AI) – since opening the clinic," adds Donati, "The national average is 12-14%."
Additionally, the Buderim clinic reports a 41% pregnancy rate per embryo transfer for an IVF cycle. Patients can be assured that the new clinic is operating at a high level.
Patients will also enjoy the same caring, relaxed atmosphere that Fertility Solutions creates at each of its clinics. The new clinic is located at 23 Elsa Wilson Drive, Building B, Suite 22 of the Nucleus Medical Suites.
A video preview of the new clinic may be viewed at http://www.fssc.com.au/our-clinics/.
How To Submit Your Release
I know it seems easy, but careless errors can result in your release not getting published with your link in it. Take your time, read the instructions for each press release site, and follow the steps below.
First, plan on using an email address on an actual domain. A few sites don't allow free email addresses (like Gmail, Yahoo, or Hotmail), so it's good practice to use a standard email address for every site. I use "info@mikemunter.com" for all my press release testing and submissions.
Second, create a spreadsheet that contains the following data. You'll be copying and pasting it over and over.
Company Name
Contact Person Name
Contact Person Email
Phone Number
Fax Number
Company website or target web page for the release (include http://)
1-2 Sentence company bio
2-4 Target keywords
Image of contact person, company logo, or image relevant to press release
Company Twitter Page
Company Facebook Page
Some sites tell you exactly how to get your link in the published press release and/or author bio. Some don't. Check your release carefully before submitting and make sure to add HTML coding: <a href="http://domain.com">keyword</a> when necessary.
Next, follow the steps in the section below, so you know what to look out for and how to get your link published on a specific site. Please report any errors, so that everyone can continue to benefit.

Submitting Your Press Release To The Winners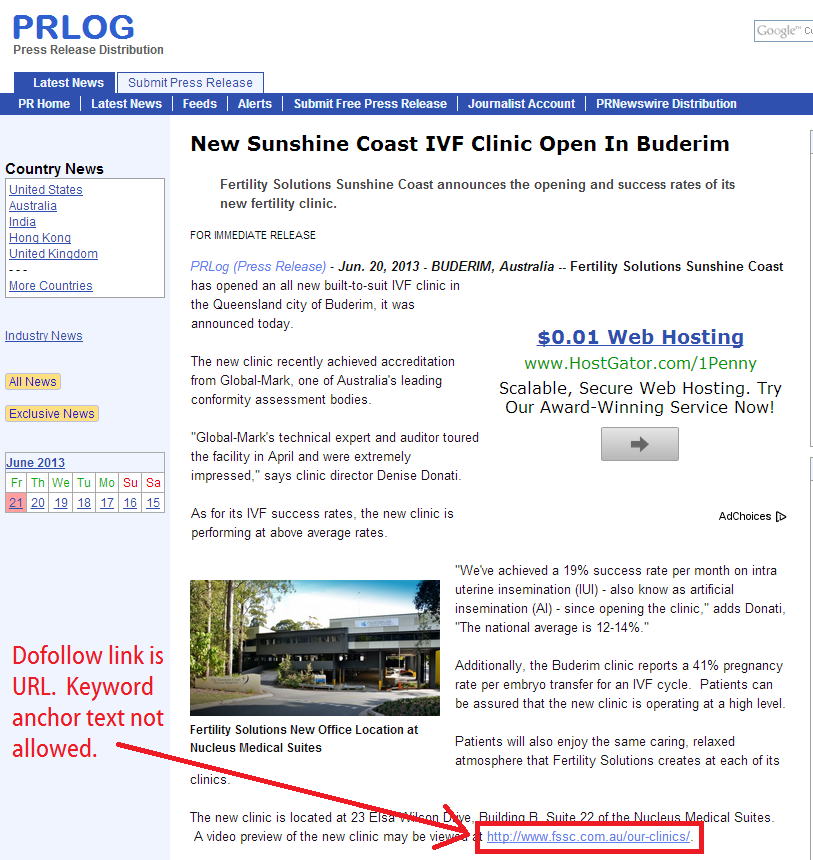 Overview
I recommend submitting to PRLog first. It's one of my favorite sites and I'm thankful to my friend, Google Places expert Randy Kirk for telling me about it.
Tips
You have to sign up with a name@domain.com (no gmail or other free email accounts).
Upload an image, company logo or photo of your client and add a caption.
Your link is URL-only; no keyword anchor is allowed. No HTML needed. Check link in Preview mode before submitting.
PRLog does not publish immediately, usually takes a couple days. They have published every release I've submitted – knock on wood -and have always sent a follow-up email notifying me that my release is live.
Take advantage of setting up "Press Rooms" for each of your businesses/clients and include their Twitter and Facebook accounts.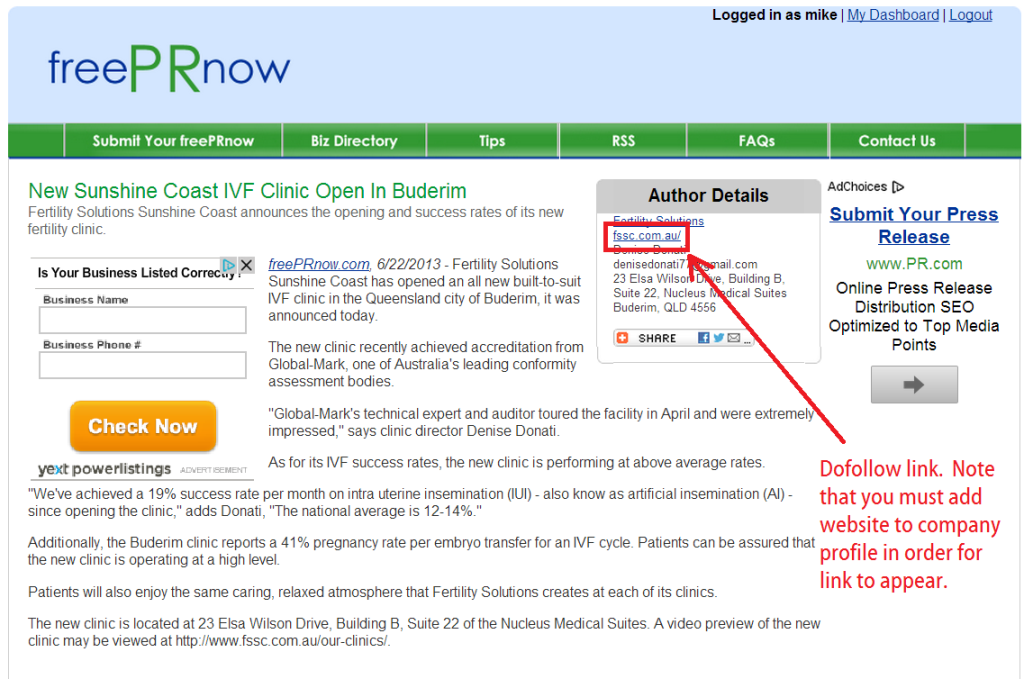 Overview
FreePRNow does not allow HTML in the press release body, but it does allow a dofollow link to your company website in the Author Details box. FreePRNow publishes immediately.
Tips
Make sure to include client website URL in company profile
Include complete address for a nice looking "Author Details" box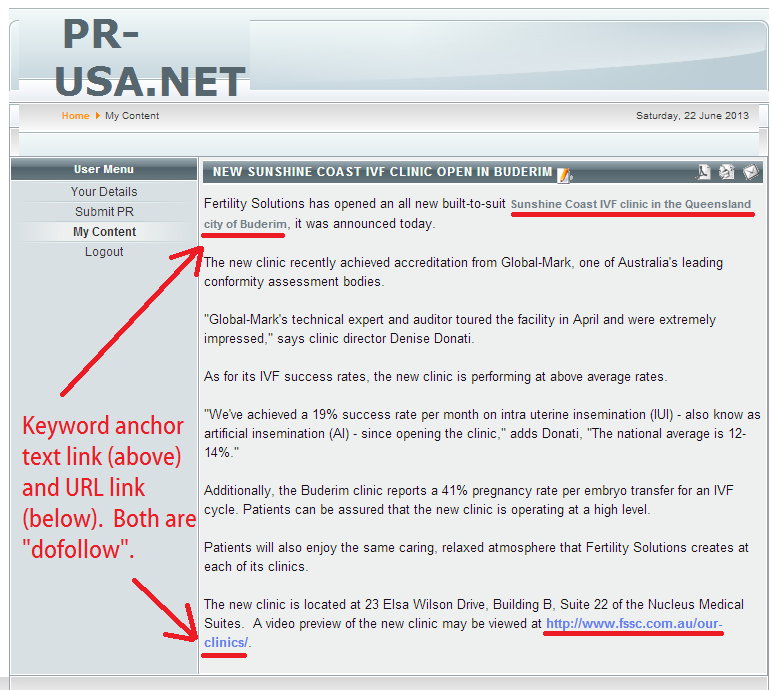 Overview
PR-USA allows keyword anchor text (be careful not to over-optimize) and automatic URL links. One glitch I found with PR-USA is they randomly published one of my press releases on a different website. The good news is my dofollow link is in tact, but the Gudelnews.com home page is a PR3, not the stronger PR5 I was hoping for from PR-USA.net.
Tips
When selecting keyword anchor text, choose the company name or a long phrase like I've done in the example at right.
Notice that I altered this sentence slightly to include our target keyword "Sunshine Coast IVF clinic"
My preference for most keyword anchor text links is to make them long and to make the keyword phrase a "subset" of the active link
More Tips
After you've loaded up your title, intro text, and release body, click the BLUE CHECKMARK to "apply". This is will produce a Thank You message (see image) and you'll know you have successfully submitted.
Approval is almost immediate – I had to wait a few minutes and refresh my screen. You can also ensure your release is live by checking "My Content" under the User Menu.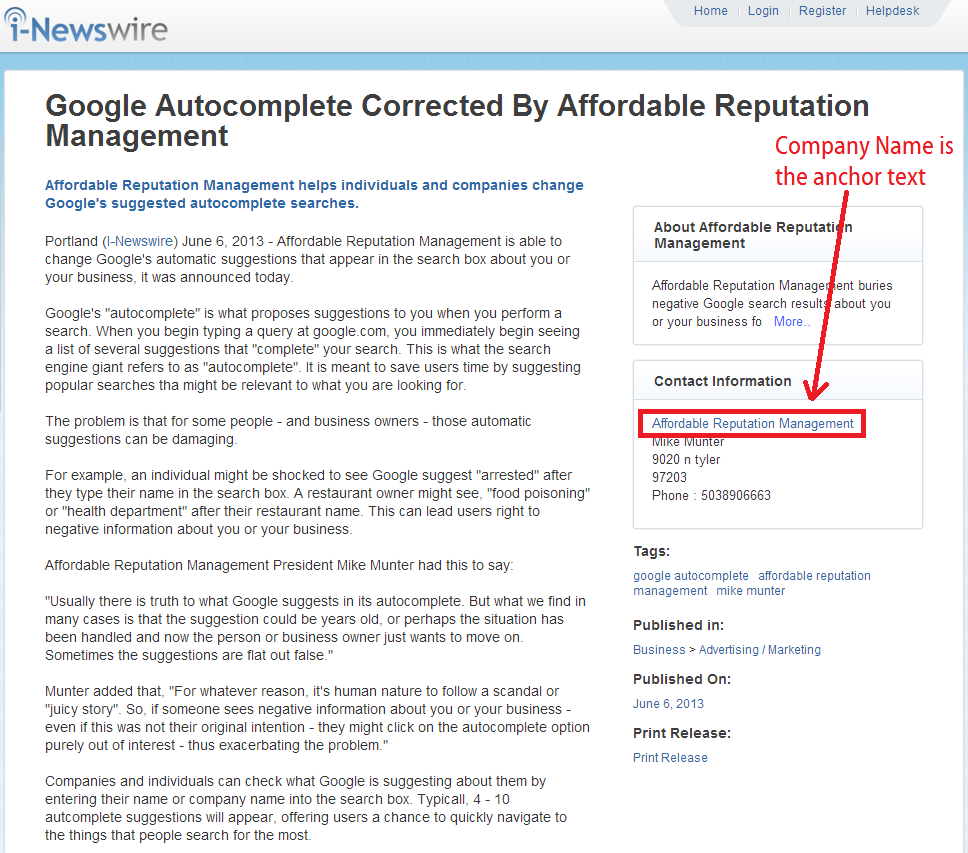 Overview
i-Newswire requires 250 words minimum and all links within the press release body are stripped out. Approval took me less than 24 hours.
Tips
I-Newswire only allows 1 company profile with a free account, so if you are submitting on behalf of numerous clients, you will need to create a new login/password and profile for each client.
This is very important because your dofollow link appears for the company name in the contact information box, which you enter when you setup the profile.
Only 1 submission per week is allowed. (I think it's 1 per client per week).
See live example at http://www.i-newswire.com/google-autocomplete-corrected-by/225230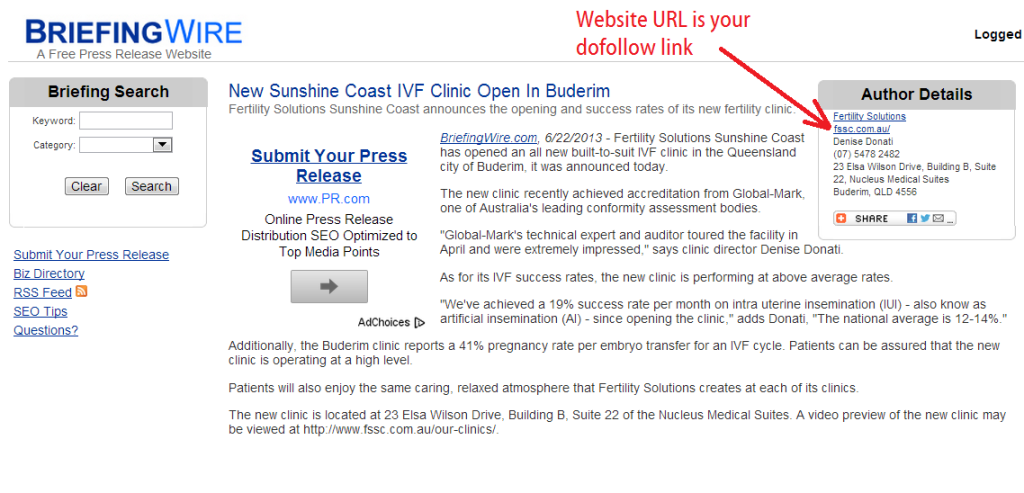 Overview
Your press release goes live as soon as you publish.
BriefingWire.com lets you setup multiple Business Profiles which is great for client submissions. In fact, the company profile page provides a dofollow link, even before you submit your first release!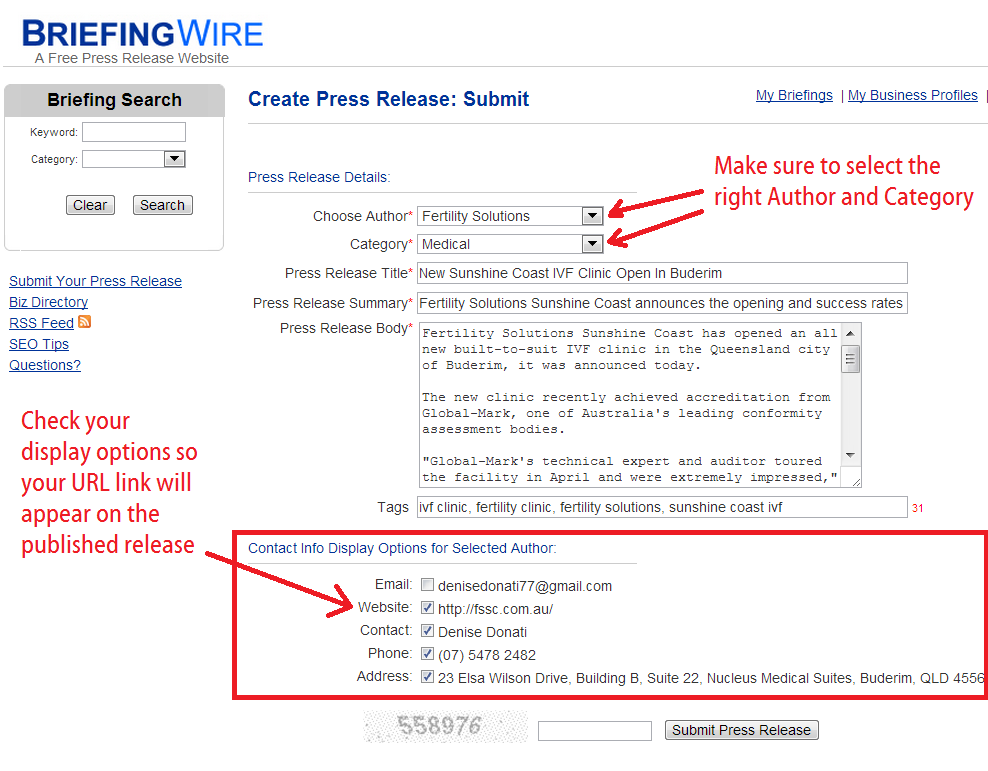 Tips
Your link will appear in the Author Details, so make sure you enter the correct URL when you setup each Business Profile.
Make sure you select the correct Author (business) from the drop-down menu
Choose the correct category
Under "Contact Info Display Options for Selected Author", be sure to check off "Website" so the published release includes our link.
Enter your captcha, hit "Submit" and within several seconds, your release will be published.
View live sample at http://www.briefingwire.com/pr/new-sunshine-coast-ivf-clinic-open-in-buderim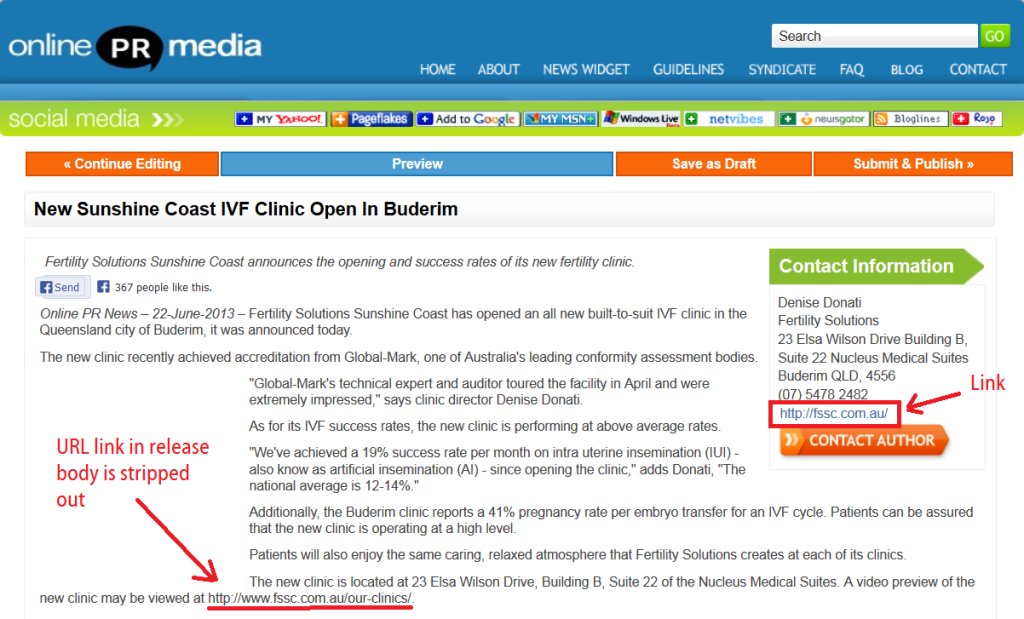 Overview
Lately, OnlinePRNews URLs do not work in Chrome (a white box blocks screen view) or Firefox (text can't be highlighted). I've had to copy the URL into Explorer to view it properly on my screen.
OnlinePRNews will publish your press release within 24 hours and you are allowed one free press release submission per day. Links in the body of the release are stripped out.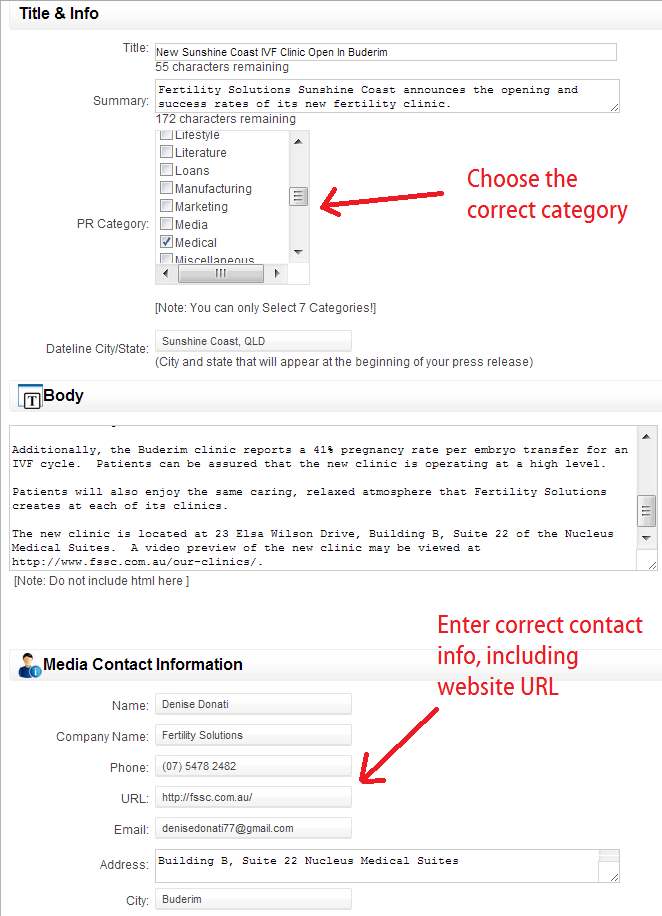 Tips
Make sure to choose an accurate category.
Copy the complete business name, phone, URL, address, etc into the appropriate fields.
Your published link is the business URL, so make sure to enter it correctly in the Media Contact Information when you complete the submission form.
Only one release submission is allowed per day.
View a live sample release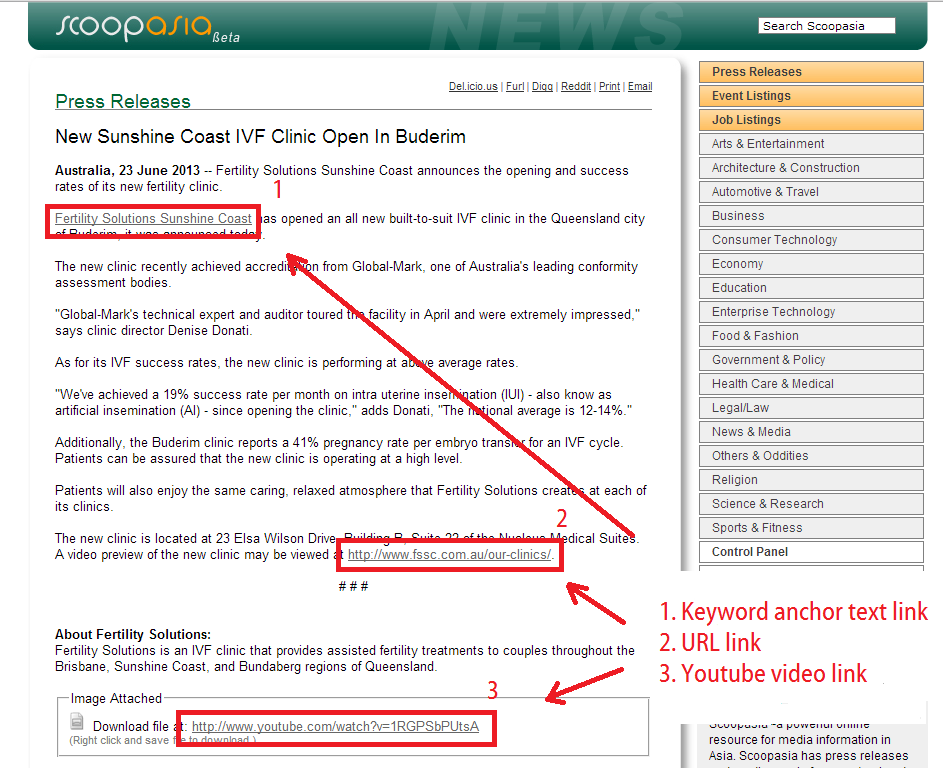 Overview
We try to focus on Press Release sites with PR3 or higher, but ScoopAsia (PR2) allows keyword anchor text, so I've included it as a Winner.
Besides, links abound! ScoopAsia.com also allows an additional link to an image (I chose to add a relevant Youtube video link in the example).
Releases on ScoopAsia are approved immediately, but they can take months to get indexed by Google.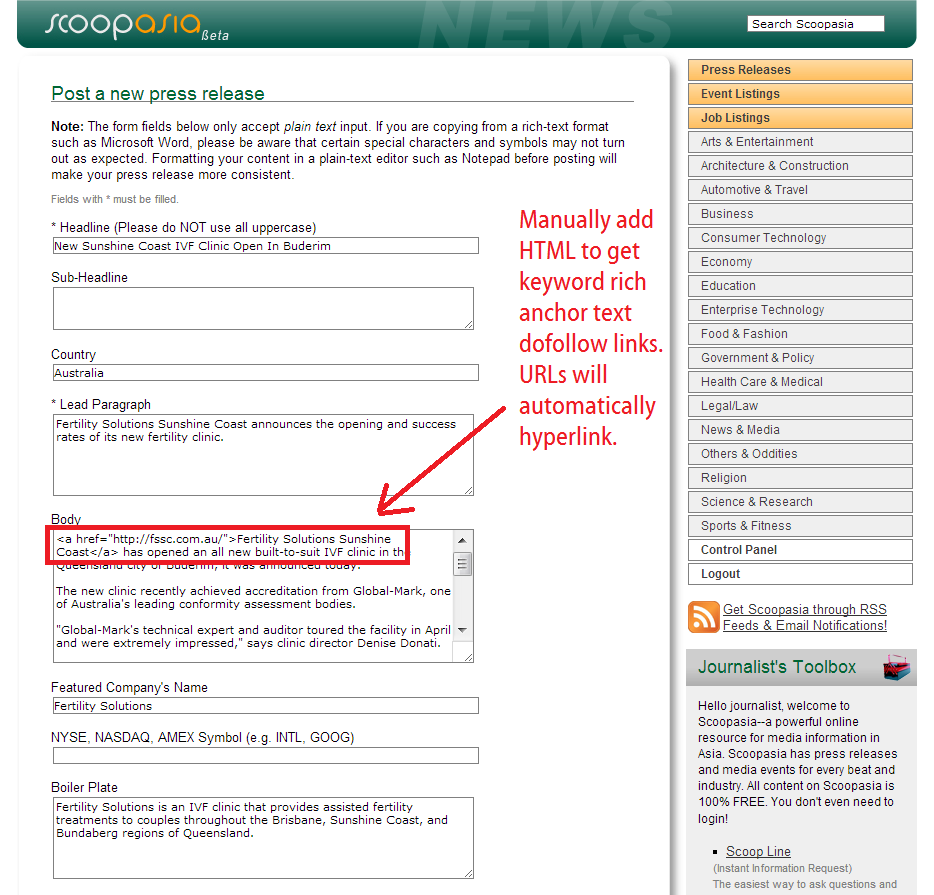 Tips
You've got to manually use the HTML syntax to activate your link with keyword rich anchor text
Be careful not to over optimize your keyword; I rarely use exact match keywords, choosing instead to link on a brand name, URL, or long variation that includes the keyword
Include a link to a relevant image or video if its available. The more complete your submission, the richer the published release will be.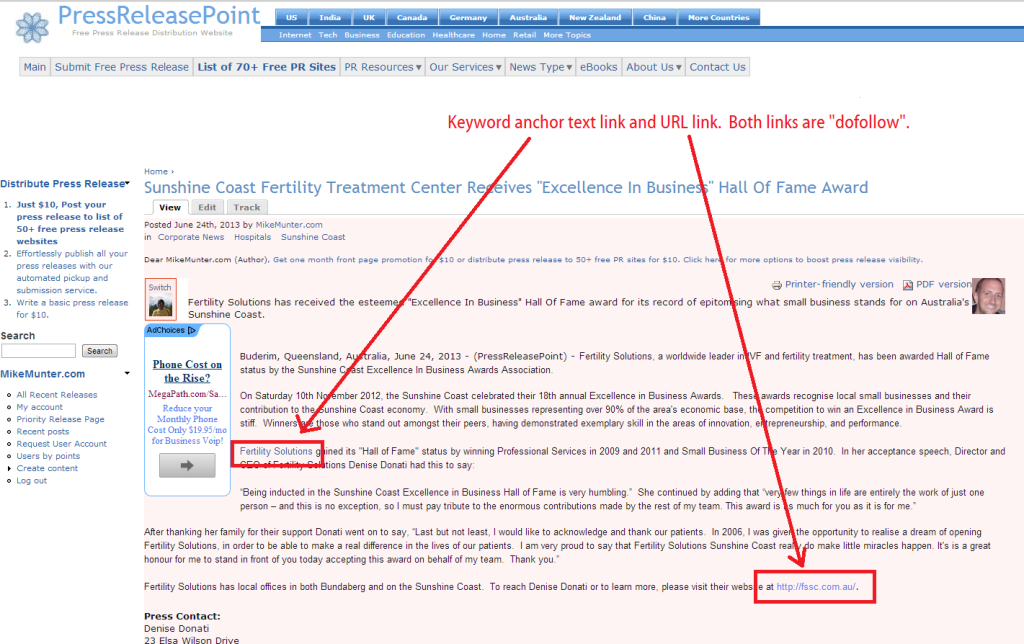 Overview
PressReleasePoint publishes your release within minutes of submission. Keyword rich anchor text links are allowed.
When I hit "submit", I got a message saying "Saving your submission. Waiting for a response. Please wait for 1 to 2 minutes." My browser never resolved and while I was waiting, I received the confirmation email saying my release was published.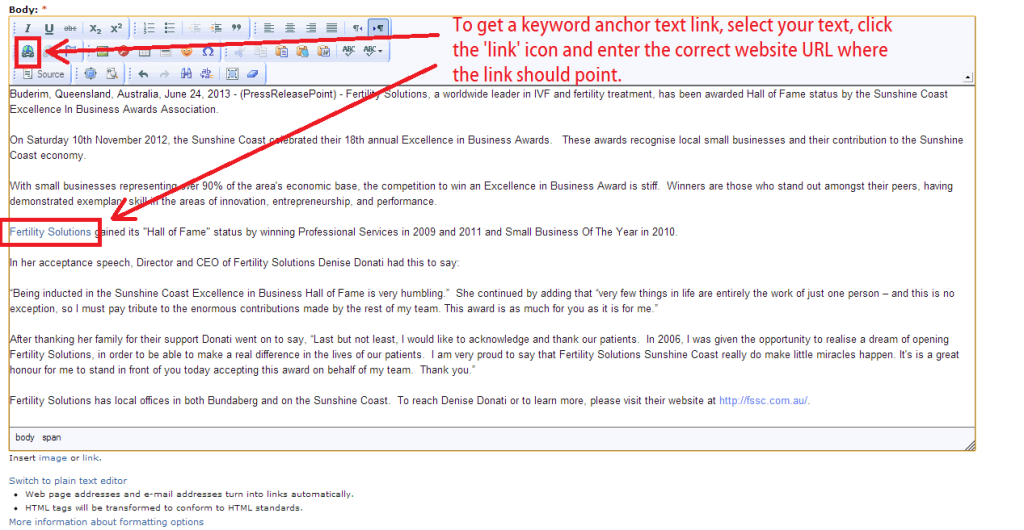 Tips
Be careful not to over-optimize on any one keyword.

I like to choose brands or long phrases that include one of my target keywords. I rarely choose exact match keywords (10% or less) because of risk of being penalized by Google. This is referred to as "over-optimization."
More Tips
Make sure to update all of the Contact fields with the client contact info. You'll get a dofollow link for the website under 'Press Contact' on the published copy.

Carefully choose Categories and hit 'add' to populate the info into the light blue fields (see image at right)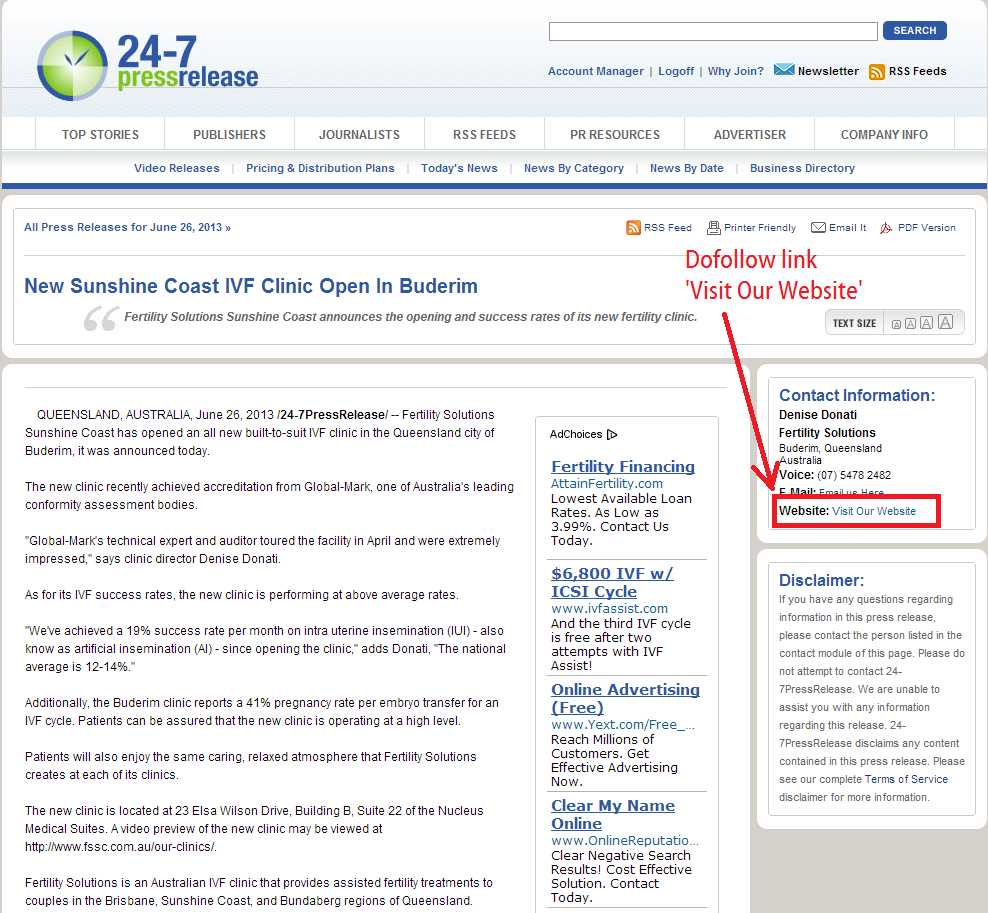 Overview
Allowed 1 submission per day
HTML tags are not allowed anywhere within the press release
Dofollow link is on "Visit Our Website"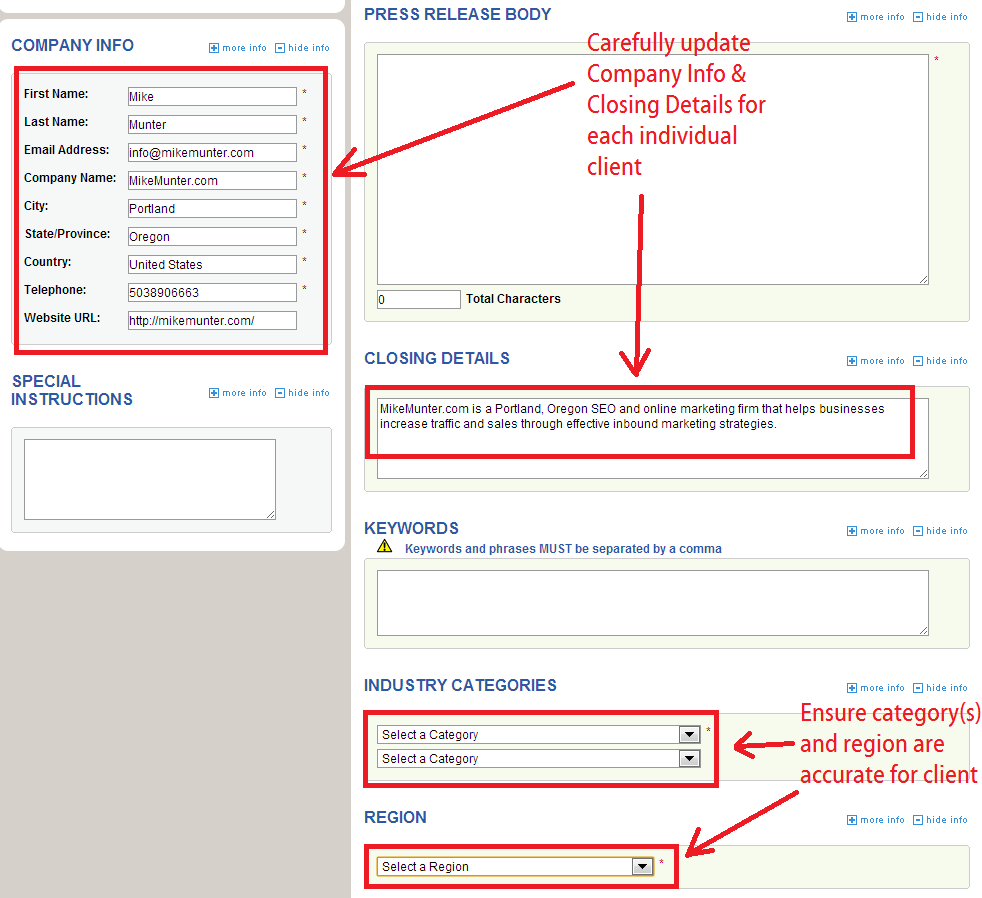 Tips
If you are submitting press releases on behalf of clients, you either need to setup different accounts for each client, or manually update the "Company Info" for each client's submission. This is VERY important because the 'website' field is what provides you the link.
Company contact first name, last name, company name, address and phone # are all required and make for a professional looking release. Make sure to update these, too, for each client.
You must also update the "Closing Details" which is a 1-2 sentence bio of the company.
Carefully select the most accurate category and region.
Step-by-Step Do-It-Yourself Instructions
If you're a business owner, marketing rep, or fellow online marketer, here are the exact steps I take to write and distribute a press release.
Brainstorm. Collaborate with business owner on a newsworthy topic and talking points of press release. If we are promoting a specific product or service page, make sure that page on the client website is complete, proofed, edited and optimized for Google.
Write it. Write release and submit to business owner for approval.
Save it. Save approved release, title, and description in a Word document.
Gather Data. If I haven't done it yet, gather all of the bullet points mentioned here and save them to a spreadsheet.
Submit It. Assuming I've already registered, I'll submit to PRLog first.
Tweet It. If I've setup the client's Twitter account in PRLog, the release automatically is Tweeted as it goes live. Most likely, we've got Twitter set to auto-update Facebook, so it gets mentioned there as well. This step helps with indexing the release.
Syndicate. Once I get confirmation of a published release on PRLog, I turn the rest of the manual submission work over to my team in India who follow Section five "Submitting Your Press Release To The Winners" to ensure we are efficiently executing dofollow links for our client.
Track. Occasionally, I check to make sure releases are getting indexed and give them a boost if they need it.
For clients, I try to aim for 1 new press release each month – there is always something new to talk about!
Press Release Distribution Service
In this guide I've given you all the tools you need to do it yourself, but many business owners – especially those without an in-house marketing rep – want someone else to handle writing their releases and submitting them. If that's you, I manage the entire process for you, so you can focus on running your company.
You can hire me to handle your press release distribution a la carte or request a customized, comprehensive online marketing proposal to help increase traffic to your website and sales for your business.
A la carte pricing is $200 per month and includes all of the steps outlined above in the Step By Step Instructions. You get one press release written for you each month and published to approximately 7-10 quality press release "Winners" as mentioned on this site.
Press release distribution and syndication is a regular part of our customized proposals. Contact me here or give me a call at 503-890-6663. I'd love to help you grow your business.