If you've been publishing articles on other websites, good for you! These relationships are a terrific opportunity to reach new customers, get referral traffic to your site, and boost your site's authority in the eyes of Google.
Probably the most important aspect of guest blogging is the opportunity to link back to your own website. Links are the doorway to referral traffic from the guest site and they are an important part of strengthening your site's Page Rank, which helps to establish you as an authority in your field.
Examples Of Linking Opportunities
There are two great ways to take advantage of the linking opportunity in your guest blog post –
Link in article body back to a relevant page on your site

Link in author bio with call to action back to your home page
Let's take a look at an example of each one.
Opportunity #1 – Link in article body back to a relevant page on your site
A friend and client of mine is Sara Dahlquist of Dahlstyle.com. She is a style consultant and regularly writes a guest post for Shop Adorn, a local Portland clothing boutique.  In this post, she writes an article about denim and different ways to wear it.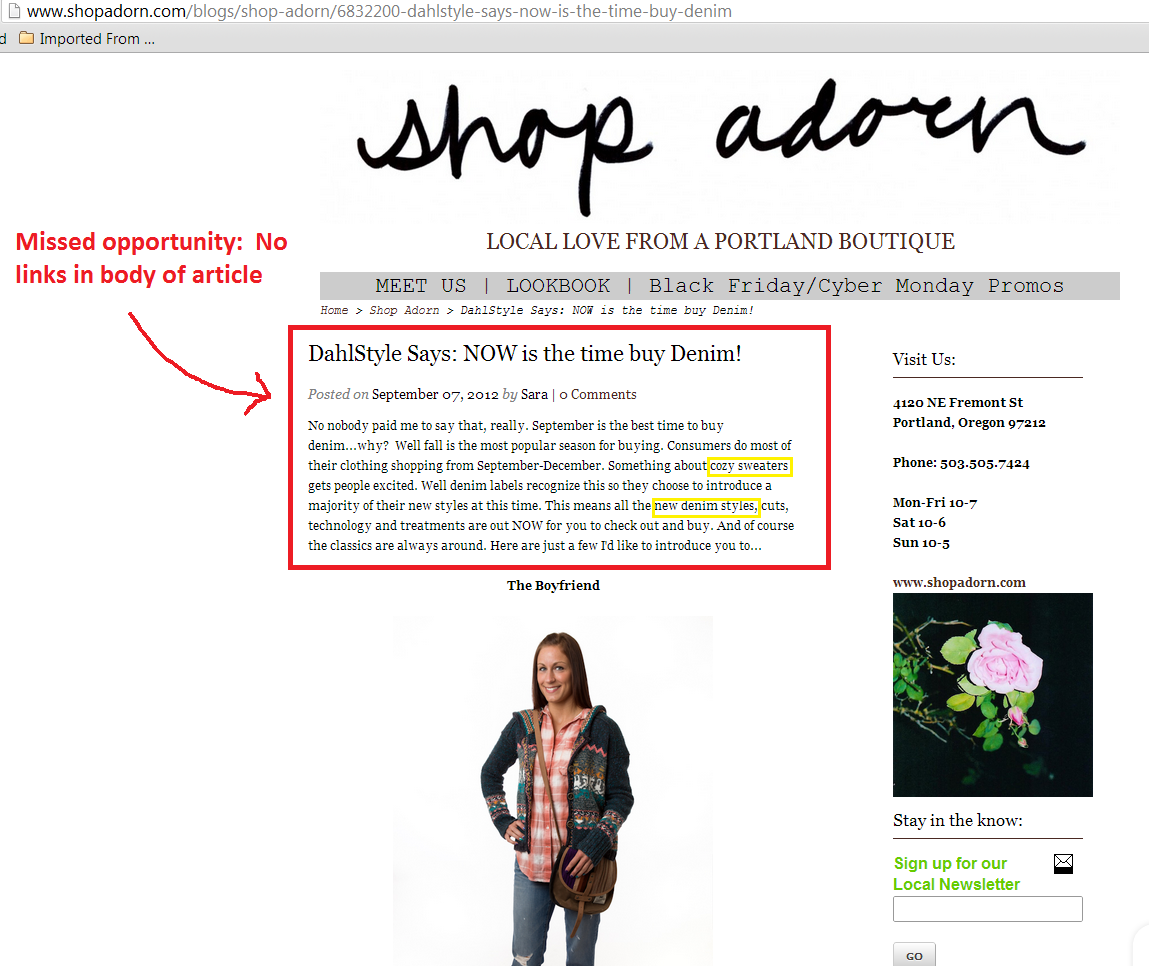 Unfortunately, there are no links within the body of the article that point back to Sara's site.
Improvement:  I would recommend placing a link somewhere in the article and point it back to a relevant blog post on Sara's site.  Here are two possible opportunities within the first paragraph:
"cozy sweaters" – link to a post on Sara's site about cozy sweaters and how to choose one
"new denim styles" – link to a post on Sara's site that talks more about the new denim styles available this year
Either of these opportunities gives Sara the chance to promote a page on her website.  If she chooses to link on "cozy sweaters", it gives her a great way to lead the reader into a new subject on her site.
Opportunity #2 – Link in author bio with call to action back to your home page
The second missed opportunity is there is no author biography at the bottom of the article.  It's common practice to include a bio at the end of a guest post article, so make sure you take advantage of it.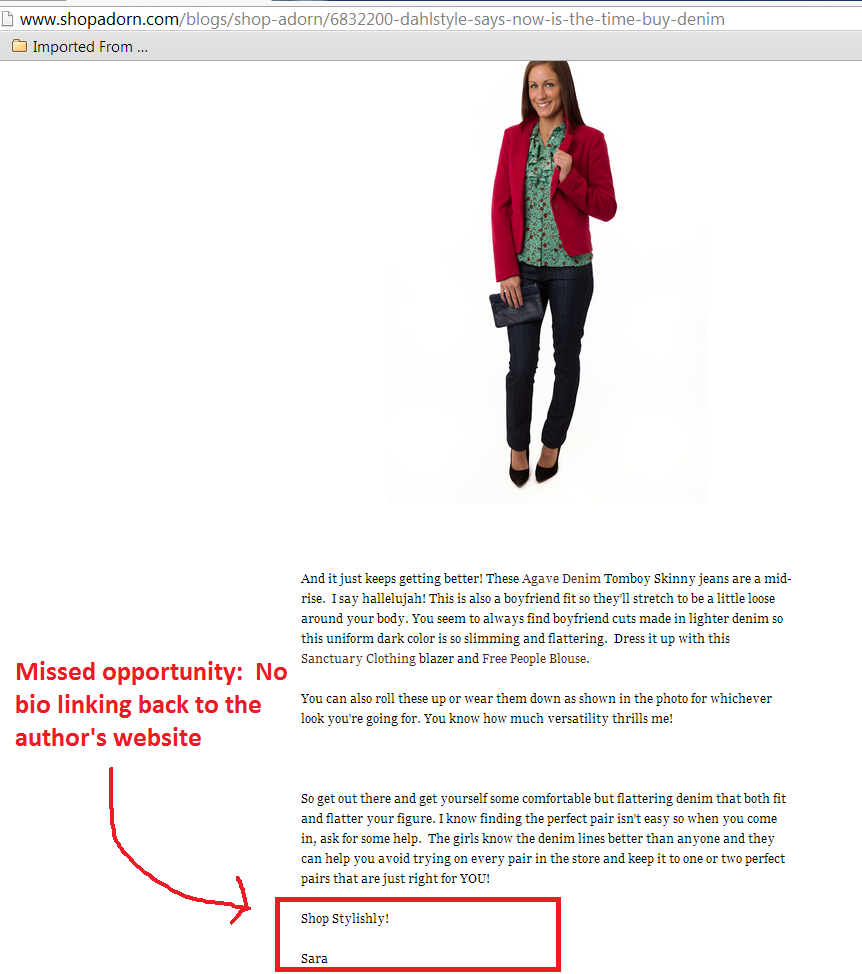 Improvement:  A nice author biography at the end of this article could be something like –
"Sara Dahlquist is a Portland style consultant who helps her clients choose and wear clothes in a way that flatters their particular body type.  She offers "closet consultations" to help you look your absolute best.  Learn more at dahlstyle.com."
If Sara gets a bio like this placed at the end of her articles on the Shop Adorn website, she will be providing an easy way for visitors to click through to her site.  Plus, she is giving more information about what she does and provides a soft call to action.
How To Insert A Link Back To Your Site
The HTML code for the author bio link above is:
<a href="http://dahlstyle.com/">dahlstyle.com</a>
If you want to provide a link to your own website, you would do it like this:
<a href="URL of page on your website you want to link to">Keywords you want the link to be on</a>
Conclusion
Are you regularly writing articles for other websites?  If so, make sure to take advantage of easy linking opportunities back to your website.  You'll increase your traffic, develop new customers, and improve your website's authority.
If you need help locating or taking advantage of guest blog post opportunities, give me a call.