HelpAReporter.com (HARO) is a website that helps reporters find reliable sources they can quote in their news stories. In exchange for an expert quote, the source is usually given a link back to their website. The site is free to use and only requires your time to peruse and respond to those leads that are emailed to you each business day.
But if you're trying to strengthen your website through link building, how valuable of a tool is HARO?
My Test Of HARO As A Link Building Tool
For 2 months, I monitored HARO daily and responded to any lead that was relevant to my business. If a reporter was looking for a source on marketing, online marketing, or reputation management, I responded with a quote.
Results. In 2 months, I made 27 replies and got 5 published links, for a percentage of almost 19%. I spent about 5 minutes each day reviewing and replying to appropriate leads, so my total time invested was 3 hours, 20 minutes. [5 minutes per day X 5 days per week X 8 weeks].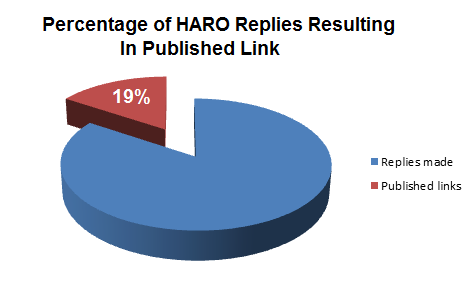 How Valuable Were The Links I Got?
Here are the page titles for the 5 links I got:
19 Creative Local Marketing Ideas You'll Want To Implement Today
7 Expert Tips About Video Marketing For SMBs
39 Hiring Tips From The Pros
5 Tradeoffs Entrepreneurs Must Make to Achieve Success
Which CRM And Email Marketing Tools Do Entrepreneurs Prefer?
In all five of the pages where I got a link, I was quoted along with many other industry experts. So, while it is nice to be acknowledged, the link is of little value because there are so many outbound links on each page.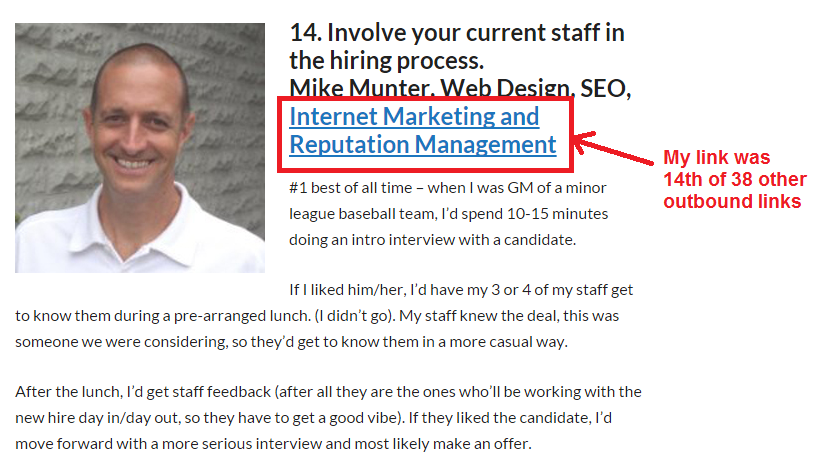 Another important measure of link value I like to use is referral traffic. How many visitors are you getting from your link? Is it producing any leads?
The short answer to each of my 5 links is NO.
In the time period between April 1, 2015 and July 21, 2015, three of my links have not produced a single visistor to my website. One of the links produced two unique visitors, both of whom bounced off my site immediately. The other site produced 1 visitor from Massachusetts who came three times. No tangible leads have resulted from these links.
What's more, and I can't quite explain this, my domain authority dropped from DA=25 on April 21, 2015 to DA=23 on July 21, 2015.
ROI On Link Building From HARO
To date, I have not generated any new business through my link building efforts, nor has my domain authority increased. But who knows what the future will bring. Maybe someone will see my comment on one of the sites where I was quoted and call me up to do business.
Had I been running HARO for a client, I would've charged at least $150 per hour, so the 3 hours and 20 minutes I spent would've cost a client over $500 with no measurable return on that investment.
Conclusion
While HARO is a free service, time is money. Since most of the "reporters" are actually webmasters looking to build content for their online properties, your links don't have much value and thus, the time invested isn't really worth it.
That's not to say that you might one day get quoted in the Wall Street Journal or some other news site that delivers loads of traffic to your site.
But I'm a systems guy and I'm not willing to keep putting effort into something that doesn't make me money. Links are nice and maybe one day I'll give HARO another shot, but for now, it's not worth my time.
PS  – There are many ways to evaluate links and I encourage you to check out this Moz article for more linkbuilding metrics you might want to consider. When it comes to local businesses, we recommend and use these link building methods.