Mobile-friendly web design is now something you can't ignore, since Google has changed their ranking algorithm on mobile devices, as of April 21, 2015.
Simply put, if your website is not mobile ready, you're not going to rank as well as your competitors, whose sites are mobile ready.
3 Ways To Check Your Site's Mobile-Readiness
From your smartphone or tablet: Enter your website and see if it scales properly.
Online checker: Enter your domain name at this mobile website checker.
From desktop computer: This video shows you how.
Example Of Non-Mobile Friendly Website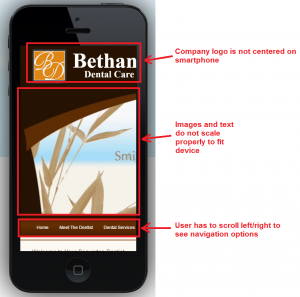 At left is an example of a website which is not mobile friendly (click image to view larger).
Notice that:
Company logo does not center
Images and text do not properly scale
Navigation is difficult
These three factors contribute to making it difficult for users on smartphones and other mobile devices to use your site and that's why Google is not ranking these sites as highly.
Example Of Mobile-Friendly Website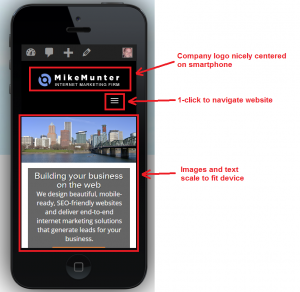 Now, here is an example of a website which is mobile friendly (click image to view larger).
Notice that:
Company logo is centered
Images and text scale perfectly for the device
Navigation is easy with 1-touch
You can see how this website is easier to use on a smartphone and thus Google will give it priority in mobile search results.
Upgrade To Mobile Or Get Left Behind
Remember when digital television came along not too long ago? We all had to scrap our old TVs and go out and buy a digital-ready television, in order to keep watching.
Google's announcement marks a new era, just like when digital TV service arrived on the scene. If businesses do not make the investment in a mobile-friendly website, you are going to get left behind.
This is not fear-based selling – these are the facts. If you're serious about generating leads from your website, you're going to have to be mobile-ready so your site scales properly to smart phones and tablets.
Website Traffic From Mobile Devices
In 2014, 35% of all website traffic came from mobile devices, according to BrightEdge. This trend is only going to continue as smartphones and tablets become cheaper and more popular.
Can you really afford to risk losing over one-third of the traffic (and leads) to your website?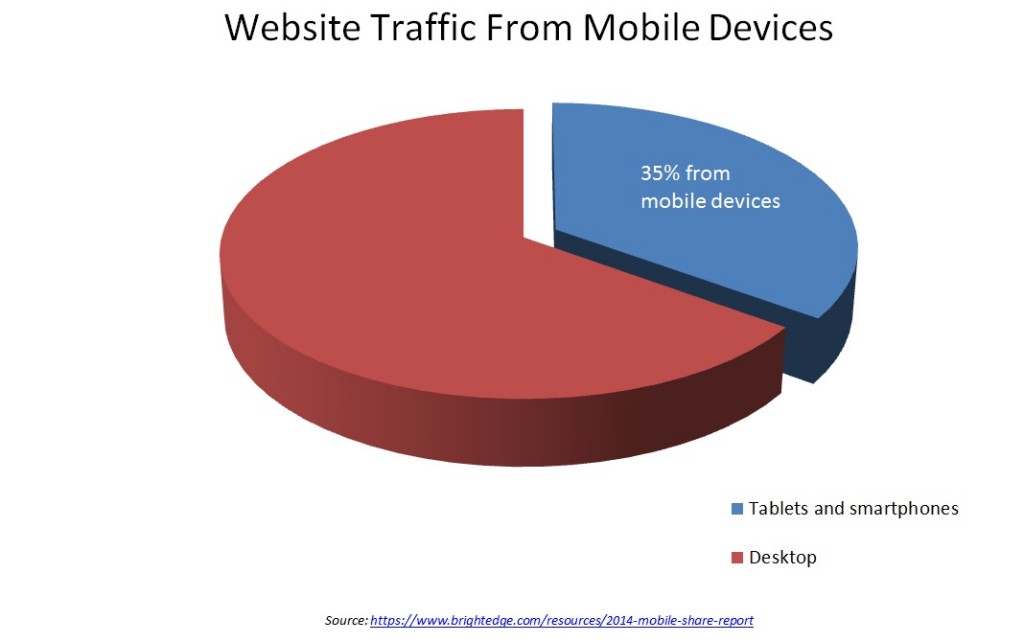 Traffic Lost From Mobile Devices
Furthermore, 68% of users who find your website will bounce off your site, never contacting you, because your site is not mobile ready.
You've probably experienced the frustration of trying to navigate a website that is not mobile-ready on your smartphone. It's a pain in the butt.
And that's why Google has made the algorithm change, to show websites that are mobile-ready in its search results.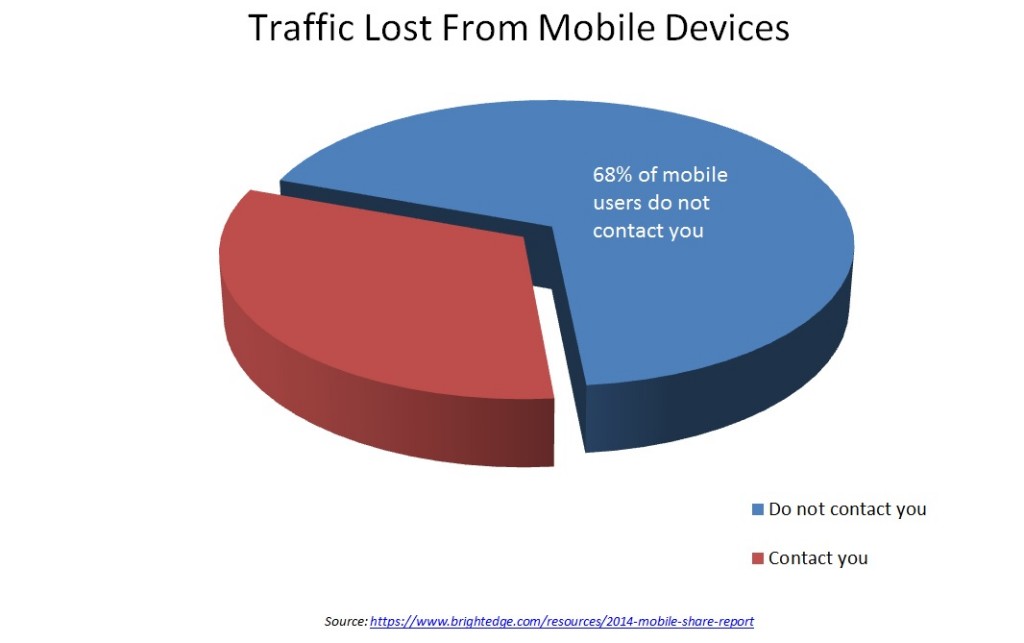 Mobile-Friendly Website Design Services
Since your website is the foundation for everything you do online, being mobile-friendly is a powerful way to get a jump on competitors and outrank them. Making the switch now gives you a head start on a change that's going to be inevitable for any business who wants to stay relevant online.
We provide custom-coded web design services which are 100% mobile ready now, and in the future, no matter what size device you have. Our beautiful websites help you convert visitors into customers and they're built using WordPress, which means they are SEO-friendly.
If you'd like to receive a quote and learn more about our internet marketing services, please call 503-890-6663 or request a quote online. We would love to help you get ahead of your competitors.