A couple of months ago I complained about the terrible service I got from a Portland vacuum store. Today, I'd like to share another of my customer service experiences – and this time it's good news!
Portland's Portsmouth Dental Care first earned a shot at my business when I received their direct mail piece a few years ago. I happened to be in the market for a new dentist and their colorful flyer hit me at the right time.
So, I made an appointment and to this day, I continue to be impressed by their quality service and care. I'm guessing that like any well run business, it all starts at the top, with quality leadership.
I remember an expression I heard in corporate training years ago, "Take care of your employees and your employees will take care of your customers. And your customers will keep coming back."
I suspect that Dr. Turk and Dr. Frohnmayer share this same ideal. Below, I'll share my experience in dealing with Portsmouth dental and the things I think they're doing well.
#1 First Impressions
My first visit was a good one. The office was clean and organized. I only waited a few minutes in the waiting room before getting into the chair. Dr. Turk, one of the owners took time to introduce himself to me and I liked my dental hygienist.
There was a distinct atmosphere in the office – it was upbeat and positive. Employees smiled and seemed like they were happy to be there.
At the end of my cleaning, I paid and made another appointment, looking forward to my next visit (believe it or not!)
#2 Seamless Customer Service Experience
My second visit a few months later went well, too. But on my third visit, I was greeted with a surprise. My regular hygienist had decided to move out of Portland. I really liked her and was concerned that things would not go so well with a new one.
Alas, I was introduced to my new dental hygienist and grew to like her even more. She is just as concerned about my sensitive teeth as my first hygienist and even more personable.
I know from my own experience leading a staff of 20 full time and 200 part time employees how challenging it is to deliver a seamless, consistent customer service experience from one employee to the next. I was pleased that my new dentist had pulled that feat off, too.
#3 Use Technology To Improve Customer Service
Many health professionals will call you or send you a post card reminding you of your next appointment. It's a nice service, but it's a little open-ended. If I forget to return the call or don't respond to the post card, the office has no way of knowing whether I got the message or not.
Portsmouth Dental is the first health professional I've dealt with that uses technology in the form of an automated email message that no only reminds me of my next appointment, but also asks for confirmation that I'm going to keep my appointment. (see sample below)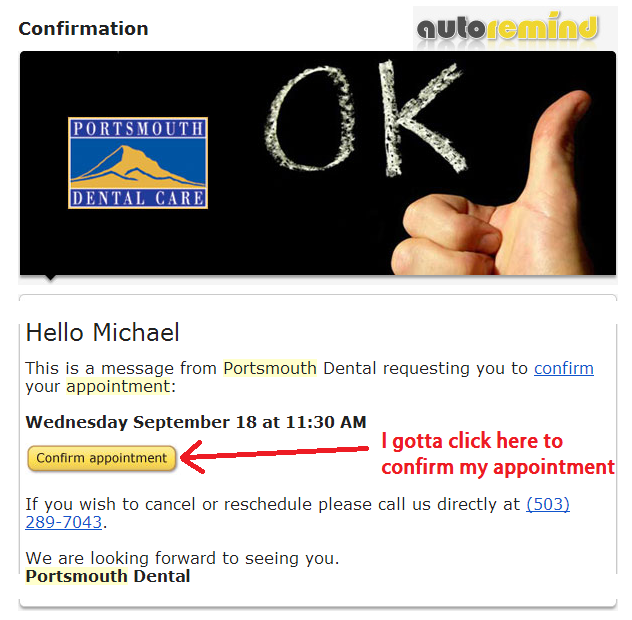 What a simple way to use technology to keep patient appointment's on track, without tying up a receptionist's time making reminder phone calls!
The reminder is nice for me and I bet it saves the clinic thousands each year in missed or forgotten appointments.
#4 Ownership Is Engaged In The Business
I think the dream of many business owners is to build a business, so they can have someone else run it for them. It's an attractive idea, but business owners have to be careful that they don't lose touch with their staff and day to day operations.
During one appointment, the nitrous feed wasn't working properly; I was having a difficult time breathing through the bag. My hygienist, despite her best efforts, was stumped. Dr. Turk arrived quickly and helped figure out the problem.
In another instance, I was having my teeth cleaned and Dr. Turk passed by the room, asking his hygienist, "Is everything ok here, Katie?"
"Yep, just doing a cleaning," she replied.
That little interaction reminded me of what I tried to do on a regular basis as general manager of the Baysox. Every now and then, I made it a point of walking through the office and sitting in the cube of each of our employees, just asking them how things were going. Was there any client they needed my help with? Most of the time the answer was "no," but I'm sure you can imagine the impact of my little social visits with employees. Our employees knew I cared and I made it clear that my door was open if they needed help.
That little "check-in" by Dr. Turk is an indication to me that he runs a similar operation.
#5 Go The Extra Mile To Win Customers For Life
Earlier this year, I was about to head out the door for my appointment when my phone rang. It was the receptionist at Portsmouth Dental telling me that they apologized, but my hygienist was running about 20 minutes late with her current patient. Wow!
When is the last time your doctor called to tell you they were running behind schedule?
I can't recall any doctor or dentist ever calling me before to let me know they were running late. I'll bet you can't either. That's probably because most doctors and dentists either don't care or they're just too lazy to put a system in place to notify their patients. Maybe they don't think it's important.
This courtesy call is the most significant way in which Portsmouth Dental has impressed me with their customer service. In fact, this gesture is the reason why I've written this post.
Summary
Now, you might be asking, "What does any of this have to do with SEO and online marketing?"
Well, nothing. But it's got everything to do with customer service and word of mouth marketing. No one at Portsmouth Dental asked me to write a blog post about their business practices. They just happen to have a patient who does marketing for a living (me) and I like to share stories that relate back to what I do.
Online marketing, SEO, and any other form of advertising can help you generate new leads, but unless you've got a strong customer service mentality, they won't be customers for long. Portsmouth Dental does it right. And because of that, I refer them freely whenever someone I know is looking for a new dentist. And that's the best marketing of all.
If you're a dentist, check out our Dentist SEO & Marketing Strategy for tips on improving your rankings in Google.