---
Update March 23, 2015
Yelp's extortionist tactics I describe in #1 below are about to be exposed to the world. Filmmaker Kaylie Milliken of ProstFilms is working on a documentary that informs everyone of Yelp's tactics.
Join me in helping her complete the film by donating to the cause.
---
Negative reviews on Yelp can really hurt your business. Unfortunately, you might not know how much it's hurting because many customers will never call you after they read your negative reviews.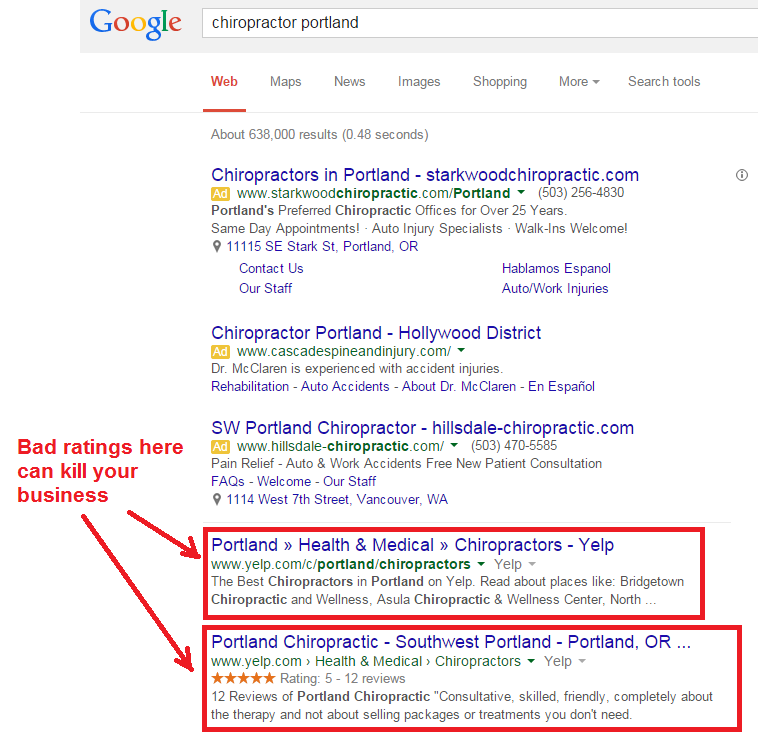 Depending on your specific situation, you have the following 4 options for addressing or removing negative Yelp reviews:

1 – Pay Yelp to hide the unwanted reviews
This is the scam Yelp runs. On one hand, they'll tell you their "algorithm" filters some reviews and not others and they have no control over which reviews appear in your profile. But on the other hand, they are happy to sell you a monthly package in order to hide your unwanted reviews.
While it stinks that Yelp operates this way, you have to consider this option and here's why:
Yelp ranks really well in Google. For almost any local search like "chiropractor portland" or "plumber san diego," you'll see Yelp on page 1 of Google search results. Since a lot of people trust Yelp, they'll use it to read reviews and decide who to do business with.
2 – Address the negative reviews yourself
a) Respond directly to the person who posted the review. You can do this privately when logged into your Yelp account as the business owner. Acknowledge the complaint and offer a solution for making it right. Further, you might even mention changes you've implemented in your business thanks to their comments. Once the issue is resolved, kindly ask the person if they will revise their review, as it is negatively impacting your business.
b) If they don't reply, then do a public response, being sure not to be defensive. As with the private reply above, acknowledge the problem and share any policy changes you have made, so it does not happen again. Reasonable people will read your professional reply and see that you are conscientious and sincerely care about your customers.
c) Next, you've got to work on getting reputable reviews. You'll need to be proactive about this. Ask your customers if they use Yelp and if they'd write you a review. Make it easy for them by giving them a link to your Yelp page. Seasoned Yelpers will have friends and connections and stand a better chance of not getting filtered by Yelp's algorithm.
3 – Suppress the Yelp page with a reputation management campaign
If you don't want to pay Yelp, but you still want to address the problem, we can help you by running a reputation management suppression campaign to push the Yelp URLs off page 1 of Google. We offer flat fee pricing to do this.
This doesn't remove the bad reviews, but it is a hands-off solution for you as a business owner. With your Yelp listing on page 2, 97% of people will never see it.
4 – Remove them (if they are fake or posted anonymously)
Believe it or not, posting negative fake reviews on Yelp and other sites is big business. We hear about it all the time. These reviews can sometimes be removed through legal means, but it's an expensive proposition and not always guaranteed.
If we're successful in removing the fake reviews, the entire Yelp page will get de-indexed in Google, which means it will no longer appear in search results.
We offer both internet marketing and reputation management solutions to address your negative Yelp reviews. To learn more, give me a call at 503-890-6663.