I have a Seattle chiropractor client who had a fully claimed and optimized Google My Business page, but his business was not appearing anywhere in Google Maps local search results for two of the most important local searches new patients would use to find him:
"chiropractor Seattle" – nowhere to be found in 9 pages of local search results
"chiropractor 98101" – nowhere to be found in 1 page of local search results
My gut told me something was wrong and my client felt the same way, so we talked about it and he gave me the clue we needed – it was a GPS issue!
Background
My client said he often will take Uber to his office, but instead of being dropped off at his office door in downtown Seattle, he is taken to a location 1 block away.
Weird, huh?
With this information in hand, I went to Google Maps and searched for his business name. I clicked on the "Directions" icon and the correct address appeared in the destination box.
On a hunch, I clicked the "Share" button >> Embed map >> Directions, and this showed the incorrect address – 1 block away from his physical location! This was the problem and it turns out it is a GPS issue that Google was picking up on.
With this information, I contacted Google My Business Support at 844-491-9665 and explained the issue and my theory on how to fix it:
My client is not appearing anywhere on Google Maps for "chiropractor Seattle" or "chiropractor 98101"
My hunch is the reason he is not appearing is due to a GPS issue causing the pin placement to show an address 1 block away
After a lot of back and forth with the Google representative, I explained how frustrating this is for my client who is trying to build his practice and get found in Google.
At first, she insisted I use the "Send Feedback" option to report the issue. I don't like doing this – I've reported issues in the past and it seems they just go to never never land; nothing ever happens.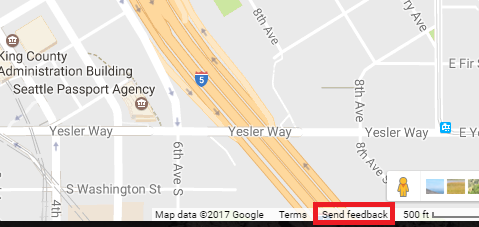 Finally, she relented and agreed to manually move the pin location herself (with the help of her supervisor).
Voila!
I refreshed my search for "chiropractor Seattle" and my client is now appearing 14th out of 166 chiropractors.
For "chiropractor 98101," he is appearing 6th out of 15.
The incorrect address is still showing on the Share >> Embed >> Directions sequence, but the Google rep assured me this would update in 24-48 hours.
How To Move Up In Local Search Results
Nonetheless, the main issue of him not appearing AT ALL has been fixed and now we can get down to the business of improving his placement in local search results.
To this end, Google recommends the following:
Get more reviews
Reply to all reviews
Add more photos
Share content on GMB page
We are already doing all of these things and so now I believe our biggest issue is Domain Authority, so we are aggressively building citations and working hard to get unique links from bloggers and authority sites.
In time, I believe his improved Domain Authority will result in higher rankings in both Google Maps AND organic search.
For reference, check out the Moz Guide to local search ranking factors. This is where you'll find expert advice on how to rank your local business higher in Google maps.
Summary
The support I get from Google My Business is inconsistent. I had called two weeks ago (prior to knowing about the GPS issue) and was told that "too many edits had been made to the client's GMB page."
In fact, a former SEO had made 6-7 edits (adding categories, images, changing hours, etc) in the last 30 days.
I didn't feel this was the issue, but advised my client to give it a couple weeks to see if anything changes.
When nothing changed, that's when we talked again and discovered the GPS issue.
I encourage you to carefully press your Google representative to get the results you want. Doing so can mean all the difference, even if it means getting a supervisor involved.
Best of luck and I can help you improve your local rankings and SEO, give me a call!