Want to know a little, simple search engine optimization change you can make to help your website rank better in Google?
Update your website's home page to include what you do!
Update Your Home Page Title
What does your home page's title say right now? If your title doesn't include keywords describing what you do and where you do it, you're missing an easy opportunity to move up in Google search results.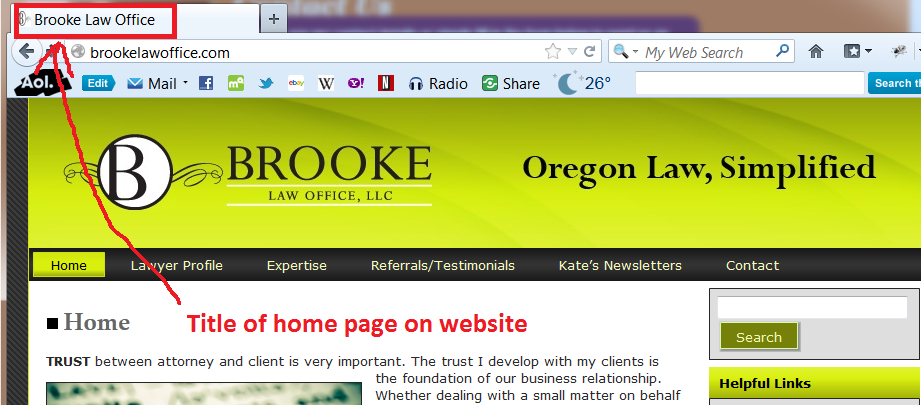 In the example above, the name of the business is the title of the home page. It doesn't tell Google or other search engines what you do or where you do it.
I know the owner of this business and she is a real estate attorney in Portland. So, a better title for her might be:
Real Estate Attorney | Portland, Oregon | Brooke Law Office
Now, she's got a much better chance of appearing in Google search results when people search for a "real estate attorney" in Portland or "real estate lawyer Portland".
Recently, I updated a client of mine's home page title to include a city she wanted to rank better for. Within a week after making the change, her search results improved from #199 for her target keyword, to # 14. That's a huge improvement with a minor change that took 5 minutes.
You can check your website's title either by viewing it in your browser (like the Firefox example above), or you can look at the page source.
To check your title using source code, just load your website in your browser and right click your mouse anywhere on the page.
A window will pop up, just scroll down and click on "View Page Source"
Next, hit "Ctrl-F" to open up a search bar and type the word "title" to quickly locate the title tag for your home page.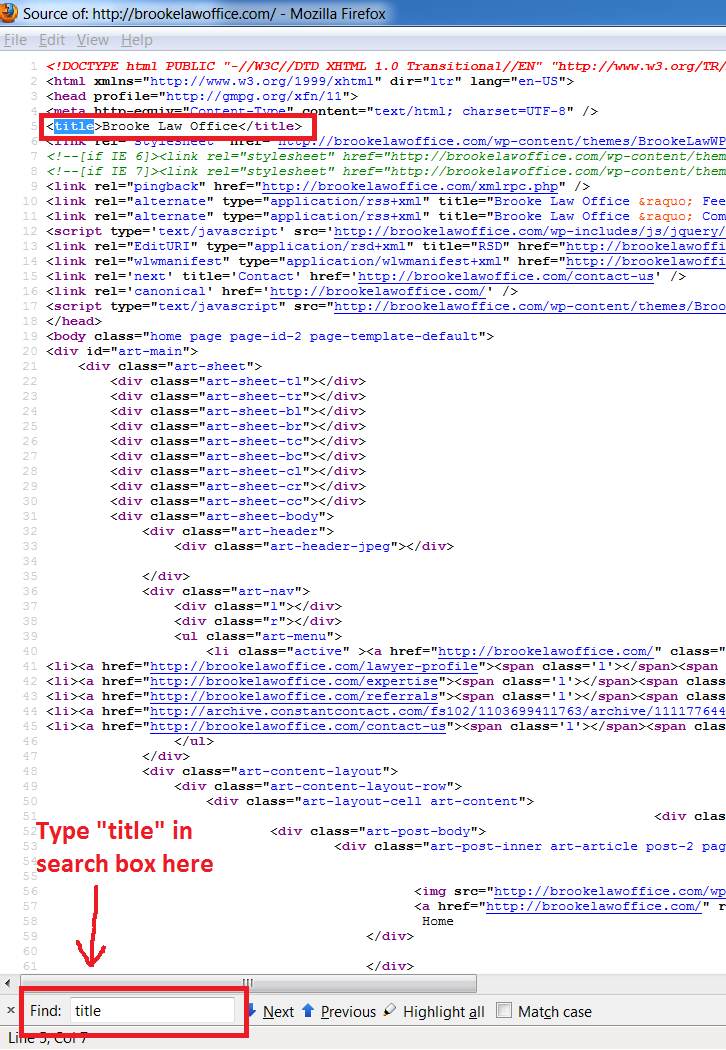 You can see in the source code above that the title for the web page is "Brooke Law Office".  After the update is made to the site, the source code here will reflect the new, more descriptive title.
Include Keywords On Home Page
In addition to updating your site's title, make sure your home page content includes the keywords for your business, in text.  Using the example above, Kate could easily incorporate her keywords into her home page, as a way to reaffirm to search engines that she is a "real estate attorney, practicing in the city of Portland, Oregon."
Don't stuff your keywords – make sure your content reads naturally and sounds good when you read it back to yourself.
Checking Results
To check to see how effective your changes were, make sure to check where you rank for your target keywords before you make the change.  Then wait a week or two for Google to crawl your site again and check to see how much you've improved.
I'm amazed at how a little change like this can often make a nice improvement and lead to more traffic for you site.
If you don't know how to change your site's title tag, check with your webmaster or give me a call.  Making on-site SEO changes like these are a fundamental part of improving your website's visibility in Google.