Affordable link building is possible if you do it in house.
Here's my guide for how to accumulate links back to your website without risk of penalty from Google.
Affordable Link Building For Local Businesses
Pro-active link building is a technique we use to help our local clients build domain authority, which is ranked as the 7th most important Google Business Page ranking factor by local SEO experts.
Links back to your site from other sites also help strengthen relationships and gain referral traffic. The best links are the ones you attract naturally by creating outstanding content, but this guide is about the strategies we use to go after some of the low hanging fruit to help you gain new links back to your website.
Link Building
#1 Link Building 101
Many businesses invest marketing dollars in getting people to "Like" their Facebook Page. I'd argue that gaining links is far more important and they're a lot harder to come by.
For a local business, the first thing to do is begin thinking about your website in terms of "Who can link to me?" This simple shift in the way you do business is essential to getting more links and is explained in the "Using Your Leverage" section of this page.
Why Are Links Important?
Links are important because: Websites that have a high PageRank will generally outrank websites that have lower PageRank because Google trusts them more.
In real world terms, who would you trust more to teach you how to cook a gourmet meal? Emeril Lagasse, who's been an executive chef nominated for Chef of The Year and who's hosted several TV shows on cooking? Or your next door neighbor who's specialty is tuna casserole?
If you're searching for information about preparing a gourmet meal, you're more likely to see Google return search results from authoritative, trusted sites like Emeril's – assuming the content is similar.
Another Benefit of Long-Term Link Building
Aged sites with higher Domain Authority are usually going to be worth more on the open market than sites with a lower DA. If you ever go to sell your business, your website is going to be a key piece to the puzzle.
Your authoritative website with lots of good links pointing to it is going to be a better lead generating tool than your competitor who doesn't do any link building. To coin a popular slogan, "Link Building – it does a website good!"
#2 Directories
Listing your business name, address, phone number and website in quality internet business directories and local and niche directories helps you make gains in 9 of the top 20 most important local search ranking factors as ranked by Google Business Page experts.
I explain the importance of directory submissions in more detail in this post+video.
Some People Search Local Directories Instead Of Google
Since late 2013, directories like Yelp, Angie's List, your local news media, and others are appearing more often when you search for something like "plumber + your city." Without hard data to back this up, I have to believe these directories are being searched more often now that they are ranking higher.
So, if you search Google for "plumber + your city," Yelp might be the 1st result you see. You click it and then perform your search there. Thus, it's one more reason to make sure your business listings are up to date in the most important internet directories in your market.
When I searched "Plumber Portland" on January 28, 2014, these directories were among the top 10 results were:
yelp.com (ranked #1)
kgw.com (a local Portland news station with business listings, ranked #3)
angieslist.com (ranked #5)
The #2 listing was for a plumbing company's website – on yelp!
Of course, mixed in with the results were 7 Google Business Page listings, just one more reason to claim and optimize your business in Google.
GetListed.org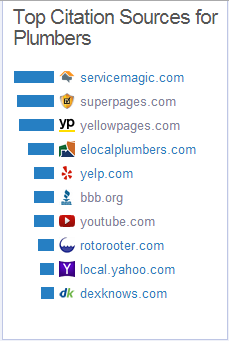 A nice tool for finding out which directories carry the most weight in your industry comes from GetListed.org's Best Citations By Category. Quickly find the top 10 directories where to list your business.
Search GetListed For Missing Directories
You can also use their main portal at getlisted.org to see a quick inventory of which directories to list and update your business. Enter your business name and zip code and you'll see a report like the one below, advising you (or us) where to begin work.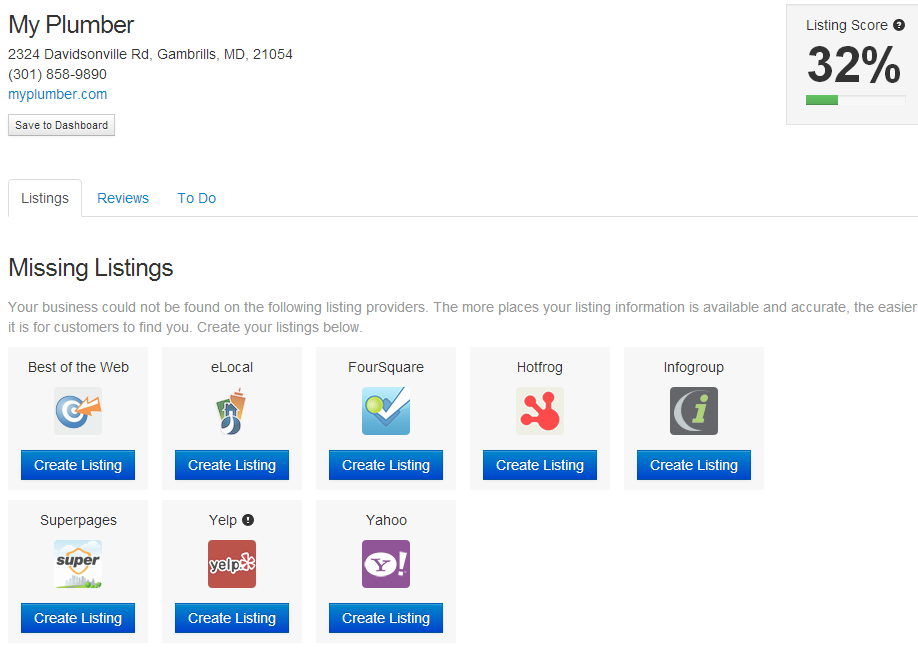 After you've exhausted all of the most important internet business directories, it's time to move on to the local and niche directories because the Quantity of Citations is the 6th most important ranking factor in local search.
#3 Using Your Leverage
Every person or company you spend money with is an opportunity to gain links. This gets back to changing your mindset about the way you go about doing business – always consider your website as part of the equation in any business deal.
If you're spending money with your local newspaper, insist on a link to your site as part of the deal. If you're donating to a charity, ask for a link from the charity's website back to yours. The opportunities go on and on and they're explained in more detail in this step-by-step guide to using leverage to build links.
#4 Using Existing Name/Brand Mentions
Sometimes, people will mention you and forget to link to you. Find mentions of yourself or your business in Google by entering your name or business name with quotes around it. You can use Google's -site:http://domain.com/ to preclude results from your own websites and others. The query below returned over 3,700 possibilities.

You'll have to go through these by hand to find the ones that don't include links. When you open a site, use "Ctrl-F" to quickly search for your name or brand on the web page. Then you can see if there is a link and email the webmaster asking them to add it.
Granted, this is a time consuming process, but the advantage is that the content is already published, so getting someone to add a link is easy – if you can reach them. My greatest success story using this method thus far is for my fertility client. She had gotten some research published on a powerful .gov site (PageRank 8), but the link was not present. After we contacted them, they added a link, helping to boost my client's authority.
#5 Using Google Alerts
With Google Alerts, you can "set it and forget it." This way you can capture new mentions of your name as they happen. This helps cut out a lot of the research time you spend in the section above.
Click here for a comprehensive guide to using Google Alerts for link building.
Congratulations!
You've made it through the final lesson in our Guide To Ranking Your Business In Google.
Affordable Link Building in Local and Industry Specific Directories
Local directories are those directories that are specific to where you do business. Examples would include your local newspaper or chamber of commerce.
Industry-specific or niche directories are the ones which target a specific business category. For example, there are a number of directories that only list attorneys and there are directories that only list doctors and medical practitioners. Professional associations that offer you a business listing would also be considered as an industry directory.
Getting your business listed in these local and niche directories is important because if you search for something like, "lawyer Phoenix," you might see search results that include legal directories like avvo.com and findlaw.com. A great example of this is displayed in our Internet Marketing Tips For Local Businesses blog post.
Why Niche Directories Are Important
Having your business listed and optimized in niche directories might provide you with a link back to your website. Plus, as you start to do the extra work it takes to accurately list your business information in these directories, you're beginning to take steps to success your competitor isn't taking.
Over the long haul, your effort should payoff in the form of higher rankings in local search results.
Finding Niche Directories
You can search for them in Google by typing your industry + directory. We use Whitespark's niche directory building service to handle the submissions on behalf of our clients.
Sample Local Directory
OregonLive.com
Since we're based in Portland, we use this one a lot!
Support: retailsupport@oregonlive.com
Notes: Verifies with phone call or mail. Need go back in and add info.
Sample: http://businessfinder.oregonlive.com/mike-munter-portland-or.html
Affordable Link Building Using Major Business Directories
Before you begin submitting your business information to the major internet business directories, download our Intake form and complete it. This will make your process of submitting easier because all you have to do is copy and paste from your intake form. That's how we do it for our clients.
Below are a list of some common directories you'll want to submit your business info to. I also like to use this method to find the most important directories. Search Google for what you do + zip code and submit to the directories you see on page 1 and 2 of the search results. Refer to this post for an example.
As consistency of your structured citations in these business directories is listed as the 3rd most important ranking factor in search by local SEO experts, make sure your name, address, phone number and website are a consistent exact match on each of these directories.
You'll see this process is time consuming and if you want us to handle it for you, it's part of our local SEO services. Call 503-890-6663 to learn more.
Please note, the directories mentioned below are relevant as of August 2014. They change their interfaces and rules frequently and we also change our minds about which ones are important. A good way to get a strong, short list of important internet directories for your industry is to search in Google. Learn how in our post: Internet Marketing Tips For Your Business.
Submit To The Major Internet Business Directories
FAQ
What is an internet business directory? An internet business directory is an online version of the Yellow Pages directories we all used before the internet came into being.
Why are they important? The directories on this list are all important because they commonly appear in search results. Google, Bing, and Yahoo have their own business listings which appear in local results.
What's a citation? A citation is any mention of your business's name, address, and phone number – usually in a business directory.
#1 Google Business Page
Where to submit: http://google.com/places/
Support: https://support.google.com/places/?hl=en# and they will call you.
Notes: If you want to appear in local search results, you have to have a Google Business page. View our tutorial that takes you step by step through how to claim and optimize your local Google Business page.
Sample Business Listing: https://plus.google.com/110152857456311230623/about
#2 Bing
Where to submit: http://www.bing.com/businessportal/
Notes: Requires phone number verification.
Sample Listing: http://www.bing.com/local/details.aspx?lid=YN720x401257742

#3 Acxiom
Where to submit: https://mybusinesslistingmanager.myacxiom.com/
Support: mblm@acxiom.com or 866-750-5438. I received much better support via email.
Notes: When first setting up your account password, be sure to include upper case, lower case, special character and no same letters in consecutive order. Otherwise your password will be rejected.
Additionally, you will need to submit documentation to substantiate your listing. (See image below). Since my business is home-based, I was able to provide a utility bill with my name and address.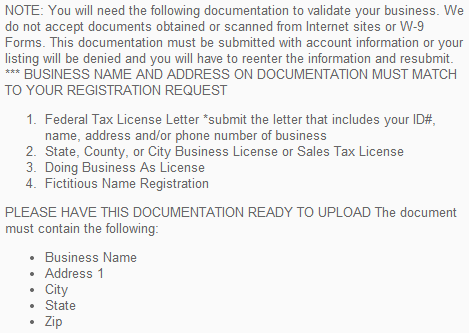 After you submit, wait 30 days and then check back to ensure that your business is listed. Make sure to be logged out of Acxiom when you do this. Contact support at the email above if you have any issues.
Agencies: Acxiom only allows you to create 5 business listings for free. After that, there's a $50 charge. You can use a different email address, but Acxiom detects your IP address, so you'll either have to switch your IP or enter the client information from a different computer to create a new account for your client.
Aggregate Info: Acxiom gets its information about your business from local telephone directories. It is a major aggregator for this list of over 60 internet business directories. What this means is that each of the directories on the list get their information directly from Acxiom, and that's why getting your business listed there is so important.
Sample Business Listing:

Acxiom does not assign a specific URL like most internet business directories. Instead, I had to visit their website and search for my business by phone number. The image above is confirmation that my business has been successfully submitted to Acxiom.
#4 InfoUSA
Where to submit: http://expressupdate.com/
Support: (800) 794-1404, 8:30 – 5:30 EST

Sample Listing: http://www.expressupdate.com/places/GIRURBSP
Notes: I also want to know if, as an agency, I'll be able to submit and claim multiple buesinesses using my credentials. Also, who are they an aggregate for? Info to come.
#5 Neustar/LocalEze
Where to submit: http://www.neustarlocaleze.biz/directory/
Support: 800-960-3755 or support@localeze.com
Notes: As of 2012, if your business isn't already listed in the Neustar/LocalEze database, you have two options to add it (1) you can pay $297 or (2) you can wait. LocalEze tech support told me they regularly scan and add new businesses from yellow page and white page listings (the books). They do not pull data from any other online source. While LocalEze will not commit to how often they do this, they did say it's reasonable to expect to see your business in their directory within 6-12 months from the time your business is listed in your local yellow/white pages.
Once your business is listed, claim it as an "Unsubscribed" listing – this is the free way to do it. You'll be allowed to make one change per calendar year, so make sure your business name, address and phone number exactly match what is on your website.
Neustar/LocalEze is an important aggregator that claims to update to over 150 other internet business directories including Yahoo Local, Bing Local, MapQuest, 411.com and others.
A basic (free) listing does not include a link to your website and may only be modified once a year. To add website, additional categories, and more, you'll need to upgrade to a premium listing which costs $297/year.
Sample business listing: https://www.neustarlocaleze.biz/directory/Listing/View/712262205

#6 Yelp
Where to submit: https://biz.yelp.com/signup
Notes: Since Google refreshed it's algorithm in late 2013, Yelp appears high in many local searches. For right now, it's one of the most important places to be listed, especially for people who skip Google and use Yelp to find a local business.
Sample business listing: http://www.yelp.com/biz/mike-munter-portland

# 7 Yellow Pages
Where to submit: http://adsolutions.yp.com/
Phone: 800-479-2977
Notes: You need to login (if you already have an account) or create an account to manage your listing. Enter all your business information when prompted and YP will prompt you with existing listings to claim. You'll need to call them to delete any old or outdated listings.
All changes need to be verified by phone with the business owner.
Sample business listing: http://www.yellowpages.com/portland-or/mip/mike-munter-467103479?lid=467103479

#8 SuperPages
Where to submit: http://superpages.com
Sample Listing – http://www.superpages.com/bp/Portland-OR/Mike-Munter-Search-Eng-Optmztn-L2320821508.htm?

#9 Citysearch/CityGrid
Where to submit: https://dashboard.citygrid.com/
Support: customerservice@citygrid.com or 800-611-4827
Notes: As of 1-28-14, you have to call them to change your categories, if you listed them incorrectly. CityGrid FAQ with additional support.
Sample business listings:
http://www.citygrid.com/605311482
http://www.citysearch.com/profile/605311482/portland_or/mike_munter.html?
#10 Merchant Circle
Where to submit: https://www.merchantcircle.com/auth/login/
Sample Listing: http://www.merchantcircle.com/business/Mike.Munter.503-890-6663/

#11 HotFrog
Where to submit: http://www.hotfrog.com/login.aspx
Sample Listing: http://www.hotfrog.com/Companies/Mike-Munter_27048828

#12 Insider Pages
Where to submit: http://insiderpages.com/session/new/
Sample business listing: http://www.insiderpages.com/b/15257537459/mike-munter-portland

#13 Manta
Where to submit: http://www.manta.com/
Sample Listing: http://www.manta.com/c/mxcpbg7/mike-munter

#14 BBB
Where to submit: http://www.bbb.org/
Support: kym.whitten@thebbb.org
Notes: Here's our step-by-step guide to submitting your local business to the BBB. Their ratings system is explained here. Even though non-accredited businesses do not receive a link back to their site, listing your business with the BBB is still a valuable citation.
Sample business listing: http://www.bbb.org/oregon/business-reviews/web-design/mike-munter-in-portland-or-22829262

#15 Yahoo Local
Where to submit: http://smallbusiness.yahoo.com/local-listings/
Sample Listing: http://local.yahoo.com/info-164424788
#16 Kudzu
Where to submit: http://www.kudzu.com/
Support: http://www.kudzu.com/Feedback.jsp
Notes: Get answers to registration questions at https://register.kudzu.com/help.do#howto2
Sample business listing: Will put it here whenever they fix their interface
Go to Lesson 4: Submit Your Business To Local & Niche Directories
Return To Beginning: Guide To Ranking Your Local Business In Google