Here's a simple 3-step system we've been using for years to help clients increase the amount of quality traffic to their website and thus, increase the number of leads their site is generating.
1) Require your department heads to submit one high-quality article each month.
Here's the letter I sent a client recently, to help encourage her key personnel to write content and send it to me for publishing and promotion. You'll notice I've also made it easier for her -as the boss – to put the system in place and keep it running.
The content should be relevant to their area of expertise. Some ideas include:
Research articles with documented case studies
Industry survey results
Professional opinion on industry news
In-depth answers to FAQs
Educational articles related to your products or services
Make sure the content is unique, long (minimum 500 words), and excellent. The better the quality of your content, the better the quality of your leads.
Insist that your key executives provide you with content on a regular basis and you'll be regularly feeding search engines like Google and increasing your traffic. If you don't have department heads, then you're going to need to find other easy ways to add content on a regular basis.
2) Optimize and publish that content to your website.
Optimizing content is not rocket science, but there are some fundamental factors most SEO's agree you should check for:
Title – 70 characters or less, non-spammy, describe the page content
H1 – Preferably one and describe the page content, alter it slightly from the Title
H2's – Use to break up sections of content and include main keyword without being spammy
Keywords in Text – If you're targeting a specific keyword, include it in your text a few times, but don't be spammy. I try to include it early and usually bold it, as if it were a further indication to the reader what the page is about.
Images/Videos – Embed to help explain your content and make it more appealing. "Alt text" for images should not be keyword stuffed or spammy.
Proper Accreditation – Link out to your sources and don't be afraid to leave it "do follow." I usually set links to open in a new window so visitors don't leave my site.
Internal Linking – This is HUGE. Look for the natural opportunities to internally promote your services, products, resource pages and other blog posts using keyword-rich anchor text – but don't be spammy.
Use Synonyms – Google understands a lot of synonyms, but it's good practice (and good writing) to not repeat the same words over and over.
Call To Action – while you may have these in your headers, footers and sidebars, I try to include a CTA at the end of each post and include the phone number. Make it easy for the visitor to reach you.
Proof It – Edit for grammar, spelling, and make sure it flows well and looks good after being published.
I will typically do some keyword research for services and products pages just to confirm what people are searching for most often. I tweak titles and text accordingly to include those words/phrases. For blog posts, I don't usually do keyword research. I don't think it's worth the time. You can drive yourself crazy with keyword research: better just to write well and keep it looking and sounding good.
3) Promote it.
If you've made it this far, congratulations! Simply by publishing your content, you've made it available for people all over the world to find, thanks to search engines like Google and Bing.
Here are some other ways to easily promote your content to an interested audience:
Email marketing – Now that you've published it, email your database and tell them about it! I like to use a brief "teaser sentence or two" and then give them a link back to my site if they want to read more.
Social media – Share your content on Twitter and Facebook. Don't be afraid to change the titles later and share the same content again. People use Twitter for search and not everyone is on Facebook everyday. By sharing more often, you'll increase the likelihood that people see your content.
Direct emails – If you've written a blog post that answers someone's question, tell them about it! If you've just completed research that you know 10 people in your business mixer group will find interesting, email them about it and ask them to share it and comment.
Conclusion
A picture's worth a thousand words. Here's what's happened over the 3 years I've been implementing the simple strategy described above with one of my clients.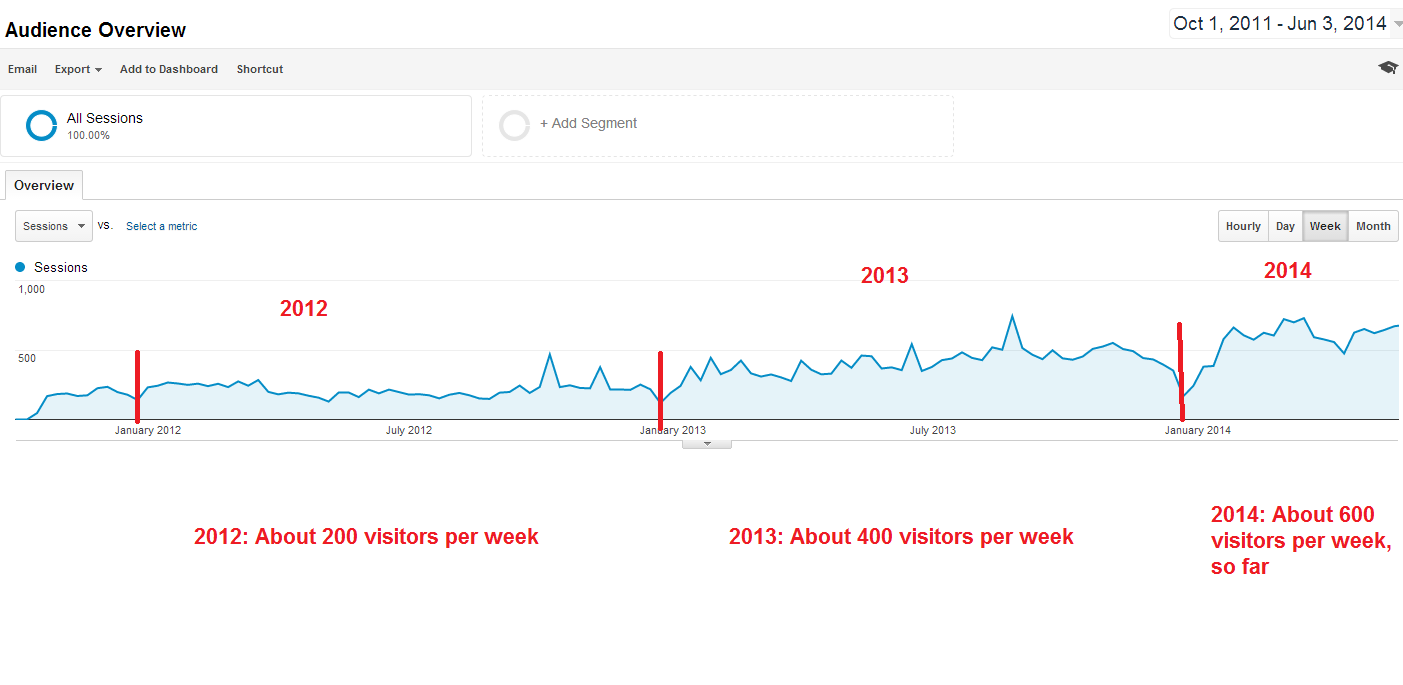 We haven't seen skyrocking traffic, but what we have seen is a steady growth in traffic year over year and if 2014 continues to play out like it has so far, my client will be enjoying three times the traffic in 2014 that they got in 2012.
And I always like to add this nugget – if you're getting more traffic than 1 of 2 things is happening – (1) either your industry is booming or (2) your grabbing traffic that used to go to your competitors. And while we can't control number one, it sure is nice to think that we're getting the leads your customer used to get from number two.
Call me at 503-890-6663 if this sounds interesting or you need help developing your content to generate more leads from your website.