Part-Time Help Needed
Now hiring part time internet researchers. This is a great opportunity to earn a few extra bucks per month.
All of the work is done on your schedule at your own pace.
This is part time and we offer the tasks above throughout the month. Completed internet research lists and quick tasks pay out within 1-3 days. The mobile searches payout at the end of the month.
Please join us by filling out the form! Learn more about each job below.
Signup Here
You MUST provide a valid PAYPAL email addresss in the form below, this is how we pay you.
---
Mobile Search Team
Requirements
Must have cell phone (iPhone or Android)

Access to multiple wifi locations (these can be coffee shops, restaurants, etc, whenever you are out and about and can connect to wifi)

This work DOES NOT use your data, since you are connected to wifi
Detail-oriented
US resident
Valid Paypal account (this is how we pay you)
Instructions
You will be sent via text message phrases we want you to research in Google. You will reply by sending us two (2) screenshots.
Screenshot 1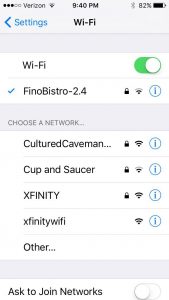 You will connect to the business's wifi where you are and take a screenshot of the location in your settings. (Please note: The searches MUST be done outside of your home wifi).
Reply to the text with the wifi screenshot showing the "checked" wifi location.
In the example here, the worker was using wifi at "FinoBistro-2.4" and simply screenshotted it in the Settings page of their phone.
Screenshot 2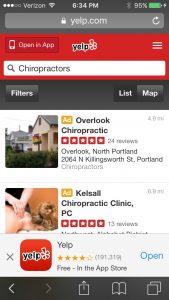 You will perform the search sent to you and reply with the screenshot of what you clicked after performing the search.
In the screenshot here, the worker was instructed to search for "Chiropractor Vancouver Wa" in Google.
The Yelp listing you see was the first search result, so they tapped that, took a screenshot and sent it back.
It is VERY EASY to reply with these 2 screenshots. Each task earns you .50 each and the more wifi locations you visit, the more you can make!
Here is a sample of the type of text message you will receive:
1) Go to Google.com
2) Search for CHIROPRACTOR VANCOUVER WASHINGTON and click any search result
3) Reply with 2 screenshots – one of the website you clicked and one of your phone settings showing the Wifi you are connected to
4) EARN MORE! You can search+click this keyword from as many different Wifi locations as you like and we will pay you for each search you do! Simply repeat steps 1-3 from each unique Wifi location. Note that we keep track of your Wifi locations and can only pay you once for each location, so do not search the same keyword more than once at each location.
Internet Research Lists From Home
Requirements
Desktop PC with internet connection

Must have Microsoft Excel 2013 or later

Detail-oriented
US resident
Valid Paypal account (this is how we pay you)
Video Instructions
Click link and watch, so you can see what type of work you are doing:  https://www.youtube.com/watch?v=ru6Zt4AVwNQ
Quick Tasks
Quick tasks come along now and then and include writing reviews, posting to a website, or other tasks. They are easy, only taking a few minutes at most and pay accordingly.
Sign up to join our team and starting making extra money by completing the form on this page!