TrustLink reviews with 5-stars can be had using our proprietary methods – just fill out the form on this page to let us know how we can help you.
You can also check the cost to buy 5-star internet reviews.
Which TrustLink Account Should You Get?
TrustLink.org offers two benefits packages, the first is free – TrustLink Business. The second is Preferred Member.
Since the free TrustLink Business account allows you to claim, manage and collect reviews, I would recommend sticking with the free account, unless….
If you have a lot of negative reviews and are unable to collect new 5-star reviews, the Preferred Member program allows you to select a featured review for your storefront.
This is great for making a first impression.
How To Publish A Review on TrustLink.org
Here's a step-by-step process for getting your customers to publish links on TrustLink.
Feel free to share this link with your clients if you want them to know how easy it is for them to publish great reviews for your business.
Step #1

Look for this little red icon that says, "Write a Review."
Pretty easy so far, huh?
Step #2
After clicking the red TrustLink icon, you'll see the review screen pop up. Go ahead and give your review a title and the appropriate star rating.
I always recommend customers write a lengthy, personalized review as has been done in the review below.
After you're finished, click "Post Review."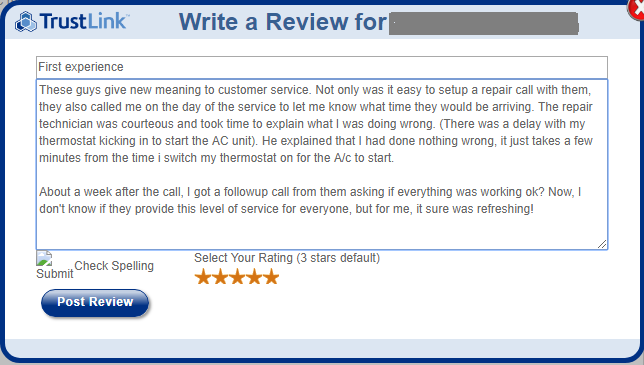 Step #3
If you haven't already got a TrustLink account and logged in, you'll need to register on the site in order to post your review.
You'll be prompted to give your email and create a password.
If you already have an account, simply Sign In and follow the prompts as shown on the screen below.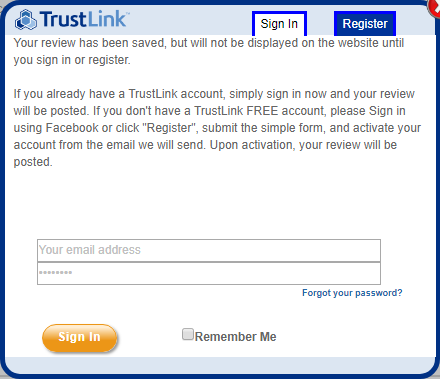 Step #4
After entering your name, email, and password, the system automatically sends you an activation email to confirm your account.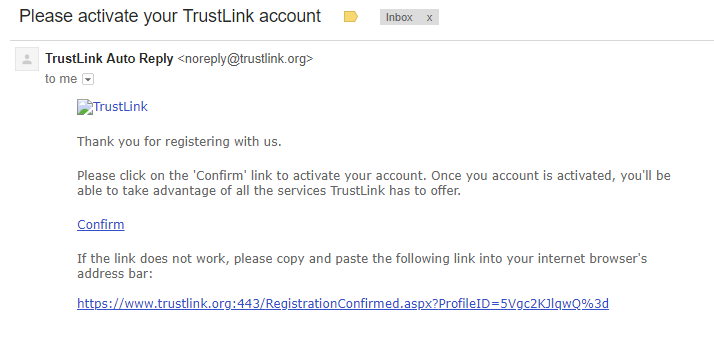 Check your email or spam folder if you don't see it.
In the mean time, your review will be held in "pending" status until you confirm your account.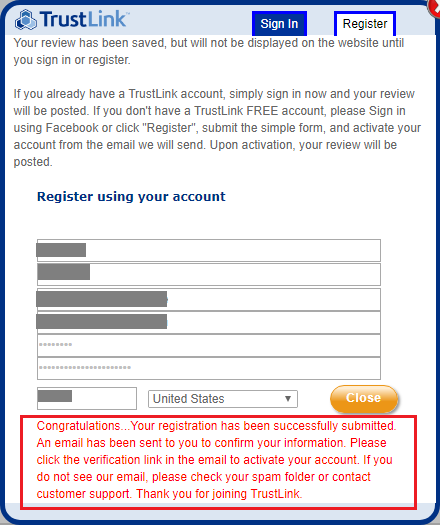 Step #5
After you click the validation link from the email, you'll see the screen below indicating your account profile is authenticated.

Step #6
Your review will go live on the site in a matter of minutes. It will appear at the top of all the other recent reviews.
This is important because if by chance you've been victimized by negative or false reviews on TrustLink, you can at least suppress them by getting a number of happy customers to post positive reviews.
The TrustLink main profile page only shows 20 reviews at a time, so if you want to push a bad review off "page 1" of your Trust Link profile, you'll need 20 strong 5-star reviews.
We can help you with this if you need it. Fill out our form for more information.
Last Words
If by some chance, you need to change your review, just locate and click the handy Edit icon pictured here.