Of all review sites, Trust Pilot has one of the more aggressive filters. It's right up there with Yelp in terms of getting your great customer reviews to stick "live."
While Yelp seems to filter 19 of 20 reviews (based on our experience), Trust Pilot filters anywhere from 33-67% depending on whether or not you are an active customer of theirs.
We've had a lot of success on Trust Pilot and have worked with their support staff extensively to publish lots of great reviews for our clients.
We've also helped them work with Trust Pilot's compliance department to merge pages, optimize pages, flag reviews, and get fake reviews removed.
In the end, it all adds up to a great looking online reputation for our clients on Trust Pilot. And that's important, because Trust Pilot ranks really well in Google.
Check out our pricing to post positive reviews or fill out the form to get a quote.
Why Is Trustpilot So Important?
Trustpilot is one of the more authoritative online review sites on the internet, as of this writing it has a Domain Authority of 92! That's strong!

Google most big businesses + the word "reviews" and you'll see TrustPilot ranking on page 1.
In the example below, you can see an example of what I'm talking about.
If you're doing research on the big box store "Best Buy," you can see Trustpilot ranking #4 for the Google search "Best Buy Reviews."
And since "reviews" appears after most business names in Google Autocomplete, getting control of the major online review sites is critical to protecting your brand's internet reputation.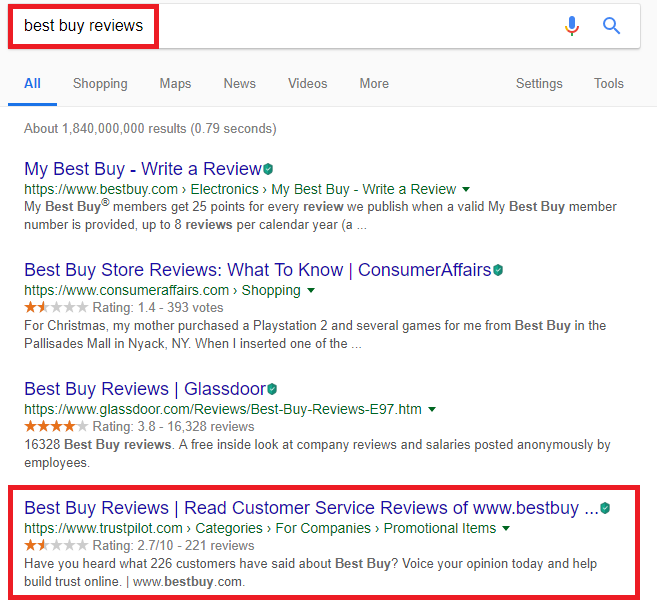 Trust Pilot Subscription: Should You Get It?
We work with both TrustPilot subscriber businesses and also with those who choose not to invest the $300 per month it takes to be part of their program.
What's the difference when it comes to reviews?
One client who is not a suscriber to Trust Pilot gets about 1 in every 3 of the reviews his customers submit to stick live.
Our clients who choose to subscribe to Trust Pilot usually get about 2 out of 3 reviews published.
If you're aggressively wanting to take charge of your online reputation and can afford TrustPilot's subscription, I'd recommend it.
If you don't, you'll spend a lot of time and effort getting your customers to post reviews, only to see most of them get filtered by compliance.
Plus, when you subscribe to Trust Pilot, you get a customer service rep who you can actually talk to on the phone who can offer you tips for improving your presence on the site.
Getting Trust Pilot Verified Reviews
When you load your customer emails into Trust Pilot and invite them to write a review from within the portal, reviews will automatically appear as "verified."
This is a good reason to use their system and load up your customer email list.
Just look at the difference below.
Those customers you invite are more likely to write you a good review and it shows up with the "Verified order" stamp.
Organic reviews that come from the web are less likely to be flattering and besides that, they do not carry the "Verified" Trust Pilot endorsement.
Thus, whether you're subscribing to Trust Pilot or not, I'd strongly recommend collecting as many emails from customers who love you and pushing them into Trust Pilot for review solicitation.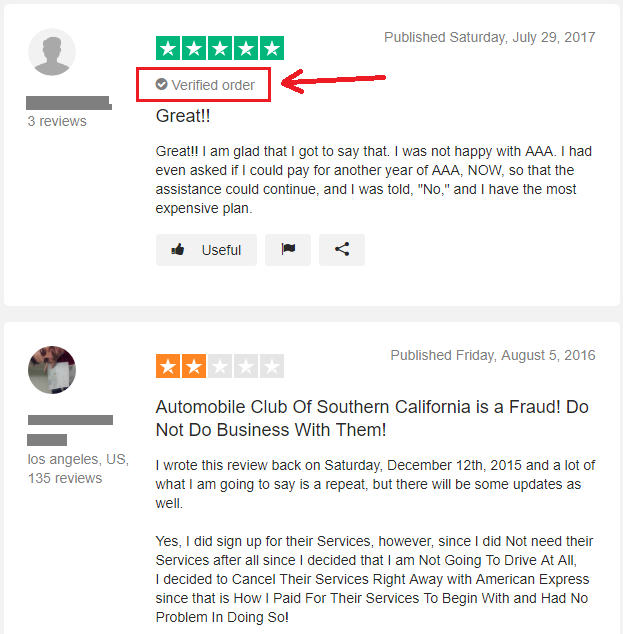 How To Write A Trust Pilot Review
Writing a Trust Pilot review for a business is straightforward.
Step #1
After you find the business's profile page, simply click the "Review Company" button.
You'll be able to choose how many stars to give the business.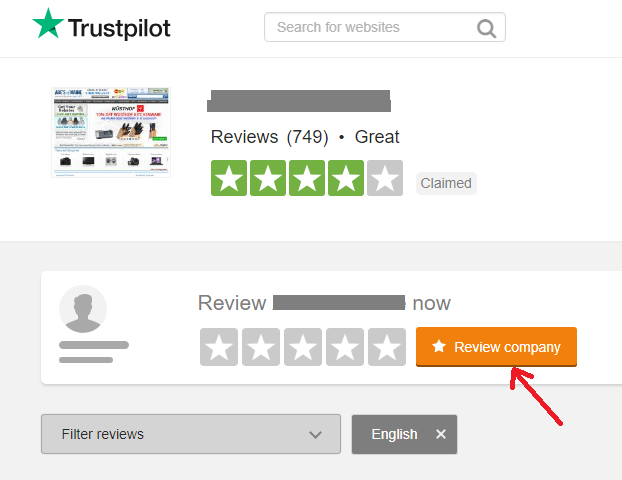 Step #2
After giving your star rating, write your review!
Your review can be as short or long as you want.
As you can see in the example below, one sentence is good enough.
And if you haven't already created an account, you have three ways to do it:
Facebook
Google+
Email
Simply select your preferred method and publish your review!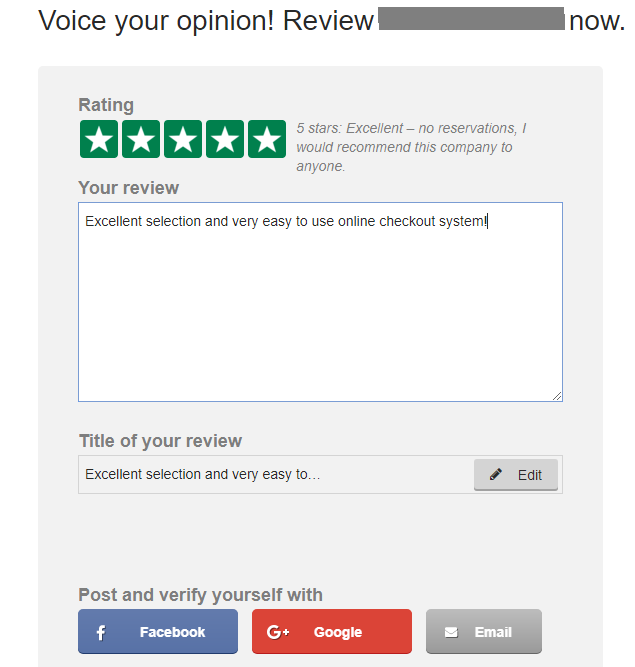 Will My Trustpilot Review Get Published?
As I mentioned earlier, if you aren't a TP customer, we see about 25-33% of all submitted reviews get published.
On the other hand, Trustpilot subscribers see a 60-70% "stick rate" on submitted reviews.
Below is a copy of the email you don't want to see. It means your review has been filtered for some reason.
If your review doesn't get filtered, you can expect to see it on your profile within a couple days.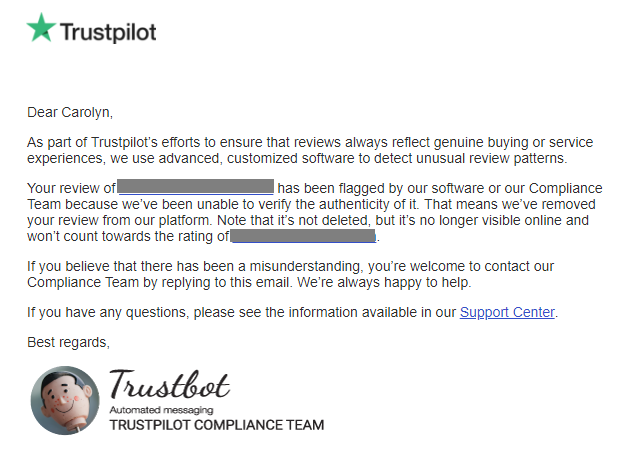 Trustpilot Review Summary
We can help you get more positive reviews on Trust Pilot, whether you decide to invest in their business partner program or not.
We've been working with Trust Pilot for years and have an excellent track record for helping companies like yours get lots of 5-star reviews on Trustpilot.