We can help you get more Car Gurus reviews – guaranteed.
We work closely with our car dealer clients to ensure they get a bevy of 5-star reviews on CarGurus.com.
If you're in need of improving the quality and quantity of customer reviews on this popular car purchasing website, give us a call or fill out the contact form.
Buy positive online reviews price sheet.
Why Reviews On Car Gurus Are Important
If you're a used car or new car dealer, you're likely familiar with CarGurus.com.
That's because it's a very strong website, boasting a domain authority of 75 as of this post.
That means its going to rank high (on page 1 of Google) for nearly every auto dealer who has is using the site to showcase their inventory.
If you've got a lot of positive customer reviews on the site, terrific, you're in great shape and will look good when people search for your dealership on Google, Bing, or other internet search engines.
But if you have negative reviews that cause your CarGurus rating to fall below 3 stars, you might want to improve that.
You are probably aware of how this "negative" impression is effecting your business.
And that's where we come in.
We help you get great looking 5-star reviews without any hassle on your part. Contact us to learn our strategy!
How To Write A Review On CarGurus.com
If you're inclined to ask your customers to leave you a review on Car Gurus, it's an intensive process.
Below are the steps they'd have to go through to write you a review.
The first thing you will want to do is check your online inventory to see what is available. Now, go to Cargurus.com and select what type of car you are looking for. This information will include new, used, certified pre-owned, make, model and the area code in which you are searching.

Next, you will have to locate your dealership. To narrow down the search results you can choose select from the radius section on the left-hand side of the screen.

Once you have located your dealership complete the following information.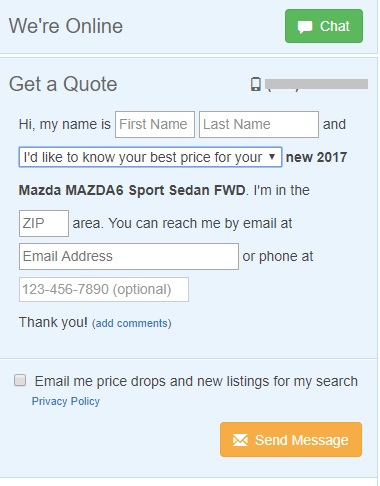 In about 7-10 days you will receive an email from Cargurus asking you if you were contacted by the dealership as well as giving you the opportunity to rate them.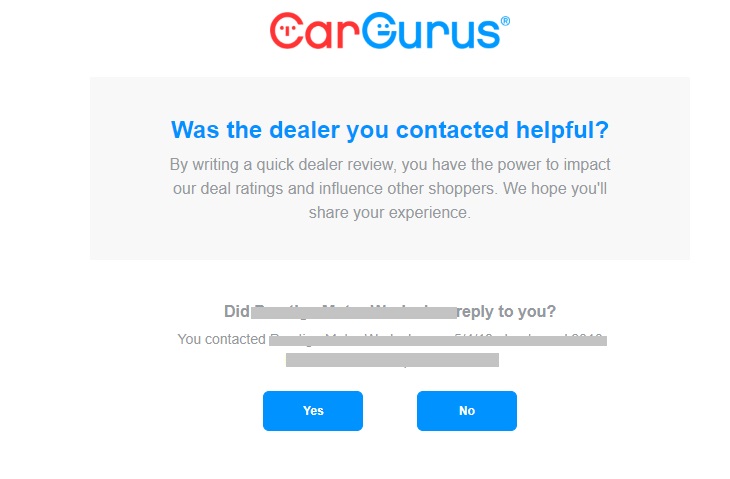 You'll be taken to a screen similar to the one below where you can rate the dealer you worked with. The review may post to the site within a few days of submission.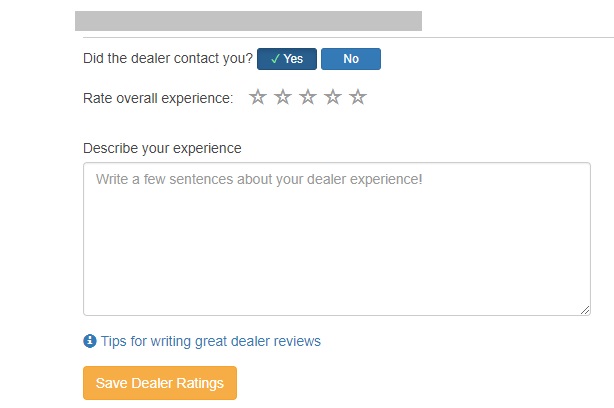 Not every single review written by your customers will stick "live" on Cargurus.com, but most of them will.
What If My Review Does Not Post?
Not every review a consumer writes will appear on your Car Gurus profile.
Like most review sites, Car Gurus uses an algorithm to detect which reviews it is going to post.
If you try to re-post or re-write your review using the same account, you will see a message similar to below.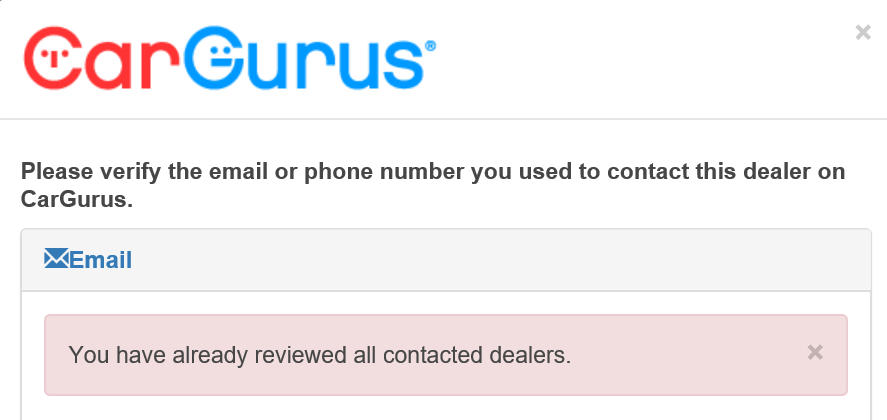 You're best to just wait and see if your original review posts.
Get More Reviews On CarGurus.com
If you need help collecting more reviews on this site or any other online review websites, we've developed proprietary methods to help get the job done. Please contact me for further information.